July 23, 2010 -
Joe Fortenbaugh
Top positional battles to watch: Part II
The Dallas Cowboys open up training camp on Saturday, which means it's time for all of you to hit the books. Welcome to Part II of the NFP's top positional battles to watch this summer.
Click HERE to read Part I. And be sure to check out the guys at Fantasy Football Calculator, who provide us with our ADP (average draft position) statistics.
The 2010 NFP Draft Guide has officially launched! Click HERE to purchase the information that paved the way for a win in the 2009 NFP Expert's League Championship game.
Battleground: Tampa, Florida
Position: Wide receiver
Players in the mix: Arrelious Benn (6-1, 219, rookie), Mike Williams (6-1, 221, rookie), Reggie Brown (6-1, 197, 6th season), Michael Clayton (6-4, 215, 7th season)
Frontrunner(s): Benn and Williams
Better Value: Williams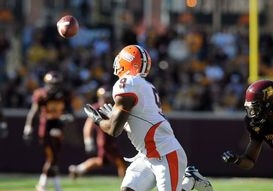 ICONBenn was the higher draft pick, but will he emerge as the No. 1 target in Tampa?
Analysis: The departure of wideout Antonio Bryant via free agency has left a big hole on a Tampa Bay offense that ranked 11th in the league in pass to run ratio last season (58.1%). The Buccaneers responded by signing free agent underachiever Reggie Brown and drafting Arrelious Benn (Illinois, 2nd round) and Mike Williams (Syracuse, 4th round) this past April. As we always say in situations like this, somebody HAS to catch the football in Tampa.
Owners can go ahead and take both Brown and Michael Clayton off their draft boards this summer. With a combined 11 years of NFL experience between them, we've already seen all there is to see. Brown has scored just five touchdowns over the last three years and has topped 50+ receptions in a season only one time (2007). Clayton hasn't looked much better, having scored only three touchdowns over the last five years. He also hasn't topped 500+ receiving yards in a season since his rookie year in 2004.
That leaves Benn, who posted a disappointing 38-490-2 stat line at Illinois last season and Williams, who quit the Syracuse Orange at the beginning of November despite leading the Big East in receiving. Both rookies bring several question marks to the table which is why they have both been assigned late-round draft grades. However, someone has to emerge as the No. 1 target for second-year quarterback Josh Freeman and we're giving the edge to Williams entering camp.
Battleground: Oakland, California
Position: Running back
Players in the mix: Michael Bush (6-1, 245, 3rd season) and Darren McFadden (6-2, 210, 3rd season)
Frontrunner: McFadden
Better Value: Bush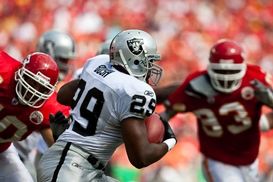 ICONMcFadden may be the bigger name, but Bush could handle a bigger portion of the workload.
Analysis: Now that Bust of the Century candidate JaMarcus Russell is gone, all eyes in Oakland will turn to another top-ten draft pick that has failed to live up to the hype. Darren McFadden has only started 12 games in his first two NFL seasons, averaging just 3.9 yards per carry and scoring only five rushing touchdowns. To make matters worse, McFadden has carried the ball 10+ times in only nine games and has just one, lonely 100+ yard rushing performance on his resume.
Meanwhile, fellow 2008 draft pick Michael Bush has slowly worked his way into contention for the starting job. The 26-year old has posted 10 games with 10+ carries and has topped 100+ rushing yards in three contests. In addition, he closed the 2009 season on a strong note with a Week 15 performance against the Broncos that included 133 rushing yards and one touchdown on 18 carries.
Both running backs are currently being targeted in the 8th round, which is why this battle is so important to watch during training camp. McFadden has better pass-catching skills, but Bush has proven to be a more effective and powerful runner (4.6 career YPC average) that can convert on the goal line. The value and the edge go to Bush, especially since there is likely to be at least one owner in your league that values McFadden as a 4th-6th round draft pick.
Battleground: Houston, Texas
Position: Wide receiver
Players in the mix: Kevin Walter (6-3, 218, 8th season) and Jacoby Jones (6-2, 210, 4th season)
Frontrunner: Walter
Better Value: Walter
Analysis: Jones is a trendy sleeper pick for a lot of owners entering the 2010 season and for good reason. The 26-year old is a speedy, big-play threat that scored six touchdowns last year en route to a career season. However, owners need to keep in mind that Walter just signed a five-year, $21.5 million deal this past offseason meaning the No. 2 job is his—as long as he can stay healthy.
Houston is loaded with playmakers at all of the skill positions on offense. With Pro Bowl wide receiver Andre Johnson on one side, Walter on the other and tight end Owen Daniels coming back from a torn ACL, there may not be enough targets to go around for Jones to warrant a spot on your fantasy roster.
Remember, Walter is just two years removed from a 2008 campaign in which he cracked the top-20 in scoring among fantasy wide receivers. Not only that, but last year's disappointing performance has owners targeting him in the 12th round. That's one hell of a value for a guy who is more than capable of posting a 62-840-6 stat line.
Battleground: Dallas, Texas
Position: Running back
Players in the mix: Marion Barber (6-0, 222, 6th season), Felix Jones (6-0, 218, 3rd season), Tashard Choice (5-10, 212, 3rd season)
Frontrunner: Jones
Better Value: Barber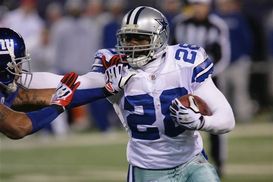 ICONJones is once again a hot name in the fantasy world, but will he make it through all 16 games?
Analysis: The big question on everyone's mind entering the 2010 season: Will Felix Jones FINALLY have the breakout year we have all been waiting for?
But here's the question I put to you, the loyal readers of the National Football Post: Is Felix Jones worth a 3rd round draft pick?
There's more hype than ever before surrounding the 23-year old, which has led to an increase in draft stock that may be too high a price to pay for an oft-injured player in a running back-by-committee system. Jones has only appeared in 20 of 32 games, making just one start. While there's no doubting his talent or skill set (the guy is averaging 6.5 yards per carry for his career), do you feel comfortable spending a 3rd round pick on a player who will split carries and has had a history of injuries?
MBIII may have had a down year in 2009, but he still racked up 1,153 total yards and seven touchdowns while appearing in 15 games. He may be 27-years old, but he's going to get a nice portion of the workload once again this season.
Keep these numbers in mind: Over the past three years, the Cowboys have averaged 418.6 rushing attempts per season. Let's assume that Barber gets 180 carries (which would be his lowest total since 2006) and No. 3 running back Tashard Choice gets his yearly average of 78. That's 258 of 418 carries that won't go to Jones, leaving a total of just 160 available. And remember, that's assuming only three players carry the football this season (quarterback Tony Romo is averaging 32 carries per year over the past four seasons).
Bottom line: We aren't trying to take a shot at Jones because the guy is extremely talented and has a lot of upside. However, when you take into account the total amount of touches available and factor in his injury history, it looks like a 3rd round pick may be too steep of a price to pay.
Battleground: Foxborough, Massachusetts
Position: Tight end
Players in the mix: Alge Crumpler (6-2, 262, 10th season), Rob Gronkowski (6-6, 264, rookie), Aaron Hernandez (6-2, 245, rookie)
Frontrunner: Gronkowski
Better value: Hernandez
Analysis: The tight end position went through a major overhaul in New England this past offseason as the services of six-year veteran Ben Watson were not retained, which opened the door for an influx of new talent. Veteran and former Tennessee Titan Alge Crumpler was signed and rookies Rob Gronkowski (Arizona, 2nd round) and Aaron Hernandez (Florida, 4th round) were drafted.
Owners can go ahead and leave Crumpler off their draft boards in an effort to make this situation easier to understand. Over the past two years he's only caught a grand total of 51 passes for 479 yards and two touchdowns. In addition, if the Patriots thought he was the answer, they wouldn't have used TWO draft picks on tight ends.
That leaves us with Gronkowski and Hernandez. Gronkowski garnered a lot of hype leading up to draft day, as the former Wildcat is an impressive mix of size, speed and power. However, the 21-year old missed the entire 2009 season due to a back injury that some feel may not be 100% healed. The upside is that Gronkowski will likely start the season as the No. 1 tight end in New England and if he can stay healthy, he'll have a very good shot at scoring 5+ touchdowns with Tom Brady running the show.
Hernandez is a pass-catching specialist that hauled in 68 receptions for 850 yards and five touchdowns with the Gators last season. The upside here is that his speed, hands and route running ability will allow head coach Bill Belichick to line the 20-year old up in the slot, even when another tight end is already on the field. Hernandez may not be as polished of a blocker as Gronkowski, but that is why the Pats brought in Alge Crumpler.
In fantasy leagues of 12 or less teams, none of these players will wind up being drafted, which is why it is important to monitor their progress on the waiver wire. However, owners who play in deeper fantasy leagues can put a late-round TE2 grade on both Gronkowski and Hernandez.
Hit me up on Twitter: @JoeFortenbaugh