August 20, 2011 -
Joe Fortenbaugh
Tough break: Ryan Williams likely done for the year
If there was ever a time for 2009 first-round draft pick Beanie Wells to step up his game and meet the lofty expectations that were set for him two years ago when he entered the NFL, this season would be it.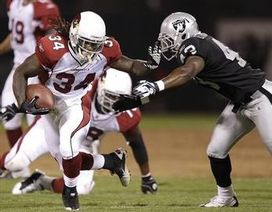 Ryan Williams' rookie campaign has come to an end after just two preseason games.
Because as of the current moment, he's pretty much all that's left of the Arizona running game.
In news that truly puts a dark cloud over the preseason festivities, rookie second-round selection Ryan Williams is expected to miss the 2011 season after suffering what is believed to be a ruptured patellar tendon (knee) in Friday night's 28-20 loss to the Green Bay Packers, per Kent Somers of the Arizona Republic.
The 21-year-old from Virginia Tech was carted off the field in the third quarter of Friday's game after carrying the ball just one time for six yards. Shortly after going down, Williams tweeted, "Thanks everybody to the ones who wanted me down to the people who didn't…ill be back making defenses sick…you can bet that"
With Williams headed to injured reserve and former Cardinals running back Tim Hightower now in Washington, Arizona is down to Wells, two-year veteran LaRod Stephens-Howling and Alfonso Smith, who scored a touchdown Friday night.
Wells was drafted in the first round for a reason. If he can't deliver now, it's unlikely he'll ever be able to cut it as a featured running back in the NFL.
Hit me up on Twitter: @JoeFortenbaugh