September 22, 2010 -
Joe Fortenbaugh
Trade Bait
It doesn't matter what your record is.
Two weeks into the NFL season, you could be 2-0, 1-1 or 0-2. You could be the highest scoring team in your league or the current laughingstock on the message board.
Bottom line: You should always be looking to get better.
Enough has happened over the course of the last two weeks to send fantasy owners into a panic about the future of their franchise. Kevin Kolb is out in Philly, Ryan Grant is done for the year and Steve Smith (NYG) currently ranks 68th in scoring among fantasy wideouts (standard scoring leagues).
Why not take advantage of your fellow owners who are currently sick to their stomachs about the possibility of yet another playoff-less year?
With thoughts of a fleece job similar to the 1982 MLB trade that saw the Phillies send Ryne Sandberg and Larry Bowa to the Chicago Cubs for shortstop Ivan DeJesus, let's take a look at which fantasy players can currently be had for an excellent value.
Joe Flacco, QB, Baltimore Ravens: The third-year veteran currently ranks 28th in scoring among fantasy quarterbacks, which has some owners regretting the fact that they targeted Flacco as a potential sleeper back in August. However, the savvy owner realizes that the Baltimore signal-caller opened the year with games against two of the league's toughest defenses (NY Jets, Cincinnati) and has a favorable schedule on the horizon (Browns, Broncos, Patriots, Bills, Falcons, Panthers, Buccaneers over the next ten weeks). If you're in need of a respectable quarterback at a fair price, this is the guy.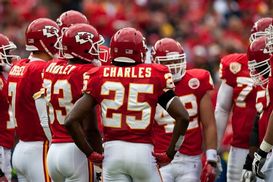 ICONHey, look! Charles is on the field!
Jamaal Charles, RB, Kansas City Chiefs: Charles owners are pulling their hair out after two weeks due mostly to the fact that they spent a second-round pick on a backup running back. Former New York Jet Thomas Jones has been carrying the workload in Kansas City over the first two weeks (33 carries to Charles' 22), which is why now is the time to strike. We ranked Charles a bit lower than most of the other fantasy publications because we realized the fact that the Chiefs didn't spend $5 million on Jones to watch him stand on the sidelines. Charles will continue to split the workload, but you can probably land him now for a much better price than he went for on draft day.
Maurice Jones-Drew, RB, Jacksonville Jaguars: If you thought Charles owners were frustrated, imagine what it must be like to have used a top-five pick on a guy that currently ranks 29th in scoring among running backs? MJD has more fumbles (1) than touchdowns (0) and ranks 18th in the NFL in rushing yards (129). Not only that, but he's a dual-threat back that has caught just four passes over his first two games. Not good. Jones-Drew has a date with the Eagles this Sunday, but is staring down a schedule that features matchups with the Bills, Chiefs, Texans and Browns over the next seven weeks. Think about it like this: How often do you have the chance to land a preseason, top-five draft pick at a reasonable price?
Hines Ward, WR, Pittsburgh Steelers: This guy could be the best value on the market right now. Ward currently ranks 53rd in scoring among fantasy wide receivers because he's only caught seven passes playing with mediocre talent at the quarterback position. It's been so bad in Pittsburgh that I wouldn't be surprised if current Ward owners are thinking about moving him to the bench. The Steelers travel to Tampa Bay this week, return home to play the Ravens in Week 4 and then hit the bye in Week 5. And we all know what happens after that: Ward gets a Pro Bowl quarterback to throw him the rock as Big Ben returns from suspension.
Brandon Marshall, WR, Miami Dolphins: After three straight years with 100+ receptions, Marshall's streak is now in jeopardy. The Pro Bowl wideout has caught just 12 passes over his first two games, has yet to find the end zone and currently ranks 39th in fantasy scoring, behind guys like Braylon Edwards and Devin Hester. The Dolphins may be 2-0, but they rank 28th in passing offense (135.0 yds/gm) and 22nd in scoring (14.5 pts/gm). Any owner that used a second or third-round pick on Marshall has to be somewhat concerned about his slow start. Be sure to emphasize the fact that Henne is a bum and that Miami barely scored any points against the Buffalo Bills in Week 1 to get your point across.
Hit me up on Twitter: @JoeFortenbaugh
Click HERE to win cash today playing fantasy football with the NFP and FanDuel.