November 03, 2010 -
Joe Fortenbaugh
Trade Bait
The best indicator to determine how good of a fantasy team you possess isn't your win/loss record. It's the total amount of points you've scored this season in relation to the other teams in your league.
Think about it. You could be the highest scoring team in your fantasy league, but if you play a schedule in which all of your opponents post their best weeks against your squad, that doesn't mean you have a bad team.
It means you have crap luck.
Some owners are staring at their 3-5 record and wondering why their team stinks. In some cases, it doesn't. If your team ranks in the top-third in scoring amongst the rest of the teams in your league, there's no reason to make a move.
But if you look at the total points scored (go ahead, we'll wait) and notice your team is towards the bottom, I don't care what your record says.
You need help.
For those of you that need to make some tough decisions and begin the process of overhauling your roster as we enter the home stretch, here are 12 names to consider either trading or acquiring in the coming weeks.
But before we get to that, CLICK HERE to check out Procter & Gamble's "Text It To The House" contest for a chance to win a trip to this year's Super Bowl! P&G is giving you the opportunity to put your football knowledge to the test.
If one of you ends up winning this thing, I expect you to buy me a beer (or several) in Dallas.
And last but not least, here's your motivational moment of the day...
Buy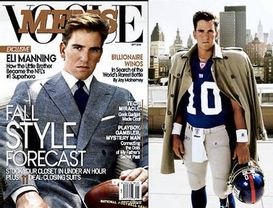 Never mind the questionable magazine cover. Eli's got a nice schedule coming up.
Eli Manning, QB, New York Giants: The younger Manning brother is averaging 18.1 fantasy points per game this season and currently ranks in the top-ten in scoring at the quarterback position. However, we aren't suggesting that you make a move for Manning based on what he's done, but rather, for what he's about to produce. Three of Eli's next five games (Dallas, Jacksonville, Washington) come against defenses that rank in the top-five in fantasy points allowed to opposing quarterbacks. In addition, his Week 9 (Seattle) and Week 11 (Philadelphia) matchups aren't too shabby, either.
Recommendation: There's a good chance Eli's current owner has another decent quarterback option on his roster since Eli was likely drafted as a QB2 back in August. Try to trade a mid-level QB prospect along with a RB2 or WR2, depending on where the other owner is lacking on his roster.
Thomas Jones & Jamaal Charles, RBs, Kansas City Chiefs: Who cares if these two are splitting the workload? Kansas City ranks first in the NFL in run to pass ratio (57.8%) and both Charles (12.9 fantasy pts/gm) and Jones (9.9 fantasy pts/gm) currently rank in the top-21 in scoring among fantasy running backs. Translation: there are plenty of carries to go around in Kansas City. The big upside with Jones and Charles is that no other running back in the league has a more favorable upcoming schedule. Over the next five weeks, the Chiefs ball carriers will play five games (Oakland, Denver, Arizona, Seattle, Denver) against teams that rank in the top-nine in fantasy points allowed to opposing running backs.
Recommendation: Jones will come at a better price, but Charles has more upside. A deal for Jones will likely be a 1 for 1, while you may need to send two players to the current Charles owner. If targeting Jones, be sure to make a big deal about how Charles is starting to get more carries.
Anquan Boldin, WR, Baltimore Ravens: Boldin hasn't gone over 100 yards receiving since Week 3 (vs. Cleveland), but he's found the end zone in each of his last two games and currently ranks ninth in scoring among fantasy wideouts. In addition, the former Arizona Cardinal is averaging 8.7 targets per game and has only posted two outings this season in which he's totaled less than six fantasy points. With the exception of a Week 11 showdown with the Carolina Panthers, three of Boldin's next five games (Atlanta, Tampa Bay, Houston) come against teams that rank in the top-eight in fantasy points allowed to opposing wide receivers.
Recommendation: Two mid-level players in exchange for Boldin should be enough to get this deal done. If you own Chiefs receiver Dwayne Bowe (see below), make sure he is included in the deal.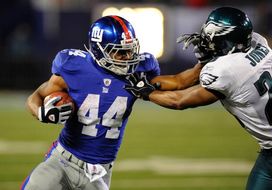 ICONBradshaw may not have a cool magazine cover like Manning, but the guy makes plays.
Ahmad Bradshaw, RB, New York Giants: Eli Manning isn't the only New York Giant facing a favorable upcoming fantasy schedule, Ahmad Bradshaw falls into that category as well. Over the next six weeks, the 24-year old ball-carrier will play two games (Seattle, Jacksonville) against defenses that rank in the top-ten in fantasy points allowed to opposing running backs. That may not seem all that great, but the other four matchups during that six-week span don't feature a single defense that ranks inside the bottom-11 in points allowed to opposing RBs. That's great news for a guy who is averaging 116.1 total yards per game in 2010 (sixth in NFL).
Recommendation: Bradshaw has only scored three touchdowns this season and hasn't found the end zone since Week 4 (vs. Chicago). Drive home the fact that Brandon Jacobs is stealing the goal line work. Plenty of owners begin to panic when their running backs get yanked on the goal line.
Nate Washington, WR, Tennessee Titans: Washington was one of our recommended waiver wire pickups this week now that stud wideout Kenny Britt is expected to miss a few games with a hamstring injury. If you somehow failed to manage snagging this guy off the wire, look to make a move via trade ASAP before his stock goes through the roof. After Britt excited last Sunday's game at San Diego, Washington stepped in and caught four passes for 117 yards and a touchdown. In addition, keep in mind that when Tennessee comes off their Week 9 bye, Washington will play three of his next four games against defenses that rank in the top-three in points allowed to opposing wide receivers (Washington, Houston, Jacksonville). With Britt out of action, somebody needs to catch the ball in Tennessee.
Recommendation: Get aggressive, but don't go overboard looking to land Washington, especially if you play in a PPR league. This guy has only caught five or more passes in a game five times over his last 40 outings.
Marcedes Lewis, TE, Jacksonville Jaguars: Lewis is in the midst of putting together a career-year in Jacksonville, so it may be tough to pry him away from his current owner. The 26-year old has already hauled in seven touchdown passes this season and currently ranks second in scoring among fantasy tight ends. If you thought the news couldn't get any better, you were wrong. Lewis is about to embark on a five-game stretc h that features two games (Houston, Oakland) against defenses that rank in the bottom-eight in fantasy points allowed to opposing tight ends. In addition, the other three showdowns during that stretch don't feature a single team that ranks in the bottom-14 in points allowed to opposing TEs.
Recommendation: Lewis and the Jaguars are on the bye this week, so chances are his current owner needs help at the tight end position. A serviceable tight end along with a RB3 or WR3 is an adequate offer.
Sell
Ryan Fitzpatrick, QB, Buffalo Bills: One of our favorite sayings here at the National Football Post is that you don't make money in the stock market buying high and selling low. We can't think of another player that adage applies to more than Fitzpatrick. After putting together a solid five-game stretch that featured 12 touchdown passes and 240.0 passing yards per game, Fitz is about to run into a brick wall. Buffalo's next five games include four defenses (Chicago, Cincinnati, Pittsburgh, Minnesota) that rank in the bottom-10 in points allowed to opposing quarterbacks. Unload him now while it's still a buyer's market.
Recommendation: Target the Romo owner or any other guy in your league that is having problems at the quarterback position. Fitzpatrick's statistics over the last five games should do all the talking, so don't feel the need to press the issue or you may scare off a potential buyer.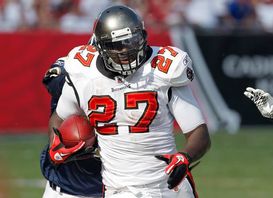 ICONBlount's stock is smokin' right now.
LeGarrette Blount, RB, Tampa Bay Buccaneers: After his 120-yard, two-touchdown performance against the Arizona Cardinals last Sunday, LeGarrette Blount is one of the hottest names in the fantasy football world. So while everyone is trying to figure out how to land his services, you (his current owner) should be looking to sell the rookie off to the highest bidder. Remember, Blount just got done tearing up a Cardinals defense that is giving up the fourth-most amount of points in the NFL to opposing running backs. This hot streak isn't going to last, especially when you take note that Blount's next six games feature four showdowns against defenses that rank in the bottom-11 in points allowed to opposing running backs.
Recommendation: Put Blount on the block and make sure everyone in your league knows he's available. You should see more than one offer for this guy, so pit the rival owners against each other.
Dwayne Bowe, WR, Kansas City Chiefs: Entering Week 6 we recommended you make a move to acquire a struggling, inconsistent receiver named Dwayne Bowe. In the three games Bowe has played since that time, the veteran wideout has caught 12 passes for 205 yards and five touchdowns. But don't get caught thinking this guy will continue to produce big numbers on a weekly basis. Now that Bowe's stock has risen, it's time to unload him for somebody you can count on down the home stretch, because the former LSU Tiger's stock is about to drop. Over the next six weeks, the Kansas City wide receiver will face four defenses (Oakland, San Diego, Denver twice) that rank in the bottom-seven in points allowed to opposing wideouts.
Recommendation: Just like with LeGarrette Blount (above), throw this guy onto the trading block and see what comes back. His five touchdowns over the past three weeks should get someone to bite.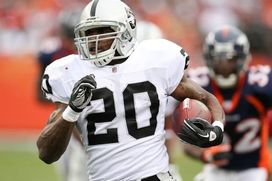 ICONRide McFadden through Week 9 and then pull the trigger.
Darren McFadden, RB, Oakland Raiders: Run DMC has been so hot lately that we can't fault you if you opt to keep him on your roster. In fact, you should start him this weekend against the Kansas City Chiefs and if he plays well, look to unload him prior to the Raiders' Week 10 bye. The reason? When Oakland returns to action in Week 11, McFadden is staring down the barrel of a schedule that features three consecutive matchups (Pittsburgh, Miami, San Diego) against defenses that rank in the bottom-eight in fantasy points allowed to opposing running backs.
Recommendation: Hold tight for another week and look to make a move prior to Oakland's Week 10 bye. By acquiring a running back in return that has already been on the bye, you'll actually be gaining one extra start.
Percy Harvin, WR, Minnesota Vikings: Two words: Randy Moss
Prior to Moss trade: 3.0 receptions, 40.3 total yards, .33 total touchdowns per game
After Moss trade: 4.7 receptions, 87.2 total yards, .75 total touchdowns per game
Now that Moss is no longer on the team, expect Harvin's numbers to take a big dip. Why else do you think he was so upset about head coach Brad Childress' decision to dump the veteran wide receiver?
Recommendation: Look to include Harvin in a package deal and hope the other owner is a sucker that buys the statement, "With Moss gone, Harvin will see more targets." Trying to deal this guy in a 1 for 1 trade probably won't work.
Tony Gonzalez, TE, Atlanta Falcons: Tony G has been a mild disappointment this season, but he still ranks in the top-ten in scoring among fantasy tight ends. The problem here is that he's facing an upcoming schedule that features four games (Tampa Bay twice, Baltimore, St. Louis) over the next five weeks against defenses that rank in the bottom-six in fantasy points allowed to opposing tight ends. In addition, Gonzalez is currently on pace to record only 66 receptions this season, which would be his lowest total since 2002.
Recommendation: Include Gonzalez in a package deal to acquire Jaguars TE Marcedes Lewis or Cowboys tight end Jason Witten.
Hit me up on Twitter: @JoeFortenbaugh
Win cash today playing fantasy football with the NFP and FanDuel.