October 22, 2012 -
Joe Fortenbaugh
Trade bait
The key to pulling off a favorable trade in the fantasy football world has to do with your demeanor. Above all else, you have to exhibit a level of cool similar to that of a poker player vying for millions at the final table of the World Series. And I'm not talking about a Vin Diesel I'm-too-buff-for-this-shirt-type of cool that the actor flaunts in any of the 26 Fast and the Furious movies. I'm talking about Steve McQueen in Bullitt-style cool. That quiet sense of confidence and composure that lures your prey right into the trap.
The king of cool: Steve McQueen
For starters, you can't just text a fellow league owner and ask him something along the lines of, "I need a running back and want Arian Foster. What do you want for him?" That never works because you've already tipped your hand. It's all about psychology. The last thing a fantasy owner wants—more than finishing dead last in his league—is to be fleeced in a trade that he'll hear about on the message boards for years to come. That's why owners so frequently refuse to deal the guy first mentioned at the outset of discussions. He thinks you're trying to swindle him.
Instead, all you need to do is mention the position you are targeting, with the goal being to get the other owner to mention the name of the player you are after first. At that point, it's on.
Tell the guy you need wide receiver help and that every one of your players is on the block. This will open up the discussion on the right foot, with the rival owner thinking he holds the cards in the negotiations.
As for the players to target? I'm glad you asked.
TIME TO BUY
Peyton Manning, QB, Denver Broncos: Despite having already served his bye week, Manning still ranks among the top-7 in fantasy scoring at the quarterback position. Look for the future Hall of Famer to improve on that ranking in the coming weeks, as Manning gets set to embark on a five-game stretch of matchups that features three showdowns (vs. New Orleans, vs. San Diego, at Kansas City) against defenses that rank in the top-8 in fantasy points surrendered to opposing quarterbacks. Take note that if we expect Manning's numbers to improve, we also like the prospects for wide receivers Eric Decker and Demaryius Thomas.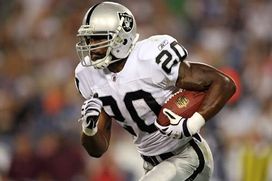 Run DMC has been struggling in the fantasy points department, but the upcoming schedule is looking mighty favorable.
Darren McFadden, RB, Oakland Raiders: Judging by the reaction on twitter to Run DMC's lackluster effort against the Jaguars on Sunday, it appears as if many owners may be willing to cut bait with the Oakland running back. Good. No ball-carrier in the league is facing a softer upcoming schedule than McFadden, who will play four of his next five games (at Kansas City, at Baltimore, vs. New Orleans, at Cincinnati) against defenses that rank in the top-9 in fantasy points allowed to opposing running backs this season. As for the fifth matchup? That comes against the Tampa Bay Buccaneers in Week 9, which isn't exactly a team known for playing lights out defense.
Reggie Wayne, WR, Indianapolis Colts: This goes for quarterback Andrew Luck as well. Wayne's next five matchups don't feature a single elite opponent in terms of limiting the production of opposing wide receivers. In fact, each of those five showdowns come against teams who rank in the top-15 in fantasy points surrendered to opposing wideouts this season (at Tennessee, vs. Miami, at Jacksonville, at New England, vs. Buffalo). We already know that Wayne is a highly-targeted receiver (81, t-first in NFL), so he should have no problems turning those opportunities into solid stat lines.
Reggie Bush, RB, Miami Dolphins: Bush has produced very little over his last four games, which is exactly why it shouldn't be too difficult to pry him away from his current owner. And now's the time to do it, because the Miami running back is set to make four straight starts against defenses that rank in the top-10 in fantasy points allowed to opposing running backs in 2012 (at NY Jets, at Indianapolis, vs. Tennessee, at Buffalo). And here's the best part: If your league offers a late trading deadline (or none at all), you can flip Bush at the end of this four-game stretch, right before he takes on the Seattle Seahawks.
Malcom Floyd, WR, San Diego Chargers: San Diego's passing attack looks like a shell of its former self, so don't go overboard looking to acquire Floyd. Just be advised that the Chargers have an upcoming schedule of games that feature favorable matchups against the Browns (Week 8) and Buccaneers (Week 10), as well as quality start opportunities against the Chiefs (Week 9) and Broncos (Week 11). Oh yeah, if he's still sitting out there on waivers, those of you in deeper leagues may want to take a shot on second-year wideout Vincent Brown.
Willis McGahee, RB, Denver Broncos: If Manning and his receivers have it good over the next few weeks, than McGahee has it made in the shade. No running back in the league has a more favorable upcoming stretch than the former Miami Hurricane, who is set to make four of his next five starts (vs. New Orleans, at Cincinnati, at Carolina, at Kansas City) against defenses that rank in the top-9 in fantasy points surrendered to opposing running backs. If you need help at the position, this is the guy to go after.
Big Ben & Friends, Pittsburgh Steelers: What's good for the goose is good for the gander, and if life is good for Roethlisberger, it should be equally so for Mike Wallace and Antonio Brown. Four of Big Ben's next five starts will take place against defenses that rank in the top-13 in fantasy points allowed to opposing quarterbacks this season (vs. Washington, at NY Giants, vs. Kansas City, at Cleveland). For those of you who may have counted the Steelers out after their 2-3 start, you may want to back off that prediction just a bit.
Now let's take a look at a few players you should be looking to move in an attempt to acquire some of the aforementioned names:
TIME TO SELL
Chris Johnson, RB, Tennessee Titans: Johnson went ballistic on Sunday, ripping off 195 yards and two scores on just 18 touches (10.8 YPC) in what was the running back's best statistical effort in close to two years. And don't be surprised if Johnson puts up another solid showing in Week 8 against an Indianapolis Colts defense that is giving up an average of 23.3 fantasy points per game to opposing running backs this season (fifth-most in NFL). But here's the thing: Following Week 8, Johnson runs into the Bears and Dolphins—who rank in the bottom-9 in fantasy points surrendered to opposing running backs this year—before going on his Week 11 bye. If you're looking to part ways with one of the league's most inconsistent backs, the next 8 days would be the time to do it.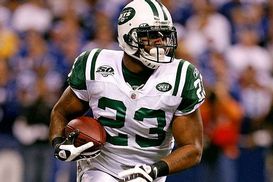 Take advantage of the Shonn Greene market while it lasts.
Shonn Greene, RB, New York Jets: After just over three years of modest statistical production, Greene has burst onto the scene over the last two weeks with 5 4 touches for 249 yards and four scores. Since his stock will arguably never be higher, owners are advised to put Greene on the trading block now, before the Jets running back embarks on a five-week stretch that includes his bye (Week 9) along with three games against defenses that rank in the bottom-9 in fantasy points surrendered to opposing backs this season (vs. Miami, at Seattle, vs. New England). Also take note that Greene's Week 11 showdown at St. Louis will be no walk in the park, either.
Brandon Marshall, WR, Chicago Bears: If you want to sit tight with Marshall, we don't blame you. After all, the Chicago wideout has been targeted 25 times over his last two games resulting in 282 receiving yards and two scores. Just take note that Marshall's next five games include showdowns with Houston, San Francisco, Minnesota and Carolina, all of whom have done a solid job defending the pass this season.
C.J. Spiller, RB, Buffalo Bills: The Buffalo running back will return from his Week 8 bye to face a three-game stretch of matchups against defenses that rank in the bottom-9 in fantasy points allowed to opposing ball-carriers this season (at Houston, at New England, vs. Miami). Throw in the fact that Spiller is currently splitting carries with Fred Jackson and you can see why we feel that the younger Buffalo running back could be in for a rough go over the next month.
Tony Gonzalez, TE, Atlanta Falcons: Gonzo has been an absolute beast this season and we envision that most of you lucky enough to have this guy on your roster won't be willing to part ways. That's understandable. Just be advised that Gonzalez's next four games (at Philadelphia, vs. Dallas, at New Orleans, vs. Arizona) come against opponents who have done a great job of limiting opposing tight ends this year.
Hit me up on Twitter: @JoeFortenbaugh