April 18, 2013 -
Joe Fortenbaugh
T-Rich hopes to battle back from injury-plagued season
All things considered, Cleveland Browns running back Trent Richardson had a productive rookie campaign last season. The Alabama product recorded three 100-yard efforts in 15 starts and scored 11 touchdowns for the league's 25th-ranked offense.
But there is obviously room for improvement. Richardson averaged just 3.6 yards per carry last season and despite ranking 11th in the NFL in carries (267), the running back concluded the 2012 season as the league's 18th-ranked rusher.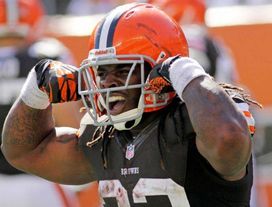 Richardson is looking to make a big jump from last year's 950-yard effort.
In addition to playing on one of the league's more stagnant offenses, a variety of injuries contributed to Richardson failing to meet his own personal expectations.
"It was tough," Richardson told Bill Livingston of the Cleveland Plain Dealer about playing through the pain in 2012. "There's a lot of stuff I didn't say and I don't know if I can really say it now. There would be times I really couldn't get going up until like Friday and I had to be out there Sunday. I can't wait 'til this year. I think there's going to be a big smile on everybody's faces after the games."
Richardson appeared in 15 games last season while battling left knee and rib injuries. But that pain appears to be a thing of the past, as the running back said he's been feeling good during Cleveland's minicamp this week.
"I feel great," said Richardson. "I wish you could watch the whole practice. I'm out there flying around. I feel skinny without all them big pads [to protect the ribs] on me. It's easy to breathe. I can sleep at night. It's a fresh breath on me."
With a new front office and coaching staff in place for the 2013 season, not to mention the fact that a new quarterback is likely headed to town via the draft, it's the start of a new era in Cleveland.
An era in which Trent Richardson plans to play a big role.
Hit me up on Twitter: @JoeFortenbaugh