March 12, 2013 -
Joe Fortenbaugh
Two teams express interest in trading for Ryan Mallett
At one point considered a lock for the first round, Arkansas quarterback Ryan Mallett fell all the way to the 74th overall selection in 2011 after the pre-draft process raised a variety of red flags. The New England Patriots took a shot on the former Razorback in the third round and that is where the 24-year-old remains to this day.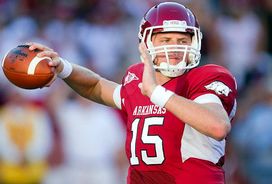 ICONMallett has only played a handful of snaps since leaving Arkansas in 2011.
Whether or not Mallett is still backing up Tom Brady come Week 1 of the 2013 season is another story.
Per Jeff Howe of the Boston Herald, the Cleveland Browns and Tampa Bay Buccaneers have contacted the Patriots regarding Mallett's availability via a trade. The 6-6, 245-pounder still has two years left on his four-year rookie deal.
It's no surprise to see Cleveland inquiring as to the availability of Mallett, considering the team has a new front office and coaching staff in place and probably isn't sold on Brandon Weeden as the organization's signal-caller of the future. But the Buccaneers' interest once again raises questions as to the team's commitment to current quarterback Josh Freeman.
Mallett has appeared in just four games during his two seasons in the NFL, completing just one of four pass attempts with an interception.
It will be interesting to see if this story goes any further than this point. But if nothing happens with Mallett during the current free agent frenzy, don't be shocked if these types of rumors surface again come draft time.
Hit me up on Twitter: @JoeFortenbaugh