October 06, 2014 -
Joe Fortenbaugh
Updated CFB championship odds: Upset city
The state of Mississippi took center stage Saturday as the Ole Miss Rebels upended undefeated, top-ranked Alabama shortly after the Mississippi State Bulldogs put the finishing touches on an annihilation of the Texas A&M Aggies. Now a combined 10-0 on the season through the first week of October, the Rebels (15/1) and Bulldogs (25/1) currently occupy two of the top 13 spots on the college football championship odds board at the Westgate Las Vegas SuperBook.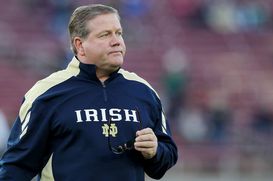 Brian Kelly and the Irish now sit at 10/1 following Saturday's win over Stanford.
As a result of Alabama's loss, the Florida State Seminoles moved from 6/1 to 4/1 to reclaim the top spot on the board. But that comes nowhere close to defining the big picture of the college football betting landscape following one of the wildest Saturday's in recent memory.
The Oregon Ducks dropped from 8/1 to 20/1 following Thursday night's 31-24 home defeat to the Arizona Wildcats, who surged from 200/1 to 50/1. Meanwhile, Oklahoma was adjusted from 6/1 to 10/1 in the wake of the team's 37-33 loss at TCU, which moved the Horned Frogs from 50/1 to 25/1.
But we're still only beginning to scratch the surface on the massive overhaul that took place on the Westgate's odds board this past weekend. UCLA dropped from 10/1 to 20/1 following a 30-28 loss to Utah, Georgia Tech's fifth-straight win resulted in an adjustment from 300/1 to 100/1 and BYU fell off the face of the Earth from 40/1 to 9999/1 after losing 35-20 to Utah State in a game that saw quarterback Taysom Hill go down for the season with a leg injury.
And then there's Brian Kelly and the Notre Dame Fighting Irish, who are now 10/1 after opening the season 60/1 thanks to a monstrous 17-14 come-from-behind win over Stanford.
The marquee matchup this Saturday pits undefeated, ninth-ranked TCU (25/1) against undefeated, fifth-ranked Baylor (10/1) in a game that opened with the Bears as 11-point favorites before some early money forced an adjustment to as low as -10, per Sportsbook Review.com.
Here's the full rundown: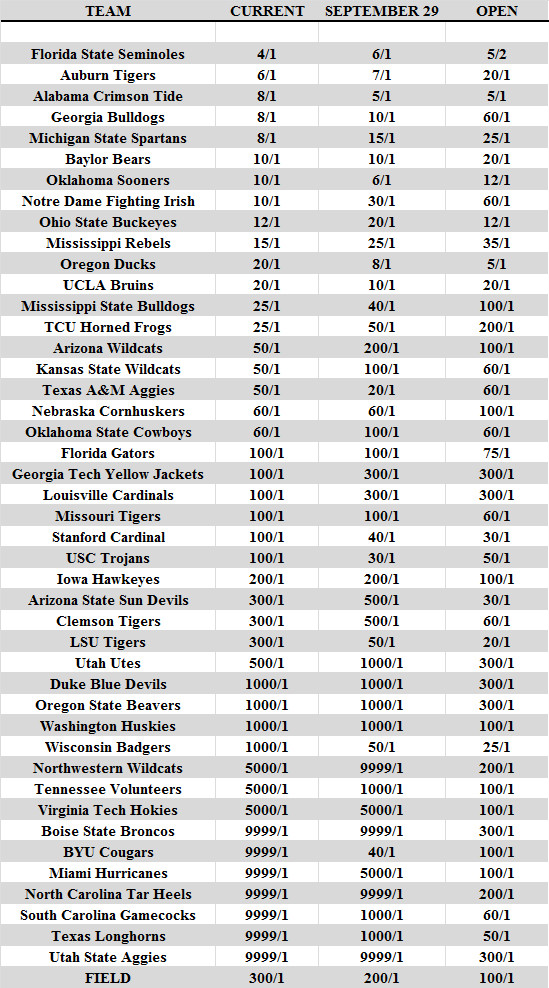 Hit me up on Twitter: @JoeFortenbaugh