November 11, 2013 -
Joe Fortenbaugh
Updated Super Bowl odds
Ten weeks into the season and we've seen a variety of adjustments made to the Super Bowl odds board. Today we're going to take a look at the biggest shifts that have occurred by comparing the post-NFL draft odds to the current Monday morning odds in Las Vegas.
Odds courtesy of the LVH sports book here in Las Vegas.
STOCK UP
Kansas City Chiefs (from 60/1 to 12/1): Raise your hand if you thought Andy Reid and Alex Smith would be sitting atop the AFC West entering Week 11. The Chiefs have rattled off nine straight victories to open the season and boast a league-best +15 turnover differential to go along with their league-best 12.3 points per game allowed on defense. Still, despite the fact that Kansas City stands as the NFL's lone unbeaten franchise, there are many who feel this team is headed for nothing better than a wild card playoff berth.
Newton and the Panthers have been white hot over the last five weeks.
Carolina Panthers (from 60/1 to 14/1): ESPN Las Vegas radio host and good friend Mitch Moss was banging the drum for the Panthers at 60/1 approximately four weeks ago, but few would listen. Well, who's laughing now? The Panthers currently rank second in the league in total defense (283.3 yds/gm), are in the midst of a five-game winning streak and just took out the 49ers in San Francisco on Sunday. Remember when we all thought that the NFC South was a foregone conclusion? Not so much anymore.
New Orleans Saints (from 19/1 to 6/1): We knew the Saints would be better in 2013, but nobody expected this defense to make the jump from a league-worst 440.1 yards per game surrendered in 2012 to 317.6 yds/gm this season (seventh in NFL). Couple that with a Drew Brees-led offense that is shredding the opposition as expected and you get a team that currently sits near the top of the Super Bowl odds board.
STOCK DOWN
Atlanta Falcons (from 16/1 to 2,000/1): From injuries to sub-par play along both lines, nothing has gone right in Atlanta this season. The real test will be whether or not Mike Smith and Matt Ryan can bounce back in 2014. Otherwise, the Falcons' window may have closed a lot quicker than most were expecting.
Houston Texans (from 12/1 to 500/1): This team is a couple plays away from being 0-9 and is gassed-out from a seven-game losing streak. The Matt Schaub era is over, Arian Foster looks to be in decline and Gary Kubiak is likely on his way out the door the day the season ends. Those two playoff wins over Cincinnati feel like they happened a decade ago.
Minnesota Vikings (from 50/1 to 1,000/1): Predicted by many to regress big-time in 2013, nothing that's happened in Minnesota this season has come as a surprise.
Pittsburgh Steelers (from 20/1 to 200/1): Hit the board at 20/1 because they're a very public team that takes a lot of action each offseason. But the warning signs were there. Old, slow and injury-prone doesn't work in the National Football League.
Washington Redskins (from 30/1 to 200/1): The popular pick to emerge from the NFC East, Washington can't seem to find any consistency this year. Most of that can be attributed to the slow start from quarterback Robert Griffin III, who was nowhere near 100 percent to begin the season.
Baltimore Ravens (from 30/1 to 100/1): In five road games this season, quarterback Joe Flacco is 1-4 with seven touchdown passes, nine interceptions, a completion percentage of just 57.5% and a QB rating of 71.0. Some things never change.
New York Giants (from 18/1 to 60/1): See Pittsburgh Steelers above.
Green Bay Packers (from 12/1 to 30/1): That's what happens when you lose one of the best quarterbacks in the game today.
FINDING VALUE
Indianapolis Colts (from 30/1 to 20/1): They'll win the AFC South and have shown the ability to hang with the big boys, as evidenced by wins over San Francisco, Seattle and Denver.
Dallas Cowboys (from 30/1 to 50/1): Have absolutely no shot of winning the Super Bowl, but at 50/1 and with the best chance of winning the NFC East, you'll have a nice hedge opportunity here come January.
2013 SUPER BOWL ODDS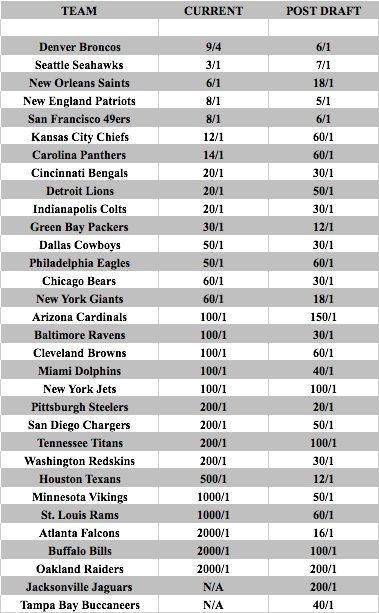 Hit me up on Twitter: @JoeFortenbaugh