December 05, 2011 -
Joe Fortenbaugh
Updated Super Bowl odds from BetOnline.com
As Tim Tebow and the Broncos continue to win, Denver's odds to win the Super Bowl continue to improve.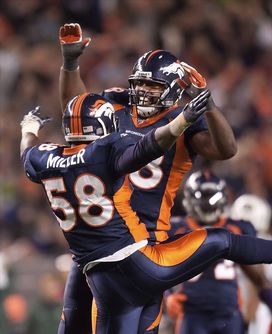 Even with Von Miller (58) on the sidelines, the Broncos found a way to win at Minnesota.
Posted at 200-1 to hoist the Vince Lombardi Trophy only three weeks ago, the Broncos are now available at 30-1, per Dave Mason and our friends at BetOnline.com.
Credit a five-game winning streak and a captivating quarterback who knows how to channel his inner Robert Horry for the improvement. Just be sure you don't overlook John Fox's defense. The Broncos are surrendering an average of just 18.4 points per game and have forced eight turnovers and recorded 15 sacks during this recent five-game stretch of victories.
But all isn't roses in Chicago, Cincinnati and Detroit after disappointing Week 13 losses left the Bears, Bengals and Lions in desperate need of some wins entering the home stretch.
Here's the rundown…
Hit me up on Twitter: @JoeFortenbaugh