September 10, 2014 -
Joe Fortenbaugh
Updated Super Bowl odds: Risers & fallers
The prevailing opinion in Las Vegas is that you never want to overreact to what happens in Week 1 of the NFL season, as the opening sixty minutes accounts for such a small percentage of the overall pie. However, just because you shouldn't overreact doesn't mean you should underreact or fail to react at all. There were some interesting developments that took place this past weekend which had an affect on the 2015 Super Bowl odds at the Westgate Las Vegas SuperBook (formerly the LVH).
In the wake of their respective Monday night victories, the Arizona Cardinals and Detroit Lions were both moved from 40/1 to 30/1. Bruce Arians' Cardinals scratched out an 18-17 come-from-behind victory over San Diego while Matthew Stafford and Calvin Johnson tore apart the Giants, 35-14. According to Sportsbook Review.com, the Cardinals have moved from PK to -1 or -1.5 for their Week 2 road date with the Giants while the Lions have been adjusted from +3.5 to +2.5 for their NFC showdown at Carolina.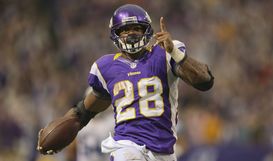 Peterson and the Vikings are flying high following Sunday's win at St. Louis.
In what should be viewed as the biggest adjustment of the week, the Minnesota Vikings rode a 34-6 road thrashing of the St. Louis Rams in head coach Mike Zimmer's debut from 100/1 to 30/1. At the moment, only ten teams on the board are listed above the Vikings. In addition, Minnesota has moved from +3.5 to +3 for Sunday's non-conference home matchup with the New England Patriots.
The Atlanta Falcons and Carolina Panthers, who entered Week 1 at 60/1, are now both down to 40/1 following divisional victories over the New Orleans Saints and Tampa Bay Buccaneers, respectively. However, the Falcons have moved from +4 to +5.5 for their Week 2 showdown at Cincinnati while the Panthers have been adjusted from -3.5 to -2.5 for their home date with Detroit.
Despite a win over the Washington Redskins, the Houston Texans have dropped from 25/1 to 40/1. Despite a loss at Atlanta, the New Orleans Saints have held strong at 7/1.
As the Vikings went soaring up the board, the Chicago Bears came tumbling down. A 20/1 shot entering Sunday's matchup with the Buffalo Bills, the Bears can now be purchased at a price of 50/1. Six road dates over their next eight games suddenly has Chicago in a difficult situation following a 0-1 start.
Here's the rest of the rundown: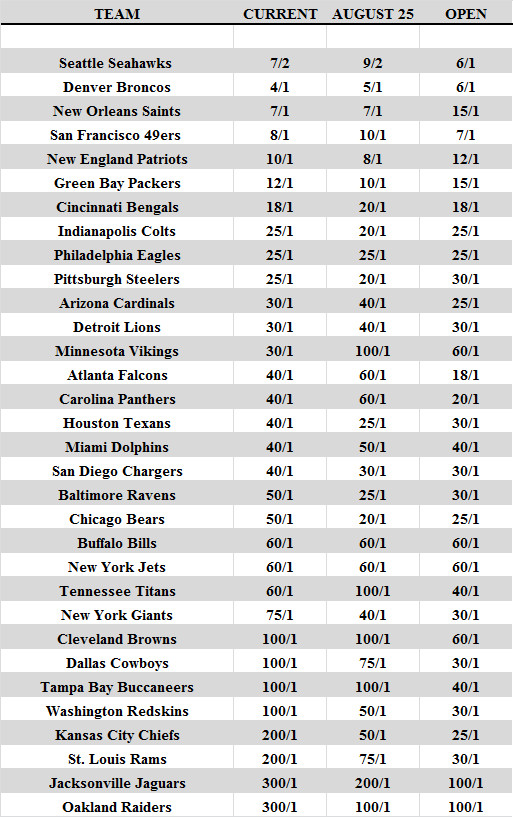 Hit me up on Twitter: @JoeFortenbaugh