August 25, 2014 -
Joe Fortenbaugh
Updated Super Bowl odds: risers & fallers
Seven months have passed since the 2014 Super Bowl odds market opened at that Westgate SuperBook here in Las Vegas. But while heavy favorites Seattle and Denver continue to sit atop the board, several notable adjustments have taken place due to a variety of factors ranging from sharp action to injuries sustained by marquee players. These adjustments are important to track over the course of the year because they can provide some insight as to which teams the sophisticated bettors are supporting. And by acquiring this knowledge, the rest of us can begin to get an idea of which teams will fall into the "contender" category and which will be relegated to the "pretender" designation.
Below you'll find the rundown of the teams who have been taking big strides either forwards of backwards since January. For those looking to cross reference these prices with the current Week 1 point spreads, visit our friends at SBRodds.com.
ON THE RISE
New Orleans Saints: Led by Super Bowl-winning quarterback Drew Brees, the Saints have recently emerged as one of the most popular teams to win this year's championship, dropping from an opening number of 15/1 last January to 14/1 in July to 7/1 at the current moment. And while New Orleans' Super Bowl odds have been tightening up, the team's season win total has been soaring, with most books moving off the opening number of 9.5 to a current position of 10, with heavy juice on the OVER.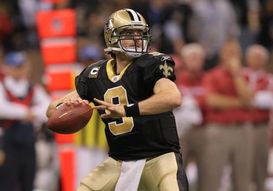 ICONBrees and the Saints have become a very popular futures play in Vegas over the last month.
Green Bay Packers: From 15/1 to 12/1 to 10/1, the Packers are now tied with the San Francisco 49ers for fifth on the Super Bowl odds board. We all know Aaron Rodgers and company can put up the points, but most of this support has come in with the understanding that the Green Bay defense will be much improved in 2014. The loss of NT B.J. Raji for the season (torn biceps) led to no adjustments in the market.
Pittsburgh Steelers: The money continues to trickle in on the Pittsburgh Steelers (30/1 to 25/1 to 20/1), but the public has had a big hand in this recent push. Remember, the Steelers have one of the largest and most loyal fan bases in the entire country. Whether or not they're putting the best possible product on the field sometimes comes in second to fandom.
FALLING DOWN
San Francisco 49ers: While not a major adjustment, it's worth noting that after spending most of the year at 7/1, the Niners were recently moved to 10/1. This is a team that takes a lot of public money in Nevada thanks to sharing a common border with the state of California, but that does not appear to be the case this season. Many advanced metrics point to an impending regression for head coach Jim Harbaugh and the 49ers and, thanks to playing in an ultra-tough division with the defending champs, the level of support we've seen in recent years appears to have decreased this season.
Kansas City Chiefs: Big red flag here as an 11-5 Chiefs team that qualified for the playoffs last season has been heading in the wrong direction at a rapid pace. After opening in January at the reasonable price of 25/1, Kansas City has since been adjusted north twice, to 40/1 in July and now 50/1 at the end of August. Like with San Francisco, many are predicting a regression here.
Atlanta Falcons: It looks like Mike Smith and company have missed their window, as the Falcons have plummeted from 18/1 to 40/1 to a staggering 60/1 at the Westgate SuperBook. Questions along the offensive and defensive lines as well as the secondary have few believing this team can take out New Orleans to win the NFC South.
Carolina Panthers: Along the lines of what we've seen with San Francisco and Kansas City, many shaper bettors feel the Panthers will take a step backwards in 2014 due to a lackluster receiving unit that lost Steve Steve during the offseason. After opening at 20/1, the Panthers have been in steady decline to 40/1 and now 60/1.
Dallas Cowboys: One look at this defense coupled with a December back surgery for 34-year-old quarterback Tony Romo and the entire country is bearish on the Cowboys. Once sitting as high as 30/1, the Cowboys can currently be purchased for a price of 75/1.
St. Louis Rams: After losing quarterback Sam Bradford for the season due to an ACL injury, the Rams dropped from 40/1 to 75/1. If they didn't play in the league's toughest division, some insiders feel there would still be some value in backing St. Louis at the current price.
Tampa Bay Buccaneers: Now at the astronomical price of 100/1, I still believe there is plenty of value in backing defensive-minded head coach Lovie Smith and the new-look Buccaneers. Should this team find a way to snag a wildcard berth, you could begin to hedge against to guarantee yourself a tidy profit.
Tennessee Titans: Despite a relatively soft division, there's little faith in new head coach Ken Whisenhunt and on-the-hot-seat quarterback Jake Locker. Only the Jacksonville Jaguars (200/1) currently boast worse Super Bowl odds than Tennessee.
Hit me up on Twitter: @JoeFortenbaugh