December 13, 2012 -
Joe Fortenbaugh
Updated Super Bowl odds: Seattle makes a move
The events that transpired in Week 14 caused a big shake-up in the Super Bowl odds department. Houston's humiliating loss at New England on Monday night vaulted the Patriots to the 9-4 favorite, while Atlanta's defeat at Carolina dropped the Falcons to a less-than-inspiring 8-1. San Francisco (4.5-1) and Denver (4.5-1) are still hanging tight. Baltimore (20-1) and Chicago (40-1) are starting to slide.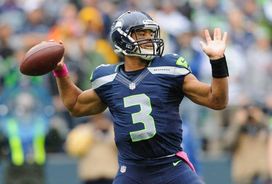 It's very possible for Russell Wilson and the Seahawks to earn a first-round bye.
But today we want you to take a look at what's happening out west, where the Seattle Seahawks—winners of four of their last five games—have quietly climbed inside the top-10 and now reside on LVH's board at 18-1. And now that you're looking at the Seahawks, we want you to start peering into the future.
Believe it or not, there's a very real chance that Pete Carroll's squad could wind up with a first-round bye when the regular season comes to a close. The Seahawks head to Toronto this weekend to take on the Bills and then return to Seattle for back-to back home games with the San Francisco 49ers and St. Louis Rams. If Russell Wilson and company can run the table and the Niners leave New England this weekend with a loss, Seattle would win the NFC West.
That means at least one playoff game at CenturyLink Field, where Seattle is 6-0 both straight-up and against the spread in 2012.
Let's take this equation one step further, shall we? Assuming Seattle wins out and San Francisco loses at New England, the Seahawks would then need just one more loss from the Green Bay Packers (at Chicago, vs. Tennessee, at Minnesota) to claim a first-round bye, assuming the New York Giants (at Atlanta, at Baltimore, vs. Philadelphia) don't win out.
If everything breaks Seattle's way, the Seahawks could be one home win from the NFC Championship game. And at a current price of 18-1, that would create some very enticing opportunities for Seattle backers to hedge their Super Bowl futures bet come January.
Just something to think about.
Hit me up on Twitter: @JoeFortenbaugh