December 29, 2014 -
Joe Fortenbaugh
Updated Super Bowl odds: Welcome to the postseason
While the advantage in the race for the Vince Lombardi Trophy sides with the four teams that earned a first-round bye (Seattle, Green Bay, New England, Denver) and even more so with the two clubs who claimed home field advantage (Seattle, New England), preseason Dallas backers have to be salivating at the hedging opportunity that has presented itself entering the month of January.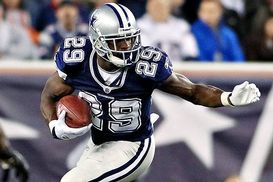 DeMarco Murray and the Cowboys have surged from 75/1 to 10/1 to win this season's Super Bowl.
Listed at 75/1 to win the Super Bowl back in August, which was more favorable than the odds for just six other teams (Cleveland, Jacksonville, Minnesota, Oakland, Tampa Bay and Tennessee), the Cowboys rode the legs of running back DeMarco Murray and right arm of quarterback Tony Romo to an NFC East crown and spot on the Westgate Las Vegas SuperBook's odds board at 10/1. And of the four teams listed above the Cowboys, none will be playing during this upcoming weekend's slate of playoff action.
The defending champion Seahawks remain atop the board at 9/4, while the freefalling Cardinals bring up the rear at 75/1. Poor Bruce Arians. The Arizona head coach was cooking with gas until the injury bug decimated the team's quarterback position.
Here's the full rundown:
Note: The odds in parenthesis indicate where each team was listed back on August 25.
Seattle Seahawks: 9/4 (9/2)
New England Patriots: 5/2 (8/1)
Green Bay Packers: 5/1 (10/1)
Denver Broncos: 6/1 (5/1)
Dallas Cowboys: 10/1 (75/1)
Indianapolis Colts: 20/1 (20/1)
Pittsburgh Steelers: 20/1 (20/1)
Baltimore Ravens: 30/1 (25/1)
Carolina Panthers: 40/1 (60/1)
Cincinnati Bengals: 40/1 (20/1)
Detroit Lions: 40/1 (40/1)
Arizona Cardinals: 75/1 (40/1)
SUPER BOWL XLIX GAME LINE
NFC (-1.5/49) vs. AFC
Hit me up on Twitter: @JoeFortenbaugh