September 20, 2012 -
Joe Fortenbaugh
Updated Super Bowl odds
LAS VEGAS—It only took two weeks for Jim Harbaugh and the 49ers to put the rest of the league on notice: Whether you like it or not, San Francisco is for real.
After opening the Niners at 20/1 last January to win this year's Super Bowl, San Francisco's impressive victories at Green Bay and vs. Detroit to open the season have Alex Smith and company now listed as the 4/1 favorites to hoist the Vince Lombardi Trophy next February.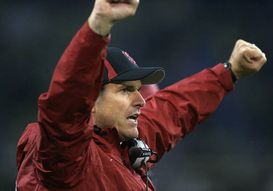 Jim Harbaugh and the 49ers are currently your favorites to win the Super Bowl.
In addition to the 49ers, the LVH Superbook has moved the Falcons from 20/1 to 12/1 and the Texans from 15/1 to 9/2. The teams headed in the wrong direction include the Cowboys (25/1), Bengals (60/1) and Lions (40/1).
And what about the New Orleans Saints, you ask? Prior to the bountygate scandal, the Saints hit the board at 6/1. But after an 0-2 start that has seen the New Orleans defense look as porous as a slice of swiss cheese, Drew Brees and company are now being offered at 60/1.
How the mighty have fallen.
Here's the rest of the rundown from LVH.
Hit me up on Twitter: @JoeFortenbaugh