March 13, 2013 -
Joe Fortenbaugh
Urlacher is talking with division rival Minnesota
A free agent for the first time in his 13-year career, the prevailing thought around the National Football League is that linebacker Brian Urlacher and the Bears will eventually come to an agreement that brings the eight-time Pro Bowler back to Chicago.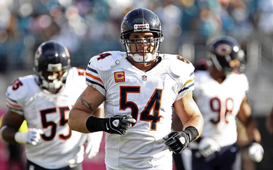 Is there a team in the NFL with enough interest to lure Urlacher away from Chicago?
But at the moment, that has yet to happen, meaning Urlacher is free to talk with any of the other 31 NFL teams who may be interested in his services.
Per our friend Mike Mulligan of the Chicago Tribune, Urlacher has been talking with the Minnesota Vikings, who Mulligan says have been "monitoring" his situation. Mulligan goes on to say that the Arizona Cardinals and Dallas Cowboys are two other organizations that have expressed interest in the soon-to-be 35-year-old linebacker.
Urlacher has recorded 41.5 sacks and 22 interceptions during his 13-year run in Chicago, but his skills have been in noticeable decline over the past few seasons. The five-time All-Pro appeared in just 12 games in 2012 due to injury, grading out as the 44th-ranked inside linebacker, according to the team at Pro Football Focus.
For now, Urlacher's got a few teams with some level of interest in his services. But don't be surprised if the Bears find a way to bring the linebacker back for another go round.
Hit me up on Twitter: @JoeFortenbaugh