May 24, 2012 -
Joe Fortenbaugh
Vegas has spoken, NFL season win totals are live
LAS VEGAS—Indulge me for a moment while I share with you a revelation I had a couple years back.
The NFL season win totals market is one in which I always enjoy dabbling. For those of you who know me personally, I ask that you try and control your utter shock and disbelief at that statement. The problem was that it took me a few seasons to realize that my approach to the market was flawed. My initial reaction was always to locate the best teams that I thought would exceed the expectations established in Las Vegas. I rarely turned a profit.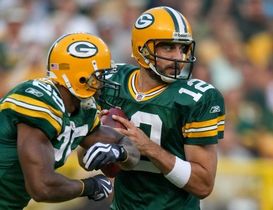 ICONAaron Rodgers and the Packers are -125 to go over 12 wins this season.
But then it hit me. Instead of targeting the best teams and betting the over, why not zero in on the worst teams and bet the under? After all, a major injury to an integral member of the offense would only help my cause with an under bet, while it would likely derail my chances of cashing a ticket with an over bet.
I put this theory to the test in 2010 by playing the under on the Buffalo Bills (5.5 wins), who opened the season on an eight-game losing streak and finished the year at 4-12. I even went so far as to buy a Bills tee shirt that I wore to cheer in the team each and every week.
The reason for the quick strategy session today is because Cantor Gaming released its 2012 NFL season win totals for all 32 teams on Wednesday here in Las Vegas. Cantor's seven sportsbooks (Venetian, Palazzo, Hard Rock, Cosmopolitan, Palms, Tropicana and The M Resort) are currently taking $3,000 limit bets on any of the options listed at the bottom of this article.
Before we take a look at some of the tastier opportunities, here are a few tips to keep in mind:
1. It's too early for over bets: Many professionals will disagree and tell you that the key is locking in a bet at the best possible price, but betting an over in May is asking for trouble. One training camp injury could derail your bet before the season even starts, which makes the risk factor outweigh the benefit of laying less juice, in my opinion.
2. Eliminate the unpredictable: This goes for rookie head coaches and rookie quarterbacks. Jim Harbaugh went 13-3 in his first season at the helm in San Francisco, while Cam Cameron went 1-15 in his only campaign at the controls in Miami. It's very difficult to project what a team will do when a new era is starting with an untested head coach. As for the quarterbacks, Andy Dalton (nine wins) and Cam Newton (six wins) exceeded the expectations of many in 2011, while Christian Ponder (three wins) and Blaine Gabbert (five wins) struggled to establish any type of consistency. Exercise caution when evaluating the chances for Indianapolis, Washington and Miami this season.
3. Be generous when studying the schedule: If you think you've found an enticing bet, go through that team's schedule game by game and give them wins (for under bets) and losses (for over bets) in every toss up situation. Your goal here is to determine the worst-case scenario for the team in question. For example, if you like the Chargers under (nine wins) and feel that San Diego has absolutely no chance of going better than 10-6, you may be on to something.
Here are some of the bets that jumped off the board at me while examining Cantor's opening lines. Come August, I'll post my final picks.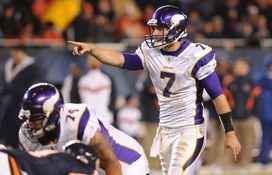 Will Ponder and the Vikings go 0-6 in the NFC North again this season?
UNDER Minnesota Vikings (6): It's possible that the Vikings come out of the gate strong with wins over Indianapolis and Jacksonville during the first two weeks of the season. But it's also conceivable that Minnesota turns in another 0-6 divisional record like they did in 2010, meaning the Vikings would need to go 7-3 outside of the NFC North to give us a loser. That's a tall order for Christian Ponder and an organization that didn't make a whole lot of upgrades this offseason.
UNDER Miami Dolphins (7.5): I know this pick violates the aforementioned rule about exercising caution regarding rookie head coaches and quarterbacks, but who the hell is Ryan Tannehill going to throw the ball to this season? There are some soft matchups on the schedule (Indy, Jacksonville, St. Louis), but the Fish need to go 8-8 for this to be a loser. I don't see that happening.
OVER Dallas Cowboys (8.5): I've said it repeatedly over the last two months: The Dallas Cowboys are being undervalued by Vegas bookmakers. Time for me to put my money where my mouth is.
OVER Buffalo Bills (7): The Bills have six games against teams (Indianapolis, Jacksonville, St. Louis, Seattle, Cleveland, Arizona) who went a combined 28-68 last season (.291). Throw in two showdowns with the Dolphins and a potential series split with the New York Jets and this over starts to look pretty appealing.
OTHER NOTES
1. The Falcons have won ten or more games in three of the last four years, but Cantor opened Atlanta at 9 and juiced the under. Interesting.
2. The Tennessee line (7) looks to be a little low considering the fact that the Titans went 9-7 last season, but check out the team's 2012 September schedule: vs. New England, at San Diego, vs. Detroit, at Houston.
3. I'll be spending a good deal of time analyzing the Bears this summer (8.5). Along with Dallas, I think Chicago could be in line for a big season.
4. I won't bet it, but I do think the Patriots will win at least 13 games this season. After all, they've done it five times over the last nine years.
5. The Ravens have won at least eleven games in three of the last four years, but opened in Vegas at 10 with the under carrying a little extra juice.
Here's the complete rundown. Feel free to share your thoughts in the comments section below.
Green Bay Packers: 12 (Over: -125, Under: -105)
New England Patriots: 12 (Over: -120, Under: -110)
Houston Texans: 10 (Over: -140, Under: +110)
Philadelphia Eagles: 10 (Over: -135, Under: +105)
New Orleans Saints: 10 (Over: -125, Under: -105)
Pittsburgh Steelers: 10 (Over: -125, Under: -105)
Baltimore Ravens: 10 (Over: -110, Under: -120)
San Francisco 49ers: 10 (Over: +105, Under: -135)
Denver Broncos: 9.5 (Over: -110, Under: -120)
New York Giants: 9.5 (Over: -110, Under: -120)
Detroit Lions: 9.5 (Over: +105, Under: -135)
San Diego Chargers: 9 (Over: -130, Under: even)
Atlanta Falcons: 9 (Over: +105, Under: -135)
Chicago Bears: 8.5 (Over: -135, Under: +105)
Dallas Cowboys: 8.5 (Over: -125, Under: -105)
New York Jets: 8.5 (Over: -115, Under: -115)
Kansas City Chiefs: 8 (Over: -120, Under: -110)
Cincinnati Bengals: 7.5 (Over: -130, Under: even)
Carolina Panthers: 7.5 (Over: -115, Under: -115)
Miami Dolphins: 7.5 (Over: -110, Under: -120)
Tennessee Titans: 7 (Over: -130, Under: even)
Buffalo Bills: 7 (Over: -110, Under: -120)
Seattle Seahawks: 7 (Over: -110, Under: -120)
Oakland Raiders: 7 (Over: -110, Under: -120)
Arizona Cardinals: 7 (Over: -110, Under: -120)
Washington Redskins: 6.5 (Over: even, Under: -130)
St. Louis Rams: 6 (Over: -110, Under: -120)
Tampa Bay Buccaneers: 6 (Over: -110, Under: -120)
Minnesota Vikings: 6 (Over: even, Under: -130)
Cleveland Browns: 5.5 (Over: even, Under: -130)
Indianapolis Colts: 5.5 (Over: +105, Under: -135)
Jacksonville Jaguars: 5.5 (Over: +105, Under: -135)
Hit me up on Twitter: @JoeFortenbaugh