August 18, 2011 -
Barry Dorey
Vick backtracks in response to GQ article
In case you haven't already heard, Eagles quarterback Michael Vick has gotten himself into some hot water regarding comments he made to Will Leitch during a recent GQ interview.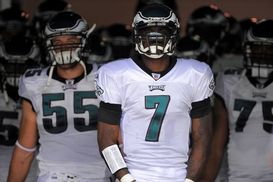 ICONVick felt the Bengals and Bills were better options for him than the Eagles. Interesting.
"I think I can say this now, because it's not going to hurt anybody's feelings, and it's the truth," Vick told Leitch. "I didn't want to come to Philadelphia. Being the third-team quarterback is nothing to smile about. Cincinnati and Buffalo were better options."
The article goes on to insinuate that Vick was possibly convinced by Commissioner Roger Goodell to sign with the Eagles, another issue that has made headlines around the country.
An interesting side note to ponder before we return to the issue at hand: Vick thought Cincinnati was a better option. That's the same Cincinnati that hasn't won a playoff game since 1990 and the same Cincinnati that is so terrible, franchise quarterback Carson Palmer chose to retire rather than return to the team.
Anyway, as you could no doubt imagine, Vick's comments have started somewhat of a firestorm, which has prompted the Pro Bowl quarterback to issue a statement through the Eagles.
"I felt it was necessary to put out a statement today clarifying the article in GQ Magazine. I did speak with many people, but the decision to sign in Philadelphia was based on my discussions with my agent, my family and with Coach Reid. And after those discussions, it became clear to me that this was the place I wanted to play and resume my NFL career. The Commissioner never told me to sign or not sign with particular teams. Again, I want to make it perfectly clear that this was a decision I made and, as I have said numerous times before, I'm very happy with the way it has worked out for me and my family."
So there you have it. Vick didn't want to sign with Philadelphia but for some reason he did. Following that decision he became one of the most popular and dangerous quarterbacks in the league. Due to said popularity, many media publications have requested interviews. Vick opted to give one of those publications some of his time, said something mildly stupid, got called on it, backtracked and apologized.
And after all of that, Vick's right back where he started: Super Bowl or bust.
Hit me up on Twitter: @JoeFortenbaugh