March 28, 2011 -
Joe Fortenbaugh
Vick, Rodgers, 14 others advance to 2nd round of Madden 2012 cover tournament
If you haven't already noticed, the good folks at EA Sports are doing their best to give football fans something to follow that has nothing to do with the lockout.
The makers of the always-awesome Madden video game have partnered up with ESPN for the Madden 12 Cover Vote campaign, in which fans have the opportunity to decide which NFL player will grace the cover of the game's newest installment, due out towards the end of summer.
Here's how it works: Each of the 32 NFL teams is represented by one player in a March Madness-style bracket tournament. Fans vote on which player they like more (or against players they hate, pick your poison) and the guy who tallies the most votes advances. Still with me? (If not, we need to have a talk).
First-round voting recently concluded with the following players advancing to the "Round of 16."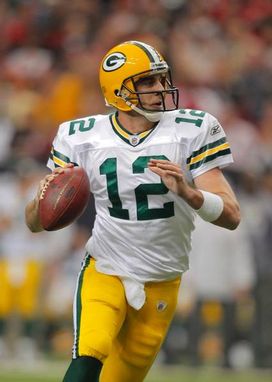 ICONIs this the next Madden cover boy?
AARON RODGERS (QB, Green Bay) defeats Ndamukong Suh (DT, Detroit)
SAM BRADFORD (QB, St. Louis) defeats Larry Fitzgerald (WR, Arizona)
HAKEEM NICKS (WR, NY Giants) defeats Brian Orakpo (LB, Washington)
DANNY WOODHEAD (RB, New England) defeats Stevie Johnson (WR, Buffalo)
MAURICE JONES-DREW (RB, Jacksonville) defeats Dwight Freeney (DE, Indianapolis)
JAMAAL CHARLES (RB, Kansas City) defeats Tim Tebow (QB, Denver)
PEYTON HILLIS (RB, Cleveland) defeats Ray Rice (RB, Baltimore)
MATT RYAN (QB, Atlanta) defeats Jordan Gross (OT, Carolina)
PHILIP RIVERS (QB, San Diego) defeats Darren McFadden (RB, Oakland)
ADRIAN PETERSON (RB, Minnesota) defeats Julius Peppers (DE, Chicago)
MARK SANCHEZ (QB, NY Jets) defeats Jake Long (OT, Miami)
DREW BREES (QB, New Orleans) defeats Josh Freeman (QB, Tampa Bay)
MICHAEL VICK (QB, Philadelphia) defeats DeMarcus Ware (LB, Dallas)
ANDRE JOHNSON (WR, Houston) defeats Chris Johnson (RB, Tennessee)
PATRICK WILLIS (LB, San Francisco) defeats "the 12th man" (Seattle)
HINES WARD (WR, Pittsburgh) defeats Carlos Dunlap (DE, Cincinnati)
I'm installing Aaron Rodgers as a 6/5 favorite to win this thing.
Who can possibly top a Super Bowl MVP with an extremely loyal and dedicated fan base?
Side note: How the hell did Hillis beat Rice and Charles beat Tebow? I thought Tebow was unstoppable?
Hit me up on Twitter: @JoeFortenbaugh</p>