February 21, 2013 -
Joe Fortenbaugh
Vikings continue to say they won't trade Percy Harvin
If you were the general manager of an NFL franchise looking to trade one of your best players, would you let the rest of the league know that you were interested in trading said player, or would you tell everybody willing to listen that said player is off the market?
I think most of us would agree that the latter is the more likely approach, as the former would yield a smaller return on your investment.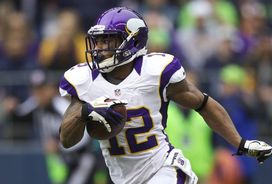 If we're to believe Spielman, than we should expect to see Harvin in Purple once again next season.
And in my opinion, that's exactly what's happening in Minnesota at the moment, as Vikings general manager Rick Spielman took to the podium at the NFL Combine on Thursday to reiterate the team's sentiment regarding disgruntled wide receiver Percy Harvin.
Asked repeatedly whether or not the team planned to trade their star wide receiver, Spielman told the media in attendance each time that the Vikings had "no intent" to deal Harvin.
It's the right move, since it always costs more to obtain something you can't have over something you can. But if Spielman is telling the truth and the Vikings do plan on keeping Harvin around for another season, the team and player will have to find a way to put the past behind them while looking towards a brighter future.
One of the best ways to commence that process may be to bring Harvin and his agent to the table in an attempt to work out a long-term contract extension. The former Florida Gator has just one year left on a five-year rookie contract that will pay him $1.55 million in base salary next season.
Or, the Vikings could always trade him. But if we're to believe Spielman, that's an avenue the team isn't interested in pursuing.
Hit me up on Twitter: @JoeFortenbaugh