April 24, 2012 -
Joe Fortenbaugh
Vikings GM claims trade market is hot for No. 3 pick
After months of speculating as to the myriad of ways the first round of the 2012 NFL draft could play out, we're just 48 hours from getting this show on the road.
The Colts and Redskins have done their part to eliminate any intrigue surrounding the first two picks, but that doesn't mean this draft is without its question marks. Most notably, what will happen at No. 3 when the Minnesota Vikings hit the clock?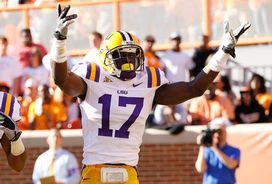 Could Morris Claiborne end up as the draft's No. 3 selection?
The team has narrowed their choices down to three players—LSU cornerback Morris Claiborne, USC left tackle Matt Kalil and Oklahoma State wide receiver Justin Blackmon—but another possibility exists that could very well be gaining some momentum. Vikings general manager Rick Spielman told reporters on Tuesday that the market for Minnesota's pick at No. 3 is beginning to pick up.
"That front has really heated up over the last 24 hours," Spielman told reporters on Tuesday per Dan Wiederer of Minneapolis Star-Tribune. "And I'm sure it will continue to heat up as we head for Thursday night."
Odds are Spielman has his poker face on and is doing everything in his power to give the Vikings as many options as possible heading into Thursday's draft.
So if another team is willing to trade up to No. 3, who would be the target? I'd install Claiborne as the favorite, as I don't see a trade-up for a running back like Trent Richardson likely. As for Blackmon, any team interested in acquiring a wide receiver could be better served by holding on to their draft picks and waiting for another talented wideout, like Notre Dame's Michael Floyd.
I fully expect the Vikings to go public with their pick sometime Wednesday night or Thursday morning, should a trade fall through. With the first two selections pretty much set in stone, Minnesota would have nothing to gain from keeping their intentions secret.
But until that time, the guessing game continues.
Hit me up on Twitter: @JoeFortenbaugh