March 12, 2013 -
Joe Fortenbaugh
Vikings preparing to make a big splash in free agency?
After a surprising 10-win season in 2012 that resulted in a trip to the playoffs, the future was looking bright for the Minnesota Vikings.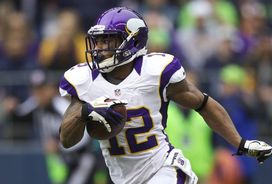 Replacing Percy Harvin's production is just one of several items on Minnesota's to-do list.
But that was over two months ago. And now that the Minnesota roster looks drastically different today than it did yesterday, you have to wonder what the plan of attack is for general manager Rick Spielman.
The Vikings acquired an additional first-round selection (No. 25 overall) in the 2013 draft thanks to Monday's trade that sent Pro Bowl wide receiver Percy Harvin to Seattle. Minnesota also cleared $7.25 million in cap space after releasing veteran cornerback Antoine Winfield on Tuesday.
So what's next?
With the free agent market set to open in just under an hour, it's reasonable to think that the Vikings—now with big holes at the wideout and cornerback positions—will get aggressive early in the process.
Their potential targets?
1. Mike Wallace, wide receiver: The Miami Dolphins have been installed as the favorites to land the services of Wallace, with an expected price tag in the neighborhood of $11-$12 million per season. The Vikings are in desperate need of a wideout and now have some additional cap space to play with thanks to the release of Winfield. But how much is too much for Wallace?
2. Victor Cruz, wide receiver: Unlikely, since he's a restricted free agent and it would cost the Vikings one of their first-round picks—as well as a new contract—for the three-year veteran. But the fact that Minnesota now has that additional first-round selection feeds some fuel to the fire.
3. Phil Loadholt, offensive tackle: The Bears are reportedly interested, so the last thing the Vikings want is to lose a starter on their offensive line to a hated division rival. In fact, losing Loadholt just over 24 hours after saying goodbye to both Harvin and Winfield isn't the type of news that would be well received in the Twin Cities. Unless the Vikings are more enamored with a lineman like Jake Long or Jermon Bushrod, you've got to figure they make a run here.
4. Cornerbacks: The Vikings ranked 24th in the league against the pass last season and that was with Winfield. Now that he's gone, Minnesota needs to address the backend of their secondary. Aqib Talib, Keenan Lewis, Dominique Rodgers-Cromartie and Sean Smith could all be in play here.
Did we leave somebody off the list? Let us know in the comments section below.
Hit me up on Twitter: @JoeFortenbaugh