December 28, 2010 -
Joe Fortenbaugh
Vikings stun sloppy Eagles
PHILADELPHIA—In a game the Eagles needed to win to remain in contention for a first-round bye, the NFL's top-ranked offense came out flat and paid the price.
Michael Vick committed a season-high three turnovers (1 INT, 2 fumbles), the Philadelphia offense sputtered to just seven first-half points and the Eagles fell 24-14 to the Minnesota Vikings at Lincoln Financial Field on Tuesday night.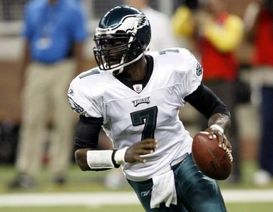 Vick and the Birds laid an egg on Tuesday night.
With the loss, Philadelphia (10-5) has now locked-up the No. 3 seed in the NFC playoffs and will have the opportunity to rest their starters Sunday vs. the Dallas Cowboys, should they so choose.
After jumping out to a 7-0 lead midway through the first quarter, it all seemed to go downhill for the Birds. Andy Reid's crew went scoreless for the next 42 minutes and in the process committed 12 penalties for 62 yards.
But don't let the hype surrounding the Eagles' lackluster performance cloud what went down in South Philly on Tuesday night. Vikings rookie quarterback Joe Webb played his best game as a pro, running back Adrian Peterson rushed for 118 yards and a touchdown and the Vikings defense kept Vick and the Birds in check for the majority of the evening en route to their sixth win of the season (6-9, 2-5 road).
Webb was smart with the football, completing 17 of 26 passes for 195 yards with no turnovers. The rookie from UAB also used his legs to pick up 31 yards and a score on six carries.
As for Vick, the recently named starter for the NFC's Pro Bowl team completed 25 of 41 passes (60.9%) for 263 yards and one touchdown with one interception. The 30-year-old also rushed for 63 yards and a score on nine carries, but finished the evening with a season-low passer rating of 75.8.
The Eagles look to rebound this Sunday in Philadelphia vs. the Dallas Cowboys, while the Vikings head to Detroit to wrap up their season against the Lions.
With the Philadelphia loss, the Chicago Bears have clinched a first-round bye in the NFC playoffs.
Hit me up on Twitter: @JoeFortenbaugh