July 27, 2011 -
Barry Dorey
Vince Young's tenure in Tennessee ends tomorrow
Vince Young went 30-17 as a starting quarterback for the Tennessee Titans from 2006-2010, but he'll probably be remembered in Nashville more for what took place off the field rather than what transpired on it.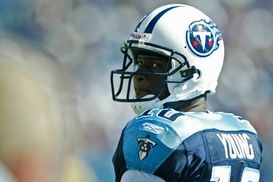 ICONVince Young's time in Tennessee has come to an end.
So after five years and no playoff wins, Young's time with the Titans is just about over.
Per Terry McCormick of TitanInsider, Young will be released on Thursday, the first day in which teams can officially cut players.
At 28-years-old, Young still has plenty of gas left in the tank to make it happen on Sundays. But the real question is whether he possesses the dedication and desire to do what needs to be done in order to resurrect his career.
As for his next stop, Philadelphia has been rumored to be interested in signing Young as a backup to Michael Vick, should they trade Kevin Kolb. Other teams in need of quarterback help include Arizona and Miami.
Where will Vince Young play next? Discuss it now in the NFP Forums!
Hit me up on Twitter: @JoeFortenbaugh