April 09, 2014 -
Joe Fortenbaugh
Voluntary, except…
Newly-minted Washington Redskins wide receiver DeSean Jackson is currently being taken to task for the second time in as many weeks, with the latest verbal bashing being handed down because the 27-year-old declined to attend a series of workout sessions with his new team that were neither mandatory nor required.
Think about that for a second. People are actually upset with an individual for declining to participate in something defined in its very title as "voluntary."
Jackson signed a three-year, $24 million contract with the Redskins on April 1, four days after the six-year veteran was unceremoniously dumped by the Philadelphia Eagles for a variety of reasons ranging from a contract dispute to team chemistry issues to alleged gang ties. The wide receiver's abrupt departure from South Philly following the best season of his career was met with a serenading of acrimony fit for a politician caught spending taxpayer money on an abortion for his 24-year-old mistress.
One week later, Jackson is under fire for going on vacation while the rest of his Washington Redskins teammates are participating in voluntary—there's that word again—offseason workouts. How could Jackson hit the beach for a little R&R while his new team was working to get better? Doesn't the wide receiver want to make a good first impression?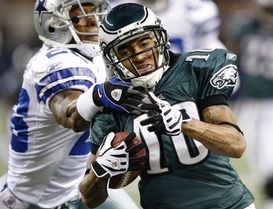 If the Redskins are fine with Jackson's vacation, why are so many other people upset?
It's simple, really. Jackson, as a member of the Eagles, scheduled his vacation to take place weeks prior to the start of Philadelphia's offseason workout program. But he was cut out of nowhere and landed with a team that was permitted to open their workout sessions two weeks before the rest of the league because of the fact that they have a new head coach. Jackson was planning to attend Philly's voluntary workout sessions, but his tenure with the organization that drafted him came to an end on March 28.
What you aren't hearing from those who are grilling Jackson for his failure to attend is that he cleared his vacation with the Washington brass prior to signing with the franchise. The Redskins—the team that will be paying Jackson millions of dollars this season—didn't seem to care all that much about the vacation, but for some strange reason, many others do.
The main argument against Jackson's decision to get away is that while these workouts are optional, the wide receiver should have shown up to make a good first impression with his new club while at the same time commencing the process of rehabilitating a tattered image that possesses absolutely no shine.
I like this theory because it's the right way to do things. But that's not DeSean Jackson. DeSean Jackson cares about DeSean Jackson. We all know this. DeSean Jackson comes first, and then the team, on occasion, comes second. That's how it's always been and there is absolutely no reason to think that anything will change now or in the future. If DeSean Jackson wants to go on vacation during a voluntary workout period, then DeSean Jackson will go on vacation. You don't like this approach? Fine, change the rules.
This leads us to the second argument against Jackson's decision, which is that while these workouts are deemed "voluntary" by definition, the reality is that players are expected to attend. This is a simple concept to debunk: If you want all of your players to attend your voluntary workouts, don't call them "voluntary workouts." Call them "mandatory workouts." This should clear up any confusion regarding a team's offseason protocol and will prevent the negative media attention that arrives at your doorstep when a player like DeSean Jackson opts out of something he was never required to show up for in the first place.
Remember, DeSean Jackson isn't the first player to skip out on voluntary workouts. Quarterbacks Tom Brady and Drew Brees have both missed voluntary workout sessions in the past, but nobody thought to grill either signal-caller over their respective decisions. That's one of the benefits that come from being a team player with a good reputation. People will let you slide on nonsense like this.
But not Jackson. Not after what happened in Philly. When one of the best receivers in franchise history is dumped during his prime and not a single member of the locker room rises to his defense, well, you're not exactly going to have a country full of fans and media members back a decision to go on vacation rather than practice with your new team.
Even if those practices are voluntary.
Hit me up on Twitter: @JoeFortenbaugh