July 31, 2011 -
Barry Dorey
Vontae Leach bails on Houston, signs with Baltimore
Many people outside the city of Houston may be unfamiliar with what Vontae Leach brought to the offense each Sunday, but ask any Texans fan and they'll tell you that re-signing the veteran fullback was at the top of the list of things to accomplish at the start of free agency.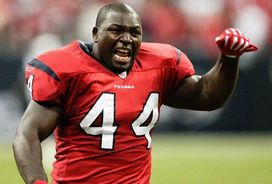 In Baltimore, Leach will be clearing the way for the elusive Ray Rice.
The people mentioned in the second part of the previous sentence may want to stop reading right about here.
John McClain of the Houston Chronicle is reporting that Leach has reached an agreement with the Baltimore Ravens on a three-year deal that will pay him a total of $11 million.
The move gives Ravens running back Ray Rice a lead blocker who earned a trip to the Pro Bowl last season clearing the way for Arian Foster.
Foster, if you recall, led the NFL in rushing last season, with 1,616 yards.
So while one high-profile AFC running back has to be thrilled with the news, another is probably wondering what just happened.
Hit me up on Twitter: @JoeFortenbaugh