April 13, 2011 -
Joe Fortenbaugh
Want to hang out with Tom Brady during the draft?
Want to ask Patriots quarterback Tom Brady what it was like to get drafted one spot after the National Football Post's Matt Bowen?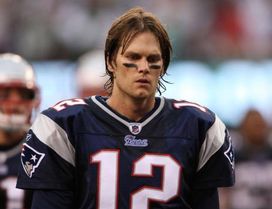 No word on whether or not Brady will let you touch his hair.
Here's your chance.
Brady, his three Super Bowl rings and long, flowing hair have teamed up with the folks at Under Armour for a facebook contest in which 12 Grand Prize winners will get to hang out with the New England signal-caller on April 29 in New York City for an NFL draft chat.
So if you want to learn how to marry a Supermodel, win a Super Bowl or are just plain curious to know what it's like to put your hands under Dan Koppen's ass thousands of times a year, CLICK HERE to enter.
Hit me up on Twitter: @JoeFortenbaugh