September 15, 2010 -
Joe Fortenbaugh
Wednesday wake-up call
Listen up.
If you're one of those owners out there (and there are a bunch of you) that's looking to overhaul your roster after one week of football because you didn't like the way things played out last Sunday, I've got a piece of advice for you.
Stop.
Do you think the Indianapolis Colts are in panic mode after losing at Houston on Sunday? Do you think San Diego is ready to call it quits after falling 21-14 Monday night in Kansas City?
The answer is no.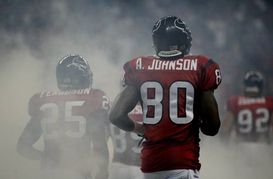 ICONJohnson only had three catches on Sunday. You want to give up on him, too?
I understand that some of your players may not have delivered as expected in Week 1, but that's no reason to lose sleep. Remember, you put weeks of research and analysis into your draft day preparation. One week is not going to make or break your season.
Yes, Malcom Floyd only caught three passes for 48 yards in a monsoon Monday night against the Chiefs. But if you're ready to move on from Floyd after his lack of production in Week 1, why not drop Andre Johnson while you're at it? A.J. caught three passes as well, but only totaled 33 receiving yards.
Of course some players won't end up producing the numbers this season that we all thought they would in August. That's life in fantasy football. But don't look to make any drastic moves just because Week 1 featured some lackluster performances.
Stay the course and trust your instincts. There is no reason to panic. Which brings us to…
Chaos in Philadelphia
Really? You're ready to throw in the towel on Eagles quarterback Kevin Kolb after 25 minutes against the Green Bay Packers? 90% of the free world is picking Green Bay to win the Super Bowl and their fantasy defense is one of the highest rated units in the league. But because Kolb didn't light them up in the first half of Week 1, you're ready to dump him from your roster and pick up Michael Vick?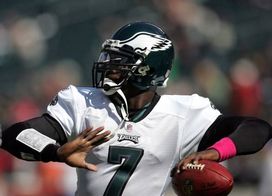 ICONVick is a nice option for Week 2, but his long-term value is cloudy at best.
Don't get me wrong. Vick was impressive in relief of Kolb on Sunday as he completed 16 of 24 passes for 175 yards and one touchdown, while rushing for another 103 yards on 11 carries. Not only that, but he makes for a solid start this weekend (assuming Kolb doesn't play due to his concussion) when Philadelphia travels to Detroit to take on a Lions defense that made Jay Cutler look like Joe Montana last Sunday.
However, head coach Andy Reid has stated that once Kolb is ready to return, he will be the starter in Philadelphia. I'm not saying Kolb will be the next Dan Marino, but the guy deserves a legitimate chance before we all jump ship.
And remember to ask yourselves this: How many of you were on the Michael Vick train when he finished the preseason with one touchdown and four turnovers? The guy has remarkable talent, but he's also inconsistent and erratic at times in the pocket.
Quarterback Insurance Policies
1. Vince Young, Tennessee Titans: Owned in 75% of CBS leagues
2. Kyle Orton, Denver Broncos: Owned in 53% of CBS leagues
3. David Garrard, Jacksonville Jaguars: Owned in 41% of CBS leagues
4. Derek Anderson, Arizona Cardinals: Owned in 52% of CBS leagues
5. Sam Bradford, St. Louis Rams: Owned in 52% of CBS leagues
Ryan Grant's injury means the end of your fantasy season
If you agree with the above statement, then you have obviously learned nothing from the NFP. Sack up and stop feeling sorry for yourself. Injuries happen, but that doesn't mean we quit. We adjust, we adapt and we get aggressive.
If you're a Grant owner and you haven't made a solid push for backup Brandon Jackson yet, do so immediately. "Whatever it takes" needs to be your motto.
Yes, Jackson has just 175 carries over his four-year career and limited game tape to evaluate. But he's stepping into an offense that ranked sixth in total yards last season (379.1 yds/gm) and finished third in scoring (28.8 pts/gm). The opportunities are going to be there because this guy is set to handle a big-time workload.
If you didn't own Grant, you're still advised to go after Jackson. The guy can add some quality depth to your lineup or become Grade A trade bait.
If you failed to land Jackson, don't panic. Settle down and look to get better any way you can. A multi-player trade could be your best option. I know you won't want to part with any of your top talent, but you need to be flexible. Putting a guy like Peyton Manning or Andre Johnson on the block could land you two or three mid-level players that can come right in and contribute. For those of you who already subscribe to the Total Access Pass, hit me up in the "Ask Joe" section and we'll discuss the best possible trades to get you back on track.
Remember, we don't panic when something bad happens. We adjust and adapt.
Running Back Insurance Policies
1. Fred Taylor, New England Patriots: Owned in 60% of CBS leagues
2. Peyton Hillis, Cleveland Browns: Owned in 38% of CBS leagues
3. Michael Bush, Oakland Raiders: Owned in 81% of CBS leagues*
*Bush may be a long shot to land on waivers, but you should check it out anyway. His thumb injury may have been enough to force his original owner to unload him. Remember, he will be back.
Positional Top Fives for Week 2
QUARTERBACKS
1. Aaron Rodgers, Green Bay Packers: vs. Buffalo Bills
2. Tony Romo, Dallas Cowboys: vs. Chicago Bears
3. Drew Brees, New Orleans Saints: at San Francisco 49ers
4. Peyton Manning, Indianapolis Colts: at New York Giants
5. Philip Rivers, San Diego Chargers: vs. Jacksonville Jaguars
RUNNING BACKS
1. Adrian Peterson, Minnesota Vikings: vs. Miami Dolphins
2. Maurice Jones-Drew, Jacksonville Jaguars: at San Diego Chargers
3. Chris Johnson, Tennessee Titans: vs. Pittsburgh Steelers
4. Steven Jackson, St. Louis Rams: at Oakland Raiders
5. Ray Rice, Baltimore Ravens: at Cincinnati Bengals
WIDE RECEIVERS
1. Miles Austin, Dallas Cowboys: vs. Chicago Bears
2. Roddy White, Atlanta Falcons: vs. Arizona Cardinals
3. Andre Johnson, Houston Texans: at Washington Redskins
4. Reggie Wayne, Indianapolis Colts: at New York Giants
5. Greg Jennings, Green Bay Packers: vs. Buffalo Bills

Check this out
The National Football Post was invited to play in a blogger's fantasy league hosted by the new and improved NFL.com. We sent our very own Diana Klochkova to the Big Apple to represent the NFP on draft day (no surprise she's currently sitting 1-0) at the NFL headquarters.
Here's an entertaining Week 1 recap from CBSSports' Will Brinson.
The P&G Blogger Fantasy League (BFL) is a group of 12 digital sports influencers competing on the NFL.com fantasy platform for the chance to win P&G product, a donation to a local charity, and a trip to Super Bowl XLV, all furnished by P&G. The NFL Entities have not offered or sponsored the sweepstakes in anyway.
Lock it up
It's never too early to start thinking about what kind of action you're gonna lay down when the NFL kicks off this weekend. Here's who I'm zeroing in on:
PITTSBURGH STEELERS (+5) at Tennessee.
This line opened at Tennessee -6 and moved a point yesterday. Dennis Dixon may be inconsistent at quarterback, but this is going to be a defensive struggle. I like Dick LeBeau's defense getting points against Vince Young.
MINNESOTA VIKINGS (-5.5) vs. Miami Dolphins
The Dolphins hit the road for the second straight week and travel to one of the loudest venues in the league to take on a Vikings team that is entering this contest on extended rest. Favre and the offense may struggle, but defensive end Jared Allen and the defense were 8-0 at home last season with an average margin of victory of 17.2 points.
Hit me up on Twitter: @JoeFortenbaugh