August 27, 2014 -
Joe Fortenbaugh
Week 1 college football betting primer
Welcome back to the National Football Post's College Football Betting Primer. I trust you all had a fine offseason and have been thoroughly enjoying a summer filled with Major League umpires consistently failing to correctly interpret the new rules regarding catchers blocking home plate. Riveting stuff, to say the least.
For those of you returning to this weekly column, we're glad to have you back. For the noobs in attendance, thanks for jumping on the train. Just like in previous years, this column will be posted every Wednesday with additional plays appearing on twitter from time to time. As always, you can also feel free to hit me up via twitter with any questions you may have regarding any football games on the schedule.
With those two unprofitable paragraphs out of the way, let's begin our journey into the 2014 college football wagering season.
Last season: 48-32-1 (.600)
This season: 0-0
Visit SBRodds.com to check out all of the current offshore lines.
CLICK HERE to check out the Las Vegas lines.
Wake Forest Demon Deacons (0-0, 0-0 road) at UL-Monroe Warhawks (0-0, 0-0 home)
When: Thursday, 7:00pm ET
Open: Wake Forest -4
Current: UL-Monroe -1 (Wynn or MGM)
Wake Forest in 2013: 5-7 ATS, 9-3 to the UNDER
UL-Monroe in 2013: 5-7 ATS, 7-5 to the UNDER
Analysis: This is a play based on the quarterback matchup, as Wake Forest trots true freshman John Wolford out for a road opener against transfer Pete Thomas, who appeared in 30 games and threw 899 passes during his previous stops at Colorado State and North Carolina State. In addition, the Warhawks return 15 starters (6 offense, 9 defense) from a year ago while the Demon Deacons have just ten starters back from a 2013 squad that went 4-8 straight-up. We're getting this line at a bad number, but still feel confident backing a UL-Monroe squad that defeated Wake Forest 21-19 in Winston-Salem last season.
Notable trends: Wake Forest is 0-4 ATS over its last four Thursday night games.
Pick: UL-Monroe (-1)
Boise State Broncos (0-0, 0-0 road) at #18 Mississippi Rebels (0-0, 0-0 home)
*Game to be played in Atlanta, Georgia.
When: Thursday, 8:00pm ET
Open: Mississippi -10
Current: Mississippi -10 (MGM)
Boise State in 2013: 6-7 ATS, 7-6 to the OVER
Mississippi in 2013: 7-6 ATS, 7-6 to the UNDER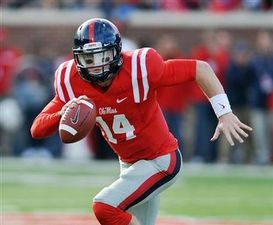 Bo Wallace leads the Rebels into a marquee Week 1 matchup against Boise State.
Analysis: Two teams trending in opposite directions here as Boise State said goodbye to legendary head coach Chris Petersen this offseason (92-13 in six years at Boise) while Ole Miss continues to get stronger and stronger under third-year boss Hugh Freeze. 15 starters are back for the Rebels (6 offense, 9 defense) including quarterback Bo Wallace, who has already appeared in 26 games and boasts an impressive collegiate completion percentage of 64.3 percent. Defensively, the undersized Broncos face a litany of mismatches both upfront and in the secondary against a massive Mississippi offensive line and lengthy receiving unit.
Notable trends: Boise State went 2-5 ATS over its final seven games last season while Mississippi is 5-0-1 ATS over its last six neutral site matchups.
Pick: Mississippi (-10)
Rutgers Scarlet Knights (0-0, 0-0 road) at Washington State Cougars (0-0, 0-0 home)
When: Thursday, 10:00pm ET
Open: O/U 60.5
Current: O/U 62.5 (Wynn)
Rutgers in 2013: 5-8 ATS, 8-5 to the UNDER
Washington State in 2013: 9-4 ATS, 7-5-1 to the OVER
Analysis: Since head coach Mike Leach took over at Washington State in 2012, Cougar home games have seen an average of 63.8 points per game hit the scoreboard, with that number checking in at 67.6 points per game last season. Eight starters from last season's high-flying offense return this year, led by senior quarterback Connor Halliday, who threw for 4,597 yards and 34 scores a year ago. As for Rutgers, take note that five of the Scarlet Knights' last seven road games have gone over the total.
Notable trends: The OVER is 15-3 in Washington State's last 18 home games.
Pick: OVER (62.5)
Bowling Green Falcons (0-0, 0-0 road) at Western Kentucky Hilltoppers (0-0, 0-0 home)
When: Friday, 7:30pm ET
Open: Bowling Green -7
Current: Bowling Green -7 (Stations)
Bowling Green in 2013: 10-4 ATS, 9-5 to the UNDER
Western Kentucky in 2013: 5-7 ATS, 7-5 to the UNDER
Analysis: The Baylor Bears were one of our favorite "Play On" teams from a year ago thanks to a fast-paced attack that forced opposing defenses to raise the white flag by halftime. Well, guess what? Bowling Green is now coached by former Baylor offensive assistant Dino Babers (2008-2011) who played a big role in the mentoring of former Heisman Trophy winner Robert Griffin III. In addition, Babers spent last season running the show at Eastern Illinois where he transformed unknown signal-caller Jimmy Garoppolo into a second-round pick of the New England Patriots. Granted, it's going to take some time for Bowling Green to pick up Babers' system, but we're going to wager that this team clicks just enough in Week 1 to overwhelm a Western Kentucky squad that is now on its third coach in as many seasons.
Notable trends: Bowling Green is 38-17-1 ATS over its last 56 road games while Western Kentucky is 1-5 ATS over its last six non-conference showdowns.
Pick: Bowling Green (-7)
Georgia Southern Eagles (0-0, 0-0 road) at North Carolina State Wolfpack (0-0, 0-0 home)
When: Saturday, 12:30pm ET
Open: N.C. State -23
Current: N.C. State -21.5 (Wynn)
Georgia Southern in 2013: This is the school's first year in the FBS.
N.C. State in 2013: 4-8 ATS, 6-6 to the OVER
Analysis: North Carolina State OVER 5.5 wins is our favorite college football season win total of the year, but those rules don't say anything about covering the point spread. And a 21.5-point line is just too much for this Wolfpack team to handle against the triple-option attack of Georgia Southern, who rolled up a gaudy 429 rushing yards in Gainesville last November while upsetting the Florida Gators, 26-20. To cover three touchdowns, you need a combination of good defense and explosive offensive playmakers. I'm not sure N.C. State will show us either on Saturday.
Notable trends: Georgia Southern is 4-0 ATS in its last four non-conference games while N.C. State is 0-4 ATS over its last four home contests.
Pick: Georgia Southern (+21.5)
SMU Mustangs (0-0, 0-0 road) at #10 Baylor Bears (0-0, 0-0 home)
When: Sunday, 7:30pm ET
Open: 1H l ine not yet posted
Current: 1H line not yet posted
SMU in 2013: 6-6 ATS, 7-5 to the OVER
Baylor in 2013: 9-4 ATS, 8-4-1 to the OVER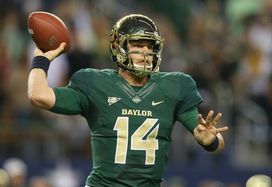 Hit the bathroom at the wrong time and you could miss three Baylor touchdowns.
Analysis: Those of you who followed this column last year are well versed in our love of both Baylor and playing Baylor to cover in the first half. In 2013, the Bears outscored their regular season opponents 387-110 during the first half, good for an average of 23.08 points per game. When the Bears played at home, however, the situation was even more lucrative, as Baylor's first half winning margin skyrocketed to an average of 31.57 points per game. Heisman hopeful quarterback Bryce Petty returns with most of his 2013 receiving unit intact to open the season against an SMU team that brings back six starters from a defense that surrendered an average of 33.3 points per game in 2013. The first half line for this showdown won't be posted for another day or so, but we're guessing it opens around 18…where we'll be waiting in the wings to pounce.
Notable trends: SMU is 1-5 ATS over its last six games played on a grass surface and 0-4 ATS over its last four games played against Baylor.
Pick: Baylor 1H (expected to be around -18)
Hit me up on Twitter: @JoeFortenbaugh