September 10, 2012 -
Joe Fortenbaugh
Week 1 fantasy report
THE BIG THREE
RG3 lights up New Orleans: So much has already been made about this performance that there's really not a whole lot left to add to the conversation. But I will say this: Griffin looked like a seasoned NFL veteran in the pocket yesterday as he calmly sliced and diced the Saints secondary to the tune of 320 passing yards and two scores. Not only that, but RG3 committed zero turnovers (unlike fellow rookies Brandon Weeden, Andrew Luck and Ryan Tannehill) and completed a ridiculous 73.1% of his passes. The guy looked more like Drew Brees than Drew Brees did. And for those of you who grabbed the Heisman Trophy winner as your QB2, you currently have a really enticing piece of trade bait on your hands. Public perception could not be higher.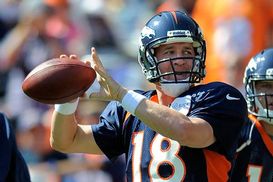 Manning looked just as good as we remember Sunday against Pittsburgh.
Four neck surgeries be damned: He's 36-years-old and hadn't played in close to two years after undergoing four neck surgeries, not to mention the fact that he got saddled with a Week 1 date against a nasty Pittsburgh defense. So how did Peyton Manning respond? With a 253-yard, two-touchdown performance in a gutsy 31-19 win over Big Ben and the Steelers. Everything is fine with Manning and as for Demaryius Thomas, Eric Decker and Jacob Tamme, they are all worthy of starting roster spots until proven otherwise.
He's not human: Adrian Peterson was already a legend for finding a way to get back on the field for the season-opener after suffering a gruesome knee injury in Week 16 last year. But to rush for 84 yards (4.9 YPC) and two touchdowns is taking it to a whole new level. Those of you who snagged AP in the second or third rounds of your fantasy drafts this summer look like geniuses. Sunday's performance shows that this freak should be in your starting lineup every week, no questions asked.
COMING UP IN THE WORLD
Stevan Ridley, RB, New England Patriots: The second-year back out of LSU rushed for a career-high 125 yards and a score (6.0 YPC) as the Patriots throttled the Tennessee Titans, 34-13. Hopefully head coach Bill Belichick was impressed to the point where he makes Ridley the team's lead ball-carrier each and every week. But you never know what the mad genius could be thinking.
C.J. Spiller, RB, Buffalo Bills: Speaking of career performances, former top-ten draft pick C.J. Spiller stepped in for an injured Fred Jackson (who is expected to be out for the next month) and rolled up a blazing 169 rushing yards on just 14 carries (12.1 YPC). Jackson's a tough back and a key member of the Buffalo offense, but Spiller could play his way into the starting role if he can build off of Sunday's performance.
WE'RE NOT WILLING TO PANIC YET, BUT…
Wes Welker, WR, New England Patriots: ESPN's Mike Reiss broke down Sunday's game between the Patriots and Titans and noted that Pro Bowl receiver Wes Welker was on the field for just 43 of 67 total snaps. This is not good news for fantasy owners. If New England can roll over teams like they did on Sunday without much from Welker, his fantasy value could begin to plummet.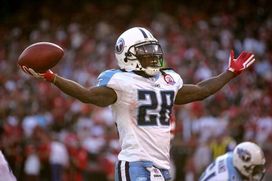 Will Johnson ever regain his elite form?
Chris Johnson, RB, Tennessee Titans: New year, same underwhelming stat lines from Chris Johnson. Four rushing yards and no touchdowns on 11 carries isn't going to cut it for owners who spent a top-ten pick on Johnson this summer. We really don't want to believe that he took the money and ran, but it's tough to slice this one any other way. The good news is that another bad performance could force owners to unload Johnson at a very cheap price.
THE WAIVER WIRE
Brandon LaFell, WR, Carolina Panthers: One of the NFP's preseason sleeper picks for 2012, LaFell caught three passes for 65 yards and a score on five targets in Sunday's loss at Tampa Bay. The third-year wideout makes for a decent WR3 with upside playing alongside Pro Bowler Steve Smith.
Alfred Morris, RB, Washington Redskins: After carrying the rock an astounding 28 times for 96 yards and two scores in the 'Skins upset win over New Orleans, it looks like Morris has taken over as the lead back in Washington. The Saints defense was dreadful on Sunday, so let's see if the rookie can keep up the solid production next week at St. Louis before we move him into the RB2 range.
Christian Ponder, QB, Minnesota Vikings: The second-year quarterback out of Florida State didn't set the world on fire in Week 1, but he completed 74.1% of his passes and posted a QB rating of 105.5. He's got potential.
Kevin Ogletree, WR, Dallas Cowboys: Ogletree's fireworks display from last Wednesday night (8-114-2, 11 targets) has owners scrambling to acquire his services. But keep in mind that he's a No. 3 receiver in Dallas and will probably lose some targets once tight end Jason Witten gets healthy. Yes, it was a phenomenal game for the fourth-year wideout, but let's be sure to taper our expectations just a bit.
Stephen Hill, WR, New York Jets: The Jets offense came alive on Sunday with the rookie wide receiver from Georgia Tech stealing the show to the tune of 89 yards and two scores on five receptions. Quarterback Mark Sanchez's ability to play consistent football on a weekly basis is still a concern, but Hill definitely flashed some big-time upside in his NFL debut.
Alex Smith, QB, San Francisco 49ers: The Packers defense may not be the stalwart unit we remember from the team's Super Bowl run two years ago, but Smith deserves a lot of credit for going into Lambeau and completing 76.9% of his passes for 211 yards and two scores in a 30-22 upset win over Green Bay. More impressively, Smith's 8.1 yards per attempt average could serve as an indicator that San Fran's new-look receiving unit is the real deal.
Denver Broncos, D/ST: They were drafted in some leagues and passed over in others, but after a solid showing against an explosive Pittsburgh offense, these guys are a must-own in my opinion. Despite being on the field for over 35 minutes, the Broncos defense recorded five sacks and one turnover while surrendering just 284 total yards of offense.
Kyle Rudolph, TE, Minnesota Vikings: Another NFP preseason sleeper, Rudolph racked up five receptions for 67 yards on six targets in Sunday's overtime win over the Jaguars. We currently view Rudolph as a TE1 in leagues with 12 or more teams and a TE2 in smaller formats.
Cecil Shorts, WR, Jacksonville Jaguars: Somebody has to catch the ball in Jacksonville and while the smart money is still on rookie first-rounder Justin Blackmon, Shorts set the tone in Week 1 with four receptions for 74 yards and a score on seven targets. Consistency is definitely a concern, but Shorts' solid play to open the year deserves recognition.
Martellus Bennett, TE, New York Giants: Despite the fact that he's now in his fifth NFL season, Bennett still looks like a guy who doesn't have his head in the game on every single down. But the former Cowboy saw six targets from Eli Manning last week and turned those opportunities into 40 yards and a touchdown. He's got the potential to be a very scary red zone threat.
Randy Moss, WR, San Francisco 49ers: It was only one game and he's still 35-years-old, but Moss found his way back into the end zone on Sunday while hauling in a total of four receptions for 47 yards. He's worthy of a roster spot, but we wouldn't rank him any higher than a WR3 at this point in time. However, there is still some nice upside that comes with the original Straight Cash Homey.
KEY INJURIES
Fred Jackson, RB, Buffalo Bills: Expected to miss the next month after injuring his knee on Sunday against the Jets.
David Nelson, WR, Buffalo Bills: Out for the season (knee).
Brent Grimes, CB, Atlanta Falcons: Out for the season (Achilles).
John Skelton, QB, Arizona Cardinals: Suffered a low ankle sprain Sunday, early reports indicate he could be out for 1-2 weeks. Kevin Kolb steps back into the starting role.
Jeremy Maclin, WR, Philadelphia Eagles: Battling a hip flexor, status for Week 2 is unknown.
Darrelle Revis, CB, New York Jets: Suffered a mild concussion Sunday vs. Buffalo, status for Week 2 is currently unknown.
Russell Okung, OT, Seattle Seahawks: Suffered bone bruise in left knee, which is a huge sigh of relief for Seattle who was fearing the worst. No word on whether or not he'll play vs. Dallas this Sunday.
Pierre Garcon, WR, Washington Redskins: Injured his right foot at New Orleans, says he's fine and will play in Week 2.
Charles Tillman, CB, Chicago Bears:
MONDAY NIGHT PICKS
CINCINNATI BENGALS (+7) at Baltimore Ravens: At less than -7 I would be on the Ravens, but I'll take the Bengals and the points in this spot. Cincinnati lost by seven and eight in their two meetings against Baltimore last season and I'm still not sure what to make of this aging Ravens defense.
OAKLAND RAIDERS (-1) vs. San Diego Chargers: A balanced matchup means I'm going to pay more attention to the home team for the second half of our Monday night doubleheader. Couple that with the fact that Norv Turner's teams are notorious for getting off to slow starts (with the exception of last year) and I'm comfortable backing the Silver & Black here.
MOST TARGETED PLAYERS
1. Reggie Wayne, Indianapolis Colts: 18
2. Brandon Marshall, Chicago Bears: 15
3. Jeremy Maclin, Philadelphia Eagles: 14
4. Marques Colston, New Orleans Saints: 11
5. Victor Cruz, New York Giants: 11
6. Jermichael Finley, Green Bay Packers: 11
7. Larry Fitzgerald, Arizona Cardinals: 11
8. DeSean Jackson, Philadelphia Eagles: 11
9. Kevin Ogletree, Dallas Cowboys: 11
10. Steve Smith, Carolina Panthers: 11
THE HEAVY WORKLOAD
1. Doug Martin, Tampa Bay Buccaneers: 28 touches
2. Alfred Morris, Washington Redskins: 28 touches
3. Arian Foster, Houston Texans: 27 touches
4. Shonn Greene, New York Jets: 27 touches
5. LeSean McCoy, Philadelphia Eagles: 26 touches
6. Steven Jackson, St. Louis Rams: 25 touches
7. Marshawn Lynch, Seattle Seahawks: 23 touches
8. Stevan Ridley, New England Patriots: 23 touches
9. Maurice Jones-Drew, Jacksonville Jaguars: 22 touches
10. DeMarco Murray, Dallas Cowboys: 22 touches
Hit me up on Twitter: @JoeFortenbaugh