September 06, 2012 -
Joe Fortenbaugh
Week 1 overpriced & undervalued for the FanDuel Las Vegas Championship
Our Friday column will once again be dedicated to our top Starts & Sits selections for the upcoming week, but we're going to spend Thursdays this season sharing our best and worst value picks for the FanDuel Fantasy Championship.
For the uninitiated, our partners at FanDuel offer a weekly salary cap game in which you draft a fantasy team with a $60,000 salary cap. Most points wins. You can play head to head or in a group and there are some really enticing options.
Like, for instance, the chance to win a trip to Las Vegas to play for a share of $500,000. Click here to read more. And if the winner comes from the NFP, I'll be sure to throw in a round of golf as well.
In addition, you can jump into the Week 1 NFP/FanDuel Salary Cap Challenge that is free to enter and features a $1,000 prize pool. Click here to enter.
But before you do, let's take a look at some of our most undervalued and overpriced FanDuel options for Week 1.
UNDERVALUED
Matt Ryan, QB, Atlanta Falcons (Price: $7,900): CB Brandon Carr left Kansas City for Dallas and wide receiver Julio Jones enters his second season looking to improve on a rookie stat line that featured 959 receiving yards and eight touchdowns. With more emphasis being placed on the hurry-up offense, Ryan should roll up some solid numbers on Sunday as the 9th-ranked quarterback on the board.
Kevin Smith, RB, Detroit Lions (Price: $5,000): Smith is dealing with a minor ankle problem, but as the 48th-ranked RB on the board listed at the unbelievably low price of just $5,000, there's a ton of value here if he ends up getting the start. Remember, St. Louis ranked 31st against the run last season.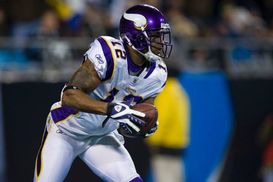 ICONQuarterback Christian Ponder absolutely loves throwing the rock to Percy Harvin.
Percy Harvin, WR, Minnesota Vikings (Price: $6,600): Harvin was targeted by rookie quarterback Christian Ponder an average of 9.8 times per game over Minnesota's final eight matchups last season. With a full offseason of work under his belt, look for Ponder to raise his game to the next level as the former Florida State standout looks down the field for Harvin.
DeSean Jackson, WR, Philadelphia Eagles (Price: $6,100): The Birds are averaging 29.7 points per game in Week 1 over the last three seasons and with the Cleveland Browns on the schedule to open the year in 2012, we don't see much changing. Jackson should be good for at least one big-time, explosive play. As the 21st-ranked receiver, we think the upside here is well worth the price.
Darren Sproles, RB, New Orleans Saints (Price: $7,000): Sproles averaged 10.6 fantasy points per game last season (10th at the RB position), but is the 14th-ranked running back for a Week 1 home showdown against the Washington Redskins. The former San Diego Charger makes for a solid RB2 that will allow you to spend more money at other key positions.
Greg Olsen, TE, Carolina Panthers (Price: $5,000): It doesn't get much cheaper than this at the TE position. And considering the fact that Olsen made our preseason sleeper list, we think this is an excellent value. Drafting a player like Olsen at this price gives you the freedom to break the bank elsewhere.
Seattle Seahawks, D/ST (Price: $5,000): Another absolute steal, the Seahawks head to Arizona in Week 1 to play a Cardinals team with a bad offensive line that is coming off a miserable preseason. We think this game will be closer than most, but from a fantasy perspective, you're getting a real bargain with the Seahawks here. Don't expect this price to last throughout the season.
Antonio Brown, WR, Pittsburgh Steelers (Price: $6,000): A big play wideout with tremendous upside who is currently going for a cheaper price than the top-25 wide receivers, don't be surprised if Brown concludes Week 1 with top-10 statistics.
Jake Locker, QB, Tennessee Titans (Price: $6,100): This is a gamble for sure, but as the 25th-ranked receiver, Locker certainly deserves a look in our opinion. Maybe that's because the word around Vegas is that the Titans are the best bet on the board for Week 1. Drafting a player like Locker is risky, but it will give you the freedom to spend like a madman at the RB and WR positions.
OVERPRICED
Ryan Mathews, RB, San Diego Chargers (Price: $8,400): It's unlikely Mathews is ready to play in Week 1, so cross him off your list.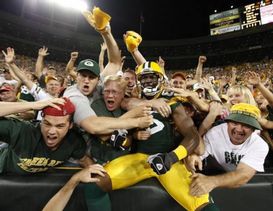 Jennings is a stud, but we feel he's a bit too pricey for Week 1.
Greg Jennings, WR, Green Bay Packers (Price: $7,600): We aren't saying Jennings won't have a solid year because we think he will. But as the fourth-most expensive receiver on the board facing a tough 49ers defense along with the fact that Aaron Rodgers has a loaded arsenal to choose from, we think there is better value out there to be had.
Aaron Hernandez, TE, New England Patriots (Price: $6,500): Now that wide receiver Brandon Lloyd has been added to the mix, we're interested to see what happens to Hernandez's target total. Maybe it stays the same, maybe it doesn't. But at that price, we're willing to wait a few weeks before jumping on board.
Adrian Peterson, RB, Minnesota Vikings (Price: $8,000): We love what A.P. brings to the table, but we don't envision a scenario where the Pro Bowl running back handles the ball more than 15 times on Sunday. That's not worth the hefty price tag of $8,000.
San Francisco 49ers, D/ST (Price: $5,700): They're the most expensive D/ST on the board for Week 1 and just so happen to be traveling to Lambeau Field to take on the high-flying Packers on Sunday. P-A-S-S.
Roddy White, WR, Atlanta Falcons (Price: $7,600): Why pay $7,600 for White when you can save $400 and select Julio Jones?
Hit me up on Twitter: @JoeFortenbaugh