November 07, 2012 -
Joe Fortenbaugh
Week 11 college football betting primer
I can't believe I'm already saying this, but we only have four more weeks of regular season college football left before the annual Army-Navy matchup and conference championship showdowns lead us into bowl season. Time is flying by.
So let's make the most of our remaining time together. Not in a romantic way (perverts), but in a profitable way.
Last week: 5-1
Season: 31-29 (.516)
CLICK HERE to check out all of the current lines.
#9 Louisville Cardinals (9-0, 3-0 road) at Syracuse Orange (4-5, 3-2 home)
When: Saturday, 12:00pm ET
Open: Louisville -2.5
Current: Louisville -2.5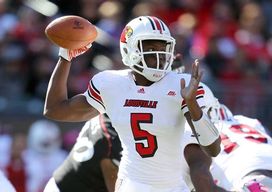 Teddy Bridgewater and the Cardinals could be in for a stiff test at Syracuse on Saturday.
Analysis: So let me see if I've got this right: The undefeated, ninth-ranked team in the country hits the road to take on a 4-5 school that's dropped two of their last four games and the line opens -2.5 and nobody bets on Louisville? Something smells fishy. Maybe it has something to do with the fact that the underdog is 7-1 ATS over the last eight meetings between these two teams, or the fact that Louisville is 0-4 ATS in their last four games following an ATS win.
Take note: Louisville is 2-5 ATS over their last seven games against Syracuse.
Pick: Syracuse (+2.5)
Minnesota Golden Gophers (5-4, 1-2 road) at Illinois Fighting Illini (2-7, 2-3 home)
When: Saturday, 3:30pm ET
Open: Minnesota -2.5
Current: Minnesota -3
Analysis: It ain't easy laying points on a road team that has dropped four of their last five contests. This much we can all agree. But Minnesota is sitting on five wins for the season and needs just one more victory to become bowl eligible for the first time since 2009. And with Nebraska and Michigan State on deck, this is the Gophers' best remaining chance to get the job done. As for Illinois, the Fighting Illini have dropped six straight (by an average of 27.0 points per game) and currently rank 117th in the nation in scoring offense (18.4 pts/gm) and 99th in scoring defense (33.1 pts/gm).
Take note: Minnesota is 6-2 ATS over their last eight games against the Illini and 4-1 ATS over their last five games at Illinois.
Pick: Minnesota (-3)
Tulsa Golden Hurricane (7-2, 2-2 road) at Houston Cougars (4-5, 3-2 home)
When: Saturday, 5:00pm ET
Open: Tulsa -2.5
Current: Tulsa -2.5
Analysis: After a three-game winning streak gave the impression that the Cougars may have turned things around after their disastrous start to the season, Houston has dropped two of the last three and currently ranks 112th in the nation in scoring defense (36.7 pts/gm). Meanwhile, Tulsa's seven-game winning streak was snapped last Saturday when the Golden Hurricane fell 19-15 at Arkansas. We'll side with some favorable trends here, as Tulsa is 15-5 ATS over their last 20 conference games while Houston is 1-4 ATS over their last five contests following an ATS loss.
Take note: Tulsa is 12-4 ATS over their last 16 road games while Houston is 3-7 ATS over their last ten meetings against teams with a winning record.
Pick: Tulsa (-2.5)
#5 Georgia Bulldogs (8-1, 2-1 road) at Auburn Tigers (2-7, 2-4 home)
When: Saturday, 7:00pm ET
Open: Georgia -15
Current: Georgia -15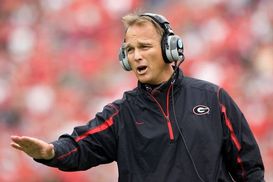 ICONMark Richt and the Bulldogs are looking to solidify their spot in the SEC championship game.
Analysis: Think the Bulldogs could be due for a letdown? Well then be sure to consider this: Florida concluded SEC play for 2012 with last Saturday's win over Missouri, bringing the Gators' conference record to 7-1 on the year. However, Georgia's victory over Florida gives the Bulldogs the tiebreaker and a win over Auburn on Saturday will send Mark Richt's team into the conference championship game. Georgia needs a victory this weekend and what better team to face in a must-win situation than Auburn, who is currently 0-6 ATS over their last six games following an ATS win.
Take note: The favorite is 4-1 ATS over the last five meetings between these two schools.
Pick: Georgia (-15)
#18 UCLA Bruins (7-2, 3-1 road) at Washington State Cougars (2-7, 1-3 home)
When: Saturday, 10:30pm ET
Open: UCLA -15
Current: UCLA -15
Analysis: Washington State head coach Mike Leach is coming dangerously close to losing his locker room. Not only has the first-year head coach criticized his seniors for a "zombie-like" performance, but Leach also forced his offensive and defensive linemen to field questions as a group from the media following last Saturday's defeat to Utah, presumably to embarrass them. UCLA first-year head coach Jim Mora is handling things a bit differently in Southern California, as his Bruins currently boast a 7-2 record and are coming off a 66-10 blowout win over an Arizona Wildcats team that took down USC just 11 days ago. Be advised that Washington State is 0-5 ATS over their last five games following a performance in which the team surrendered more than 450 yards in their previous outing.
Take note: On the flip side to the above Washington State trend, UCLA is 5-2 ATS over their last seven games after accumulating more than 450 offensive yards in their previous outing.
Pick:
#3 Oregon Ducks (9-0, 3-0 road) at California Golden Bears (3-7, 2-4 home)
When: Saturday, 10:30pm ET
Open: Oregon (we want the FIRST HALF LINE here, which hasn't been posted yet)
Current: Unavailable
Analysis: In nine games this season, the Ducks have outscored their opposition in the first half by a 324-80 margin. That's insane. We're predicting the first half line for Saturday's clash at Cal to hit the board somewhere north of -17, possibly at around -18.5. We plan on grabbing the opening number and riding with Chip Kelly's high-flying offense.
Take note: For those of you who couldn't figure out the above calculation in your heads (no worries, I couldn't either), the Ducks are winning the first half of their matchups this season by 27.1 points per game.
Pick: Oregon (at the opening first half line number)
Hit me up on Twitter: @JoeFortenbaugh