December 04, 2012 -
Joe Fortenbaugh
Week 14 fantasy waiver wire recommendations
The look-ahead
Justin Forsett & Ben Tate, RBs, Houston Texans: At 11-1 and with a two-game lead in the race for home field advantage, the Texans are firmly in control of their own destiny as they prepare for Monday night's showdown at New England. Houston's final three games include two matchups with the Colts (Weeks 15 & 17) and Vikings (Week 16), which at some point could open the door for Arian Foster to get some much-needed rest. That means Forsett has the potential to shine as an RB1. Acquire these guys now.
From around the league…
Feel free to drop Eagles quarterback Michael Vick from your rosters, as head coach Andy Reid announced on Monday that rookie signal-caller Nick Foles will be the team's starter for the rest of the season. It's always sunny in Philadelphia.
File this under, "We've heard that before." Raiders running back Darren McFadden is expected to start Thursday night against the Denver Broncos, just like he was expected to start this past weekend against the Browns and then was scratched on Sunday morning. We'll believe it when we see it.
Detroit Lions rookie wide receiver Ryan Broyles is out for the year after suffering a torn ACL in Sunday's loss to Indianapolis. This guy just can't catch a break. Look for former Jacksonville Jaguar Mike Thomas to step into the No. 2 spot in Detroit for the time being.
Don't expect to see Jaguars running back Maurice Jones-Drew back in action this Sunday. At this point, you have to wonder if Jacksonville has any intention of playing him again this season.
Vikings wide receiver Percy Harvin (ankle) could be good to go for Sunday's tilt against the Bears, but nothing official has been announced as of the current moment. Fantasy owners are crossing their fingers, as playoff time is upon us.
Buffalo Bills wide receiver Stevie Johnson (hamstring) expects to play Sunday when his team welcomes in the St. Louis Rams.
The rundown
Mike Thomas, WR, Detroit Lions: The upside here is somewhat limited, but with Titus Young being sent home from the team's facilities everyday and Ryan Broyles suffering another ACL injury, Thomas will be called upon to fill Detroit's No. 2 WR spot. With Calvin Johnson lining up on the opposite side, Thomas should see a healthy dose of targets.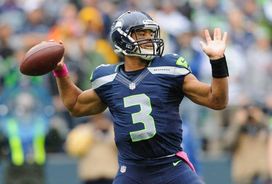 Seahawks quarterback Russell Wilson has been on fire as of late.
Russell Wilson, QB, Seattle Seahawks: He's thrown two or more touchdown passes in five consecutive starts and just got done shredding that vaunted Chicago defense last Sunday to the tune of 293 yards and two scores. Wilson is really coming into his own and with three of his final four games coming at home, he's a good bet for a rock-solid QB2 from here on out.
James Starks, RB, Green Bay Packers: Green Bay running backs produce next to nothing on a fairly consistent basis, but Starks rolled up 66 yards and a score on Sunday and looks to have grabbed control of the RB1 responsibilities for the Packers. Don't expect this guy to lead you to the promised land, but Starks has the ability to function as a decent flex option.
Golden Tate, WR, Seattle Seahawks: He's found the end zone in three of his last four starts and is coming off a season-high 96-yard performance against the Chicago Bears. Tate's targets are limited, but he makes for a respectable WR3/4 moving forward.
Martellus Bennett, TE, New York Giants: Finally healthy, Bennett is coming off his best game of the season in which the Big Blue tight end hauled in five passes for 82 yards and a score in Monday night's loss at Washington. Consistency is an issue, but Bennett is more than capable of producing solid stat lines if he gets enough targets.
Brandon Weeden, QB, Cleveland Browns: Seems like a bit of a stretch, but Weeden is coming off a career-high 364-yard outing against the Raiders and has completed over 65% of his passes in each of the last two games. A Week 14 home date against the Kansas City Chiefs is worth taking a look at if you're in a tight spot and desperately need a quarterback who is currently sitting on waivers.
Chris Givens, WR, St. Louis Rams: Givens has amassed 207 receiving yards over the last two weeks and is coming off a career-high 14-target, 11-reception performance against the San Francisco 49ers. Take note that his numbers will suffer when Danny Amendola returns to the lineup, but for the time being, Givens is worth owning as a capable WR3/4.
Jermichael Finley, TE, Green Bay Packers: Did his previous owner jump ship? If so, Finley's worth a look after three straight consistent performances that have led to a total of 177 receiving yards. Not great, but the Green Bay tight end is once again worth owning.
Dallas Clark, TE, Tampa Bay Buccaneers: While his receiving totals are nothing to get excited about, Clark has found the end zone in three of his last four starts. Quarterback Josh Freeman loves looking this guy's way when the Bucs reach the red zone, so if you're in need of a TE, the former Indianapolis Colt is worth a look.
Cleveland Browns, D/ST: More love for the Browns! Did you know that Cleveland's defense has surrendered an average of just 17.0 points per game over their last six outings? That's pretty impressive for a team that is getting no love from the media. If you're in need of a Week 14 substitute at the D/ST position, this unit is a decent play against Brady Quinn and the Kansas City Chiefs.
Jacksonville Jaguars, D/ST: Another stretch, but with the inept New York Jets offense coming to town on Sunday, why not?
Hit me up on Twitter: @JoeFortenbaugh