December 05, 2013 -
Joe Fortenbaugh
Week 14 Las Vegas market report
Almost as integral as shopping for the best numbers, bettors need to pay extremely close attention to the weather this time of year. At least eight games on the Week 14 board have the potential to encounter any combination of low temperatures, high winds and precipitation. And take note that three of those games feature indoor teams heading outdoors into the frigid winter weather.
AFTER 13 WEEKS
Home teams: 99-90-3 (.523)
Favorites: 100-89-3 (.529)
Home dogs: 34-35 (.492)
Home favorites: 65-55-3 (.541)
Overs: 103-87 (.542)
CLICK HERE to check out all of the current lines.
Seattle Seahawks (11-1, 5-1 road) at San Francisco 49ers (8-4, 4-2 home)
When: Sunday, 4:25pm ET
Open: San Francisco -2.5
Current: San Francisco -3 (even) and SF -2.5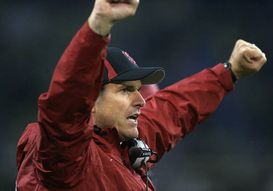 Harbaugh and the Niners are out for revenge on Sunday.
Analysis: The home team is 7-2 ATS over the last nine meetings between these two hard-hitting NFC West rivals and it's expected that the sharper action will back that trend and the Niners this Sunday. The Seahawks enter Week 14 on short rest, but in total control of the top seed in the NFC playoff hunt, so this game means far less to Pete Carroll's crew. Remember, San Francisco is still fighting for their playoff lives, has been smashed by the Seahawks in each of their last two meetings and has had this game circled since their Week 2 29-3 loss at CenturyLink Field. Grabbing a San Francisco team that is 34-16-1 ATS over their last 51 games overall at less than a field goal looks to be the right side here.
Trends: Seattle is 8-2 ATS over their last ten road games while San Francisco is 19-8-1 ATS over their last 28 home games.
Carolina Panthers (9-3, 4-2 road) at New Orleans Saints (9-3, 6-0 home)
When: Sunday, 8:30pm ET
Open: New Orleans -3.5
Current: New Orleans -3 (-120)
Analysis: This game is all about public perception, as the white-hot Carolina Panthers—winners of eight straight—travel to the Big Easy for a showdown with a Saints team that just got thumped 34-7 by the Seahawks in front of the entire world on Monday night football. In addition, New Orleans had to spend an additional night in Seattle this week due to an issue with the team's plane, so expect that to be another angle touted by Carolina backers. But this is a must-win game for Drew Brees and company, who must play this same Panthers team in Carolina in two weeks. Remember, the Saints are 4-0 ATS over their last four games coming off a loss and 21-6 ATS over their last 27 home games. Seattle may possess the best home field advantage in the league, but New Orleans is right behind them. This line should be NO -4.5, which is why the sharper bettors are stoked to be grabbing the Saints at -3.
Trends: Carolina is 9-4 ATS over their last 13 road games while New Orleans is 7-3 ATS over their last ten games played in the month of December.
Indianapolis Colts (8-4, 4-2 road) at Cincinnati Bengals (8-4, 5-0 home)
When: Sunday, 1:00pm ET
Open: Cincinnati -5.5
Current: Cincinnati -6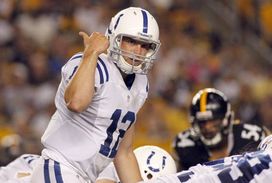 Can Luck and the Colts handle the cold Cincinnati weather?
Analysis: The Colts may be 8-4, but they've dropped two of their last four games while scoring an average of just 17.75 points and surrendering an average of 29.75 points per contest. And it's important to remember that this is an indoor football team headed to an outdoor venue with temperatures around 33 degrees and a 60 percent chance of freezing rain. The Bengals are 5-0 both straight-up and against the spread at home this season, winning by an average of 16.4 points per game. In addition, take note that Indy is on the verge of clinching the AFC South, while Cincinnati still has defending Super Bowl champion Baltimore breathing down its neck. Look for the Bengals, along with Baltimore, to be the most popular six-point teaser plays this weekend.
Trends: Indianapolis is 1-4 ATS over their last five road games against teams with a winning home record while Cincinnati is 5-1 ATS over their last six games against teams with a winning record.
Detroit Lions (7-5, 3-3 road) at Philadelphia Eagles (7-5, 2-4 home)
When: Sunday, 1:00pm ET
Open: Philadelphia -2.5
Current: Philadelphia -3
Analysis: The Lions are 1-4 ATS over their last five games following an ATS win and after trashing Green Bay 40-10 on Thanksgiving for the team's first Turkey Day win in ten years, it wouldn't come as a surprise to see this team fall flat on its face Sunday at Philly. This is another situation where we have an indoor football team headed outside for a showdown in bad weather (37 degrees, 50 percent chance of precipitation). After a freakishly bad run at home, the Birds have won two straight at Lincoln Financial Field, four straight overall and have gone 6-2 straight-up since falling at Denver 52-20 back on September 29. Red-hot quarterback Nick Foles should have his way with a Detroit secondary that currently ranks 26th in the league against the pass (262.2 yds/gm).
Trends: Detroit is 5-15-3 ATS over their last 23 games after scoring more than 30 points in the previous contest while Philadelphia is 5-20-1 ATS over their last 26 home games.
St. Louis Rams (5-7, 2-4 home) at Arizona Cardinals (7-5, 5-1 home)
When: Sunday, 4:25pm ET
Open: Arizona -7
Current: Arizona -6.5
Analysis: The underdog has covered the number in each of the last four meetings between these two teams, with the last seven showdowns being decided by an average of just 4.42 points per game. In addition, the Rams are 8-3 ATS over their last 11 games against NFC West opposition, while Arizona is just 2-6 ATS over their last eight bouts versus divisional foes. Apparently, the early bettors felt that seven points was just too big a spread to lay with the Cardinals, which is why this line has moved off that key number to -6.5.
Trends: The road team is 5-2 ATS over their last seven meetings between these two teams.
THE REST
Houston Texans (2-10, 1-4 road) at Jacksonville Jaguars (3-9, 0-5 home)
When: Thursday, 8:25pm ET
Open: Houston -3
Current: Houston -3 (-120)
Kansas City Chiefs (9-3, 4-1 road) at Washington Redskins (3-9, 2-4 home)
When: Sunday, 1:00pm ET
Open: Kansas City -3
Current: Kansas City -3 (-120)
Minnesota Vikings (3-8, 0-5 road) at Baltimore Ravens (6-6, 5-1 home)
When: Sunday, 1:00pm ET
Open: Baltimore -7
Current: Baltimore -6.5
Buffalo Bills (4-8, 1-4 road) at Tampa Bay Buccaneers (3-9, 2-4 home)
When: Sunday, 1:00pm ET
Open: Tampa Bay -2.5
Current: Tampa Bay -2.5 (-120)
Miami Dolphins (6-6, 3-3 road) at Pittsburgh Steelers (5-7, 3-2 home)
When: Sunday, 1:00pm ET
Open: Pittsburgh -3.5
Current: Pittsburgh -3 (-120)
Cleveland Browns (4-8, 1-4 road) at New England Patriots (9-3, 6-0 home)
When: Sunday, 1:00pm ET
Open: No line
Current: No line
Oakland Raiders (4-8, 1-5 road) at New York Jets (5-7, 4-2 home)
When: Sunday, 1:00pm ET
Open: NY Jets -3
Current: NY Jets -3 (even)
Atlanta Falcons (3-9, 1-5 road) at Green Bay Packers (5-6, 3-2 home)
When: Sunday, 1:00pm ET
Open: No line
Current: No line
Tennessee Titans (5-7, 3-3 road) at Denver Broncos (10-2, 6-0 home)
When: Sunday, 4:05pm ET
Open: Denver -12.5
Current: Denver -12
New York Giants (5-7, 2-4 road) at San Diego Chargers (5-7, 2-3 home)
When: Sunday, 4:25pm ET
Open: San Diego -3
Current: San Diego -3 (-120)
Dallas Cowboys (7-5, 2-4 road) at Chicago Bears (6-6, 4-2 home)
When: Monday, 8:30pm ET
Open: Dallas -1.5
Current: Chicago -1
Hit me up on Twitter: @JoeFortenbaugh