December 11, 2013 -
Joe Fortenbaugh
Week 15 Las Vegas market report
Entering Week 14, NFL favorites had been hitting at 52.9 percent on the season. But much to the dismay of sports books around the globe, those public-heavy teams laying points went 10-6 (.625) against the number in Week 14. Throw in an underdog Seattle Seahawks team who appears to take money every week thanks to their stellar record and you have a slate of games the books would probably prefer to never mention again.
So what does that mean for those of us interested in the Week 15 card? For starters, it means we may see the favorites offered at a somewhat inflated price this weekend.
Which means it shouldn't come as a surprise to anybody if the dogs get their revenge.
AFTER 14 WEEKS
Home teams: 109-96-3 (.531)
Favorites: 110-95-3 (.536)
Home dogs: 35-36 (.493)
Home favorites: 74-60-3 (.552)
Overs: 114-92 (.553)
CLICK HERE to check out all of the current lines.
*Lines courtesy of the LVH sports book here in Las Vegas.
Washington Redskins (3-10, 1-5 road) at Atlanta Falcons (3-10, 2-4 home)
When: Sunday, 1:00pm ET
Open: Atlanta -4.5
Current: Atlanta -6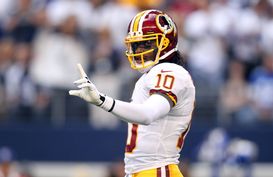 As RG3 heads to the bench, the point spread moves towards Atlanta.
Analysis: If the drop from Aaron Rodgers to his Green Bay replacement is worth anywhere from seven to nine points to the Las Vegas spread, than what's the switch from RG3 to Kirk Cousins worth? Remember, Griffin hasn't come anywhere close to replicating his 2012 breakout campaign and Cousins, despite only 73 career pass attempts, proved more than capable while spelling RG3 last season. Many will feel this move is an over-adjustment based on Griffin's poor showing this season, but you'll have to hold your nose if backing a Washington team that is 0-5 ATS over their last five games overall and 0-4 ATS over their last four road contests.
Trends: Washington is 5-11-3 ATS over their last 19 games following a double-digit loss at home, while Atlanta is 2-6 ATS over their last eight home games against teams with a losing road record.
Arizona Cardinals (8-5, 2-4 road) at Tennessee Titans (5-8, 2-4 home)
When: Sunday, 4:25pm ET
Open: Arizona -3
Current: Arizona -2.5 (-120)
Analysis: Interesting to see the early money backing the Titans considering Tennessee is 0-4 ATS over their last four home games, while Arizona is 5-2 ATS over their last seven road games. But the reality is that following the Cardinals' 30-10 dismantling of the St. Louis Rams and the Titans' 51-28 blowout loss at Denver in Week 14, -3 was likely viewed as too many points to lay on the road for a non-conference game against an unfamiliar opponent. Take note that the Cardinals are just 2-4 straight-up on the road this season with a -26 point differential and -4 turnover differential.
Trends: Arizona is 4-0 ATS over their last four games overall while Tennessee is 1-4 ATS over their last five games overall.
Buffalo Bills (4-9, 1-5 road) at Jacksonville Jaguars (4-9, 1-5 home)
When: Sunday, 1:00pm ET
Open: Buffalo -1.5
Current: Buffalo -2.5
Analysis: I can't help but think the wrong team is favored in this game, as Jacksonville is on extra rest and has won and covered in four of their last five outings, while Buffalo is on the second leg of back-to-back road trips and is 1-5 away from home this season, losing by an average of 11.6 points per game with a -3 turnover differential. I'm not sure what the early money saw in the Bills, but I'll more than likely be backing a well-rested, streaking Jaguars team in this spot.
Trends: Buffalo is 1-5 ATS over their last six games played on grass, while Jacksonville is 4-1 ATS over their last five games played on grass.
Philadelphia Eagles (8-5, 5-1 road) at Minnesota Vikings (3-9-1, 3-3 home)
When: Sunday, 1:00pm ET
Open: Philadelphia -4
Current: Philadelphia -5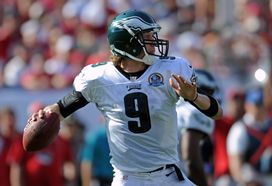 US PRESSWIREFoles and the Eagles are the hottest team in the NFL at the moment.
Analysis: No surprises here as the early money jumps behind a red-hot Philly squad that has won five straight (4-1 ATS). The Birds have been terrific on the road this season, with a 5-1 straight-up mark, four consecutive point spread covers and a +8 turnover differential. In addition, the Eagles have covered the line in five of their last six games against the Vikings, who are 1-5-1 ATS over their last seven games after throwing for more than 250 yards the previous week. This will likely emerge as one of the most popular Week 15 plays among public bettors, so it's worth noting that Minnesota, while dreadful this season, has recorded all three of their victories while playing at home.
Trends: Minnesota is 6-0 ATS over their last six December games, while Philadelphia is 4-1 ATS over their last five games against teams with a losing record.
Houston Texans (2-11, 1-5 road) at Indianapolis Colts (8-5, 4-2 home)
When: Sunday, 1:00pm ET
Open: Indianapolis -6
Current: Indianapolis -5.5
Analysis: The Houston Texans have lost 11 straight games, just sent head coach Gary Kubiak to the golf course and travel to Indianapolis this weekend to challenge the playoff-bound Colts. So why is the early money supporting the dumpster fire squad from Texas? Good question. First, teams tend to respond somewhat favorably after their head coach has been fired, as the players generally assume some of the responsibility for the ouster. Second, Indy has been a mess over the last five weeks, going 2-3 straight-up while being outscored by an average of 12.4 points per game. Supporting the train wreck in Houston is the last thing anyone wants to do at the moment, but it may appear more favorable than laying 5.5 points with a team that is trending downwards.
Trends: Houston is 2-7 ATS over their last nine road games, while Indianapolis is 12-4 ATS over their last 16 home games.
THE REST
Chicago Bears (7-6, 2-4 road) at Cleveland Browns (4-9, 3-4 home)
When: Sunday, 1:00pm ET
Open: Cleveland -2
Current: Cleveland -1
Kansas City Chiefs (10-3, 5-1 road) at Oakland Raiders (4-9, 3-3 home)
When: Sunday, 4:05pm ET
Open: Kansas City -3.5
Current: Kansas City -4
New York Jets (6-7, 1-5 road) at Carolina Panthers (9-4, 5-1 home)
When: Sunday, 4:05pm ET
Open: Carolina -10.5
Current: Carolina -11
San Diego Chargers (6-7, 3-4 road) at Denver Broncos (11-2, 7-0 home)
When : Thursday, 8:30pm ET
Open: Denver -10.5
Current: Denver -10.5
San Francisco 49ers (9-4, 4-2 road) at Tampa Bay Buccaneers (4-9, 3-4 home)
When: Saturday, 1:00pm ET
Open: San Francisco -5.5
Current: San Francisco -5.5
New Orleans Saints (10-3, 3-3 road) at St. Louis Rams (5-8, 3-3 home)
When: Saturday, 4:25pm ET
Open: New Orleans -6
Current: New Orleans -6
Seattle Seahawks (11-2, 5-2 road) at New York Giants (5-8, 3-3 home)
When: Sunday, 1:00pm ET
Open: Seattle -7
Current: Seattle -7
New England Patriots (10-3, 3-3 road) at Miami Dolphins (7-6, 3-3 home)
When: Sunday, 1:00pm ET
Open: New England -2.5
Current: New England -2.5
Cincinnati Bengals (9-4, 3-4 road) at Pittsburgh Steelers (5-8, 3-3 home)
When: Sunday, 8:30pm ET
Open: Cincinnati -3 (even)
Current: Cincinnati -3
Baltimore Ravens (7-6, 1-5 road) at Detroit Lions (7-6, 4-2 home)
When: Monday, 8:30pm ET
Open: Detroit -6
Current: Detroit -6
Green Bay Packers (6-6-1, 2-4 road) at Dallas Cowboys (7-6, 5-1 home)
When: Sunday, 4:25pm ET
Open: No line
Current: No line
Hit me up on Twitter: @JoeFortenbaugh