December 18, 2012 -
Joe Fortenbaugh
Week 16 fantasy waiver wire recommendations
THE LEAD
After missing last Sunday's game at Atlanta, Giants running back Ahmad Bradshaw (knee) says he'll play in Week 16 when Big Blue heads to Baltimore to take on the Ravens. Nothing has been made official as of yet, but should Bradshaw be good to go, David Wilson's fantasy value will take a serious hit. The Ravens currently rank 26th in the NFL against the run (132.2 yds/gm).
Eagles head coach Andy Reid says there's a chance that running back LeSean McCoy (concussion) could play in Week 16 against the Redskins, but what's the point? Why risk further injury to one of the team's best players when your season is already finished?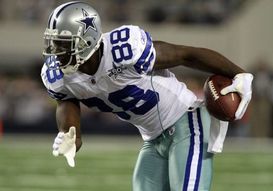 ICONEven a fractured finger couldn't slow Dez Bryant down against the Steelers.
Looks like Dez Bryant's fractured finger is doing just fine, as the stud wideout caught four passes for 59 yards and a score in Sunday's win over the Pittsburgh Steelers. Bryant has now caught 37 passes for 584 yards and eight touchdowns over his last six outings. Start this guy with confidence, no matter what the situation.
Seahawks cornerback Richard Sherman—who is facing a four-game suspension with an appeal hearing set for Friday—could be out of the lineup for a critical NFC West showdown with the 49ers on Sunday night at CenturyLink Field. Remember, fellow corner Brandon Browner is already serving a four-game suspension, which could leave Pete Carroll's team without their two starting cornerbacks. Keep an eye on this situation, because it could provide a big opportunity for quarterback Colin Kaepernick.
The New York Jets are expected to make a change at the quarterback position for Week 16. But the big question is why is this even news? The Jets were eliminated from playoff contention with Monday night's loss at Tennessee. At this point, it doesn't matter who lines up under center for Rex Ryan's offense.
THE RUNDOWN
DeAngelo Williams, RB, Carolina Panthers: D-Will has come back from the dead over the last three weeks, rolling up 323 total yards and two scores. And the best part? Williams has a Week 16 home date against an Oakland Raiders defense that is currently surrendering an average of 21.3 fantasy points per game to opposing running backs (fifth-most in NFL) this season. If he's still sitting on waivers, this guy is worth acquiring and starting on Sunday.
Jacoby Jones, WR, Baltimore Ravens: You'll have to keep an eye on the status of starting wide receiver Torrey Smith, who suffered a mild concussion in Week 15 against the Broncos. Should Smith be ruled out of action, Jones would then step into the starting rotation this weekend against the Giants. Joe Flacco's presence under center limits Jones' overall upside, but he could make for a decent WR3 for owners in leagues with 12 or more teams.
San Diego Chargers running backs: Former first-round selection Ryan Mathews is out for the season with a broken left collarbone, which opens the door for the rest of the depth chart to see some action. Ronnie Brown would be our first choice from this group, but he's dealing with a hamstring injury that could keep him out of the lineup in Week 16 against the New York Jets. That would leave the backfield responsibilities to Jackie Battle and Curtis Brinkley, with Battle handling most of the early-down work.
Randy Moss, WR, San Francisco 49ers: Moss has been nothing more than a role player in the San Francisco offense this season, but he did catch two passes for 36 yards and a score in Week 15 at New England. The key here will be the status of Seattle cornerback Richard Sherman, who is facing a four-game suspension with an appeal hearing set for Friday. Should Sherman lose his appeal, the Seahawks would be without both starting cornerbacks for their Sunday night showdown at CenturyLink Field.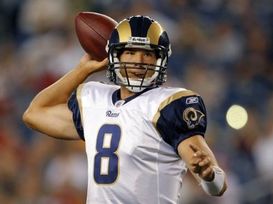 ICONIt's a long shot, but Bradford has a very appealing Week 16 matchup.
Sam Bradford, QB, St. Louis Rams: A stretch, to say the least, but take note that Bradford has a Week 16 date against a Tampa Bay Buccaneers defense that ranks dead last in the NFL against the pass while surrendering an average of 24.4 fantasy points per game to opposing quarterbacks (most in NFL). If you're in a pinch and feel like rolling the dice, Bradford's matchup makes him worth a look.
Danny Woodhead, RB, New England Patriots: Amassed 12 carries for 61 yards and two scores in Sunday night's loss to San Francisco and has a Week 16 matchup against a Jacksonville Jaguars defense that is giving up more fantasy points to opposing running backs than any other team in the league this season (23.4 pts/gm). Stevan Ridley should handle the bulk of the workload, but after coughing up the football against the Niners in Week 15, the former LSU running back found himself on the sidelines as nothing more than a spectator.
Ben Watson, TE, Cleveland Browns: He hasn't found the end zone in any of his last four games and plays on one of the most inept offenses in the league. However, the upside here is that Watson faces the Denver Broncos this weekend, who are surrendering more fantasy points to opposing tight ends than any other team in the league this season (11.0 pts/gm). Hopefully the Cleveland coaching staff notices this little trend as well and spends part of their week figuring out how to get the ball to Watson.
Nate Washington, WR, Tennessee Titans: It's been a relatively quiet season for the former Pittsburgh Steeler, but with Kendall Wright suffering a cracked rib in Monday night's win over the Jets, the door is open for Washington to see some more targets. With a Week 16 road date at Green Bay on tap, the Titans will likely be playing from behind, which means garbage time numbers for Washington. Consider him a WR3 for owners in leagues with 12 or more teams.
Brent Celek, TE, Philadelphia Eagles: After suffering a concussion on December 9 at Tampa Bay, there's a decent shot that Celek could be sitting out on waivers at the current moment. This is noteworthy because, should he return to action in Week 16, Celek will get a crack at a Washington Redskins defense that is surrendering an average of 10.6 fantasy points per game to opposing tight ends this season (second-most in NFL).
Ryan Tannehill, QB, Miami Dolphins: Another stretch at the QB position, but take note that Tannehill looked pretty solid Sunday against the Jaguars (220 yards, 2 TDs, 0 INTs). If you find yourself jammed-up in the signal-caller department entering Week 16, this guy could help, as Tannehill and the Dolphins play host to a dreadful Buffalo defense that is surrendering an average of 22.3 fantasy points per game to opposing quarterbacks this season (fourth-most in NFL).
San Diego Chargers, D/ST: Try to forget about the 31-7 thrashing they suffered last Sunday against Carolina and focus on the future. And the future is very bright, as Week 16 offers up a tasty showdown with a New York Jets offense that is averaging 11.3 points per game over their last three outings (Arizona, Jacksonville, Tennessee). Quarterback Mark Sanchez is fantasy gold for all the wrong reasons.
Indianapolis Colts, D/ST: Our long-shot defensive selection of the week, Indy heads to Kansas City on Sunday to face a Chiefs team that has scored nine or fewer points in four of their last five outings. In addition, it looks like Romeo Crennel may give the nod to unproven quarterback Ricky Stanzi on Sunday, making this matchup all the more enticing.
Hit me up on Twitter: @JoeFortenbaugh