September 11, 2012 -
Joe Fortenbaugh
Week 2 early line moves
One thing to remember before we move into our analysis regarding the key line movements that have taken place since the numbers hit the board: Don't allow yourself to be overly influenced by what you saw in Week 1. Yes, there is plenty to be learned about the 16 games we watched over the past weekend, but we all know the phrase, "Any given Sunday." It's important to approach this weekend's slate of games with an open and unbiased mind.
CLICK HERE to check out the lines for Week 2.
Note: All lines used in this article come from LVH.
Chicago Bears (1-0, 0-0 road) at Green Bay Packers (0-1, 0-1 home)
When: Thursday, 8:20pm ET
Open: Green Bay -4
Current: Green Bay -6
Analysis: Forget the fact that the Bears looked solid in their Week 1 victory over Andrew Luck and the Colts. The thought process here probably sounds something like, "No way Aaron Rodgers and the Packers lose two straight games at home." Jay Cutler, Brandon Marshall and Matt Forte should find success against this shaky Green Bay defense, but can a banged-up Brian Urlacher and the Chicago defense slow down Rodgers? Remember, the Bears are 0-4 in their last four trips to Green Bay, losing by an average of 15.2 points per game.
Dallas Cowboys (1-0, 1-0 road) at Seattle Seahawks (0-1, 0-0 home)
When: Sunday, 4:05pm ET
Open: Dallas -1
Current: Dallas -3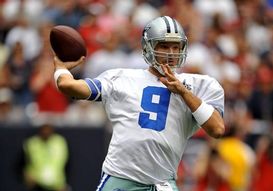 ICONWith a few extra days to prepare, will Tony Romo and the Cowboys cruise in Seattle this weekend?
Analysis: It didn't take long for public perception to shift a bit in regards to the Seahawks. If you remember, there was a four-point movement towards Seattle for their Week 1 showdown at Arizona, but after rookie quarterback Russell Wilson spent 60 minutes checking down and trying to dink and dunk his team to a victory, it looks like some may be souring on the Seahawks offense. Remember, Dallas is coming into this one on extra rest and riding a wave of confidence after taking out the defending champs at home last week.
New Orleans Saints (0-1, 0-0 road) at Carolina Panthers (0-1, 0-0 home)
When: Sunday, 1:00pm ET
Open: New Orleans -1
Current: New Orleans -2.5
Analysis: What are we to make of both the Saints and Panthers? New Orleans got rocked at home in the opener for their first straight-up and ATS loss at the Superdome since 2010 while Carolina went to Tampa as a favorite and lost their matchup with the Buccaneers outright. The New Orleans defense looked awful and the Saints offense failed to get into the rhythm that we have become so accustomed to seeing on a weekly basis. Yet, early bettors are still backing Drew Brees in this one. Maybe it has something to do with the fact that New Orleans is 19-7 ATS in their last 26 games following a loss.
Baltimore Ravens (1-0, 0-0 road) at Philadelphia Eagles (1-0, 0-0 home)
When: Sunday, 1:00pm ET
Open: Philadelphia -3
Current: Philadelphia -2.5
Analysis: It may not seem like a lot, but that half point adjustment off the key number of three is a big move. After Joe Flacco's aerial display on Monday night against the Cincinnati Bengals, the preseason excitement that surrounded the new-look Baltimore offense appears to be well-founded…at least for now. As for Philadelphia, it's amazing that Michael Vick could figure out how to throw four interceptions and still pull off a victory. But that's what happens when you play the Browns. Can Philly get their act together for Week 2, where they are 1-5 ATS over the last six years?
Detroit Lions (1-0, 0-0 road) at San Francisco 49ers (1-0, 0-0 home)
When: Sunday, 8:25pm ET
Open: San Francisco -5.5
Current: San Francisco -6.5
Analysis: No surprise to see the early money backing the Niners after what they did at Green Bay, coupled with Detroit's struggles against the Rams. But keep this in mind: When Cantor Gaming released point spreads for every game from Week 1 through Week 16 back in early May, they posted San Francisco -3.5 for this matchup. Did what happened in Week 1 really warrant a 3-point line movement? That's a pretty significant shift considering the revenge factor is in play here for Detroit.
OTHER MOVES
New York Giants vs. Tampa Bay Buccaneers: NYG -7 to -7.5
New England Patriots vs. Arizona Cardinals: NE -13 to -13.5
Indianapolis Colts vs. Minnesota Vikings: MIN -2.5 to -1
Buffalo Bills vs. Kansas City Chiefs: BUF -3.5 to -3
St. Louis Rams vs. Washington Redskins: WAS -2.5 to -3
Pittsburgh Steelers vs. New York Jets: PIT -6.5 to -6
Atlanta Falcons vs. Denver Broncos: ATL -4 to -3
Hit me up on Twitter: @JoeFortenbaugh