September 17, 2010 -
Joe Fortenbaugh
Week 2 fantasy starts and sits
Two things before we get to the Week 2 Starts and Sits:
1. If you haven't done so already, be sure to check out what's going down in the second-annual National Football Post.com Fantasy Expert's League. It's nine well-known industry experts and myself battling for a plasma TV. Last year's television looks great on my wall right now. A second one would put me one step closer to starting my own Vegas sportsbook.
2. I highly recommend you check out FanDuel.com this weekend for some salary cap fantasy football, as you could win yourself a trip to Las Vegas in December to play for $40,000 in prizes. Click HERE to check it out. FanDuel was nice enough to invite me to play in their 20-man expert's league where the expert who finishes with the highest ranking against the rest of the internet wins a trip to Vegas (best finish over the course of 10 weeks). Fourth place out of 20 in Week 1 isn't bad, but I'm in it to win it.
Let's get down to business…
START 'EM UP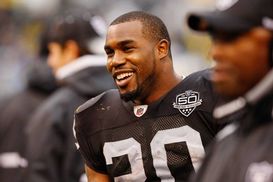 ICONMcFadden will give his owners something to smile about on Sunday.
Darren McFadden, RB, Oakland Raiders (vs. St. Louis): The Silver and Black rushing attack looked back (see what I did there?) last week in Tennessee as former top-ten draft pick Darren McFadden racked up 20 fantasy points (standard scoring) in Week 1 against the Titans. With Michael Bush standing on the sidelines due to a thumb injury, McFadden made his case for the starting job by picking up 150 total yards and a touchdown on 25 touches. Look for another solid performance from the three-year veteran this Sunday when the Raiders play host to the Rams. St. Louis gave up an average of 24.8 fantasy points per week to opposing running backs last season (fourth worst in NFL) and allowed that trend to continue in Week 1 when the Cardinals gashed them for 112 rushing yards and one touchdown in a 17-13 loss.
Michael Vick, QB, Philadelphia Eagles (at Detroit): Kevin Kolb is out (concussion) and Michael Vick is in. Let the debate begin. While head coach Andy Reid has stated that Kolb will be the starter upon his return to action, there won't be a better week this season to have Vick in your starting lineup. Chicago Bears quarterback Jay Cutler lit up the Lions for 26 fantasy points last week (standard scoring) and owners should expect Vick to do roughly the same, especially with the points he should tally running the football (103 rushing yards last week vs. Green Bay). Remember, no team in the NFL gave up more fantasy points to opposing quarterbacks in 2009 than the Lions (22.5 pts/gm).
Eddie Royal, WR, Denver Broncos (vs. Seattle): Royal won't carry you to victory in Week 2, but he's a serviceable WR3 option against a Seattle Seahawks defense that gave up an average of 24.5 fantasy points per week to opposing wide receivers last season (fourth worst in NFL). Keep in mind that Royal was targeted a team-high ten times by quarterback Kyle Orton in last week's 24-17 loss at Jacksonville. Denver wideouts Brandon Lloyd and Jabar Gaffney are also decent plays this week, so keep that in mind if you play in a deeper fantasy league.
Brandon Jackson, RB, Green Bay Packers (vs. Buffalo): Grant owners who hit the waiver wire in a hurry this past week to land Jackson won't be disappointed in their newest acquisition this Sunday when the Packers play host to a Buffalo run defense that gave up an average of 25.0 fantasy points per week to opposing running backs last season (third worst in NFL). Yes, it's a new year, but it also appears to be the same Buffalo defense as we remember from 2009. The Bills let Ronnie Brown and company gash them for 132 yards and one touchdown in Week 1 and after the Packers get up big this Sunday at Lambeau, expect Green Bay to feature a heavy dose of the ground game.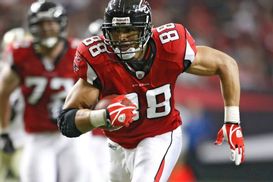 ICONDon't sleep on Gonzo. He's got a great matchup this weekend.
Tony Gonzalez, TE, Atlanta Falcons (vs. Arizona): Tony G's draft stock was lower than we expected this summer as the future Hall of Famer was generally the seventh tight end off the board with an ADP (average draft position) of 64.9. In addition, it didn't help matters that Gonzo caught only two passes for 35 yards in last Sunday's 15-9 loss at Pittsburgh. However, owners are expected to start Gonzalez with confidence this weekend against an Arizona defense that gave up an average of 8.2 fantasy points per week to opposing tight ends in 2009 (seventh worst in NFL). In addition, keep in mind that Gonzalez averaged 8.6 fantasy points per week at home in 2009 (Falcons went 6-2) as opposed to just 6.5 fantasy points (Falcons went 3-5) on the road.
Malcom Floyd & Legedu Naanee, WRs, San Diego Chargers (vs. Jacksonville): I sensed some panic amongst Floyd owners this past week as the mid-round draft pick caught just three passes for 48 yards against the Chiefs. Relax. The Monday night game against Kansas City took place in a monsoon and like I said on Wednesday, I don't see anyone jumping ship on Texans wide receiver Andre Johnson, who also caught three passes, but only totaled 33 receiving yards. This Sunday in the beautiful San Diego weather, Floyd and Legedu Naanee (5-110-1 vs. Kansas City) get a crack at a Jacksonville defense that gave up 25.4 fantasy points per week to opposing wide receivers in 2009 (second worst in NFL) while allowing 26.1 points per week (2-6 in road games). Start both of these guys with confidence.
Tennessee Titans, D/ST (vs. Pittsburgh): With four games on the schedule against the Indianapolis Colts and Houston Texans, not to mention crossover games against the NFC East, there won't be many opportunities to start the Tennessee defense in 2010. However, Week 2 is definitely one of them. The Pittsburgh Steelers struggled to find the end zone in Week 1 at home against the Falcons, totaling just 15 points against a mediocre Atlanta defense. Expect the going to be tougher in Week 2 when they hit the road to take on a Tennessee D/ST that scored 16 fantasy points last week against the Raiders (t-6th).
SIT 'EM DOWN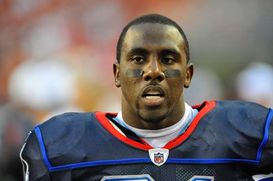 ICONIt's going to be another tough week for rookie C.J. Spiller.
C.J. Spiller, RB, Buffalo Bills (at Green Bay): After an impressive preseason, the rookie from Clemson saw the darker side of the NFL last Sunday when the Miami Dolphins limited him to just 14 total yards on 11 touches. Expect life to get tougher this weekend in Green Bay when Spiller takes on a Green Bay defense that held Philly running back LeSean McCoy to only 35 rushing yards in Week 1. Keep in mind that not only will Spiller lose some touches to running backs Fred Jackson and Marshawn Lynch, but Green Bay ranked No. 1 in the NFL last year in run defense (83.3 yds/gm). Once Buffalo gets down early, they'll have to abandon the ground game and take to the skies.
Mike Sims-Walker, WR, Jacksonville Jaguars (at San Diego): Forget the fact that MSW didn't do a damn thing last Sunday against the Denver Broncos (2 targets, 0 receptions) because history will tell the tale in San Diego this weekend. The Jaguars were 2-6 on the road last year and Sims-Walker wasn't much better. The veteran wideout averaged just 4.1 fantasy points per week away from home while scoring just one touchdown in seven games. Until we see something different, you're advised to stay away.
Jay Cutler, QB, Chicago Bears (at Dallas): Cutler was on our start list last week and he delivered in a big way, racking up 26 fantasy points against the Detroit Lions (2nd amongst quarterbacks). Expect a different outcome this Sunday in Big D where Chicago's offensive line issues will be on full display. The Cowboys defense held Washington quarterback Donovan McNabb to just 9 fantasy points last week (27th amongst quarterbacks) and that was on the road against a tough division rival. J-Cut is going to be under fire all day. Expect to see some turnovers.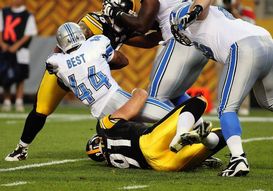 ICONExpect the Eagles to get a handle on Best.
Jahvid Best, RB, Detroit Lions (vs. Philadelphia): Best gave fantasy owners a solid week to open the year as the rookie from California found the end zone twice in Detroit's 19-14 loss to the Chicago Bears. But owners need to recognize that Best rushed for only 20 yards last Sunday, all of which came in the first half. Quarterback Matthew Stafford is out and this Lions offense is going to struggle against a Philadelphia defense that ranked ninth in the NFL against the run last season (104.7 yds/gm). If Detroit gets down early, they'll have to take to the skies in an effort to stay in the game. That spells bad news.
Owen Daniels, TE, Houston Texans (at Washington): We tried to advise you guys before the season started that Daniels was a risky fantasy option because he was coming off a torn ACL. Despite the fact that he played in Week 1 against the Colts, Daniels was held to limited snaps and caught just one pass for nine yards on two targets. Expect his on-field action to be limited once again this Sunday as Houston travels to Washington to take on a defensive unit that allowed just 5.8 fantasy points per week to opposing tight ends last season (sixth best in NFL). If you're one of those readers that hates it when I reference stats from last year, try this: Dallas tight end Jason Witten caught just three passes for 27 yards last Sunday night against the 'Skins. That's a rock-solid two fantasy points.
Randy Moss, WR, New England Patriots (at New York Jets): Last week we advised you to sit running back Michael Turner (20 touches, 49 total yards, 0 touchdowns) because he faced a tough matchup against the Pittsburgh Steelers. While it's difficult to leave your first round draft pick on the bench, we have to do it again this weekend because the fantasy points are going to be tough to come by. Moss visits Revis Island on Sunday, a place where he was held to just nine receptions for 58 yards and one score in two games last season. While Revis is currently battling a hamstring injury, keep in mind that Moss was almost an afterthought in last week's win over the Bengals (5-59-0). While we don't expect you to sit the original "Straight Cash Homie," be advised that he's got a brutal matchup in Week 2.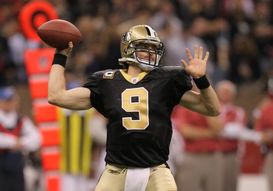 ICONDo you really think Drew Brees is going to have a tough time with the 49ers this Monday?
San Francisco 49ers, D/ST (vs. New Orleans Saints): Everywhere I turn I keep hearing how people are picking the Niners in an upset on Monday night because of how bad they played Sunday at Seattle. Quite frankly, I don't care. Why would I bet on Alex Smith when I could bet on Drew Brees? In addition, why would I start the San Francisco D/ST when they are playing an offense that is coming in on a ton of rest and rolled up an average of 403.8 yards (first in NFL) and 31.9 points per game (first in NFL) last season.
Answer: I wouldn't. I'd sit the 49ers D/ST and put my money on the champs.
Hit me up on Twitter: @JoeFortenbaugh