September 10, 2013 -
Joe Fortenbaugh
Week 2 Las Vegas market report
Those who favored the Cincinnati Bengals and Houston Texans in Week 1 and backed their opinions with cash over the weekend cut a hole in the bottom of their respective pockets for no good reason. Granted, Cincinnati (+3 at Chicago) came away with a push, but the Bengals were available at +3.5 for at least two months over the summer. The same can be said about Houston, who was on the board at -3 a few weeks ago. Firing early in that spot would have resulted in a push at San Diego on Monday night rather than a loss at the closing number of -5.5.
These are the maneuvers that separate the wise guys from the squares. While the ultimate goal is to fire at the best possible number, priority No. 2 should be to beat the closing point spread at any cost. We can't reaffirm this concept enough.
The LVH Superbook offers what's known as the "look ahead line" on the Tuesday 12 days before to the following week's games. For example, the LVH released their Week 2 "look ahead lines" last Tuesday and will release their Week 3 "look ahead lines" today. By comparing these early point spreads to the lines that reemerge after the previous week's action, we can get a better feel for how the market is shaping up in the wake of the games that were played over the last 48 hours and, in the process, hopefully give ourselves an early start towards beating the closing number.
WEEK 1 AT A GLANCE
Home teams: 8-7-1 ATS
Favorites: 7-8-1 ATS
Home dogs: 3-2 ATS
Home favorites: 5-5-1 ATS
Overs: 8-8
CLICK HERE to check out all of the current Week 2 lines.
Pittsburgh Steelers (0-1, 0-0 road) at Cincinnati Bengals (0-1, 0-0 home)
When: Monday, 8:30pm ET
Look ahead line: Bengals -3 (-120)
Current line: Bengals -7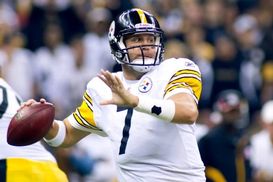 ICONBig Ben and the Steelers generated just 195 yards of offense against Tennessee on Sunday.
Analysis: The biggest move of the week to date, the Cincinnati line shifted four points toward the Bengals despite the fact that quarterback Andy Dalton and company came up short at Chicago on Sunday, falling 24-21. But it's important to note that Cincy's Week 1 defeat hasn't swayed the opinions of those who liked the Bengals prior to the team's season opener. Despite their 0-1 record, Cincinnati went from 25/1 to win the Super Bowl prior to the Chicago game to 20/1 to win it after. That says something. What this line adjustment also indicates is that the perception of Pittsburgh has shifted dramatically following the Steelers' dismal 16-9 home loss to the Tennessee Titans. Center Maurkice Pouncey is out for the year and the Black & Yellow managed to rack up only 32 yards on the ground this past Sunday. Without question, Pittsburgh's Week 1 performance was one of the lowlights of the weekend.
Trends: The Steelers are 2-8 ATS over their last ten games when surrendering less than 250 total yards in their previous game, while the Bengals are 1-4 ATS over their last five Monday night games.
Jacksonville Jaguars (0-1, 0-0 road) at Oakland Raiders (0-1, 0-0 home)
When: Sunday, 4:25pm ET
Look ahead line: Raiders -3
Current line: Raiders -6
Analysis: There are two ways to lose in the National Football League and this adjustment is a direct reflection of that sentiment. The Raiders, riding absolutely no hype into the 2013 campaign and predicted by many to be on the receiving end of a blowout loss in Week 1, went to Indianapolis and gave the Colts all they could handle on Sunday, thanks to a surprising performance from quarterback Terrelle Pryor (217 passing yards, 112 rushing yards). Oakland returns home in Week 2 to host a Jaguars team that will be without quarterback Blaine Gabbert (hand laceration), who was at the controls of a 28-2 home loss to the Kansas City Chiefs in which Jacksonville mustered only 178 total yards of offense. Take note that backup signal-caller Chad Henne was under center for the Jaguars during their 2012 visit to the Black Hole, where Jacksonville blew a 20-6 lead and went on to lose 26-23.
Trends: The Jaguars are 0-4 ATS over their last four games against teams with a losing record, while the Raiders are 0-6 ATS over their last six games following an against the spread win.
Dallas Cowboys (1-0, 0-0 road) at Kansas City Chiefs (1-0, 0-0 home)
When: Sunday, 1:00pm ET
Look ahead line: PICK
Current line: Chiefs -3
Analysis: The message here is loud and clear: Nobody is buying the Cowboys after their Week 1 win over New York. The final score (36-31) looked good, but that's before you account for the fact that Big Blue turned the ball over six times and was still in position to win the game late in the fourth quarter. Tony Romo enters Week 2 with a set of busted ribs and it's essential to note that Kansas City head coach Andy Reid is quite familiar with Jason Garrett and the Cowboys, having coached against Big D during his time in Philadelphia. That's an advantage worth noting, as is the fact that the Chiefs committed zero turnovers and only three penalties in their Week 1 win at Jacksonville.
Trends: The Cowboys are 4-14 ATS over their last 18 games following a straight-up win, while Kansas City is 2-6 ATS over their last eight games following an ATS win.
Detroit Lions (1-0, 0-0 road) at Arizona Cardinals (0-1, 0-0 home)
When: Sunday, 4:05pm ET
Look ahead line: Lions -3 (even)
Current line: Lions -1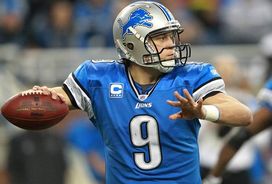 The Detroit Lions haven't won in Arizona since 1993.
Analysis: An intriguing home dog situation pitting a Cardinals team that rolled up 390 total yards and 24 points in a Week 1 road loss at St. Louis (27-24) against a Lions squad that hasn't notched a victory in Arizona since 1993 (six consecutive losses). Take note that Detroit is just 1-8-2 ATS over their last 11 games after scoring 30 or more points in their previous contest. Arizona was a sharp play in Week 1 (line dropped from STL -5.5 to STL -3.5) and was leading the Rams 24-13 entering the fourth quarter before coming up empty during the game's final stanza. We expect the pros to back Bruce Arians and the Cardinals again in Week 2.
Trends: The Lions are 6-16 ATS over their last 22 games against NFC opposition, while Arizona is 4-1 ATS over their last five games played in the month of September.
Denver Broncos (1-0, 0-0 road) at New York Giants (0-1, 0-0 home)
When: Sunday, 4:25pm ET
Look ahead line: Broncos -3
Current line: Broncos -4.5
Analysis: Peyton Manning shredded the Baltimore secondary in Week 1 and enters Sunday's game on extra rest, while the Giants turned the ball over six times at Dallas and have a big question mark hovering over the running back position at the moment . With those factors in mind, it's no surprise to see the line moving toward Denver early in the week. The Broncos are 6-2 ATS over their last eight games following an ATS win, while the Giants are just 12-20 ATS (.375) at home since 2009.
Trends: The Broncos are 5-1 ATS over their last six road games, while the Giants are 10-4-1 ATS over their last 16 games against teams with a winning record.
San Diego Chargers (0-1, 0-0 road) at Philadelphia Eagles (1-0, 0-0 home)
When: Sunday, 1:00pm ET
Look ahead line: Eagles -6.5
Current line: Eagles -7.5
Analysis: Philadelphia's 26-7 dismantling of the Washington Redskins in the first half of their Monday night showdown had the world salivating at the seemingly endless possibilities of new head coach Chip Kelly's offense. The Birds held on for a 33-27 win, but the same cannot be said about the Chargers and new head coach Mike McCoy, who blew a 28-7 second half lead against the Houston Texans to lose 31-28. The perception of San Diego at the moment is unfavorable, to say the least, as many took to social media to describe Monday night's meltdown as "Norvian," after former head coach Norv Turner. The perception of Philadelphia, however, couldn't be more favorable after quarterback Michael Vick, running back LeSean McCoy and wide receiver DeSean Jackson each posted monster performances in their debut under Kelly's fast-paced system. Expect the public to back Philly big time in this one.
Trends: The Chargers are 0-6 ATS over their last six games following an against the spread win, while the Eagles are 5-1 ATS over their last six games following a performance in which Philadelphia amassed 150 or more rushing yards.
THE REST
Tennessee Titans (1-0, 1-0 road) at Houston Texans (1-0, 0-0 home)
When: Sunday, 1:00pm ET
Look ahead line: Texans -9.5
Current line: Texans -8.5
St. Louis Rams (1-0, 0-0 road) at Atlanta Falcons (0-1, 0-0 home)
When: Sunday, 1:00pm ET
Look ahead line: Falcons -5.5
Current line: Falcons -6.5
Minnesota Vikings (0-1, 0-1 road) at Chicago Bears (1-0, 1-0 home)
When: Sunday, 1:00pm ET
Look ahead line: Bears -6
Current line: Bears -6.5
Washington Redskins (0-1, 0-0 road) at Green Bay Packers (0-1, 0-0 road)
When: Sunday, 1:00pm ET
Look ahead line: Packers -6.5
Current line: Packers -7
New Orleans Saints (1-0, 0-0 road) at Tampa Bay Buccaneers (0-1, 0-0 home)
<p>
When:
Sunday, 4:05pm ET
Look ahead line:
Saints -2.5
Current line:
Saints -3
New York Jets (1-0, 0-0 road) at New England Patriots (1-0, 0-0 home)
When: Thursday, 8:25pm ET
Look ahead line: Patriots -12.5
Current line: Patriots -12.5
Cleveland Browns (0-1, 0-0 road) at Baltimore Ravens (0-1, 0-0 home)
When: Sunday, 1:00pm ET
Look ahead line: Ravens -6.5
Current line: Ravens -6.5
Miami Dolphins (1-0, 1-0 road) at Indianapolis Colts (1-0, 1-0 home)
When: Sunday, 1:00pm ET
Look ahead line: Colts -3
Current line: Colts -3
Carolina Panthers (0-1, 0-0 road) at Buffalo Bills (0-1, 0-1 home)
When: Sunday, 1:00pm ET
Look ahead line: Panthers -3
Current line: Panthers -3
San Francisco 49ers (1-0, 0-0 road) at Seattle Seahawks (1-0, 0-0 home)
When: Sunday, 8:30pm ET
Look ahead line: Seahawks -3
Current line: Seahawks -3
Hit me up on Twitter: @JoeFortenbaugh