September 24, 2010 -
Joe Fortenbaugh
Week 3 fantasy starts and sits
Before we dive into our Week 3 start and sit recommendations, I've decided to approach the loyal readers of the NFP for some advice.
FanDuel.com is currently offering a weekly Fantasy Football Salary Cap challenge in which the person who finishes in first place at the conclusion of the Monday night game will win a trip to Las Vegas later in the season to compete for $40,000 in prize money.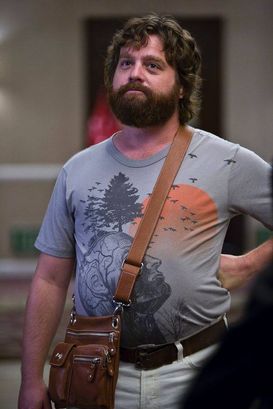 FanDuel is offering you a chance to win some serious cash in Vegas. Satchel optional.
In addition, FanDuel was nice enough to ask 20 industry experts to participate in the challenge as well. Whichever one of us can post the highest weekly finish against the rest of the field will also be invited to Vegas to compete for the $40,000 pot.
After two weeks, I've finished fourth out of twenty among the experts both times. However, there's a guy who finished 8th overall last week and he's currently the frontrunner for the trip to Vegas. Translation: I need to finish between first and seventh for a free trip to Sin City.
The game is very simple. You have a $60,000 salary cap that needs to be spent on a starting roster that looks like this: QB, RB, RB, WR, WR, WR, TE, D/ST, K. Standard scoring rules apply.
Check out the game HERE and hit me up in the comments section with your best value picks. I'll send out some tee shirts and beanies to anybody that can help me jump into the driver's seat for the trip to Vegas.
START 'EM UP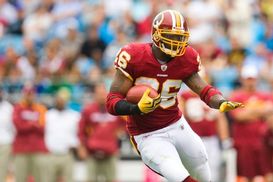 ICONPortis makes for a reliable start this Sunday at St. Louis.
Clinton Portis, RB, Washington Redskins: C.P. found the end zone twice last week against the Houston Texans and owners should prepare themselves for another solid fantasy showing when Washington travels to St. Louis this weekend to take on a Rams defense that ranks 30th in the NFL against the run (142.5 yds/gm). Raiders running back Darren McFadden torched the Rams for 145 yards in Week 2, while Tim Hightower picked up 54 yards and a touchdown against the same unit in Week 1. St. Louis is currently giving up an average of 19.3 fantasy points per week to opposing running backs (9th worst in NFL), so make sure Portis is in your lineup on Sunday.
Jeremy Maclin, WR, Philadelphia Eagles: Maclin's numbers this season haven't been anything to rave about (7 catches for 64 yards), but the second-year wide receiver out of Missouri has found the end zone in each of his first two games. In addition, Maclin has a great matchup this Sunday against a Jacksonville defense that currently ranks 29th in the league against the pass (300.0 yds/gm) and is giving up an average of 27.1 fantasy points per week to opposing wideouts (4th worst in NFL). Keep in mind that four different pass-catchers have already posted nine or more fantasy points against the Jaguars so far this season.
Carson Palmer, QB, Cincinnati Bengals: Palmer ranks 16th in scoring among fantasy quarterbacks, but you can credit a rock-solid performance from the Baltimore defense in Week 2 for his currently less-than-stellar statistical output. A date with the Panthers this Sunday should help right the ship as Carolina ranks 19th in pass defense (218.0 yds/gm) and is allowing 21.5 fantasy points per week to opposing quarterbacks (7th worst in NFL). Eli Manning threw for 262 yards and three touchdowns against this unit in Week 1, while Josh Freeman threw for two scores in a 20-7 win last Sunday.
Darren McFadden, RB, Oakland Raiders: McFadden was on the start list last week and we see no reason why he shouldn't make another appearance in Week 3. Not only does the former Arkansas Razorback currently rank 7th in scoring among fantasy running backs (standard scoring), but he's got a Week 3 matchup with an Arizona defense that was chewed up and spit out last Sunday at Atlanta (221 rushing yards, two touchdowns). This season, the Raiders have been running the football 45.2% of the time (16th in NFL) and despite the fact that Michael Bush could be in the lineup on Sunday, this is still McFadden's job to lose.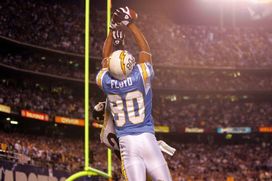 Coming off a big week against the Jaguars, make sure Floyd is back in your lineup this Sunday at Seattle.
Malcom Floyd, WR, San Diego Chargers: After a disappointing Week 1 (3-48-0), Floyd owners were ready to jump ship. After a solid Week 2 (3-95-1), the panic has subsided, but the questions about whether or not to start him remain. We're here to tell you that Floyd should be in the starting lineup on Sunday when San Diego travels to Seattle to take on a Seahawks defense that ranks 26th in the NFL against the pass (259.0 yds/gm) and 16th in scoring (18.5 pts/gm). In addition, the Seahawks are currently giving up an average of 21.4 fantasy points per week to opposing wide receivers (10th worst in NFL). If that wasn't enough, keep in mind that Seattle is coming off a 31-14 thrashing at Denver in which Broncos quarterback Kyle Orton threw for 307 yards and two touchdowns.
Jason Witten, TE, Dallas Cowboys: Witten is off to a slow start this season (8-78-0), but if the Dallas Cowboys want to find a weakness in the Houston defense, look no further than their inability to cover opposing tight ends. Take a look at what Dallas Clark and Chris Cooley did in their respective games against Houston this season:
Dallas Clark, Indianapolis Colts: 13 targets, 11 receptions, 80 yards, 1 touchdown
Chris Cooley, Washington Redskins: 3 targets, 3 receptions, 64 yards, 1 touchdown
No defense in the NFL is currently giving up more fantasy points to opposing tight ends than the Houston Texans (16.3 pts/gm)
Cincinnati Bengals, D/ST: The Bengals stumbled out of the blocks in Week 1 at New England when they gave up 38 points and 376 yards of offense, so it shouldn't come as a shock that they currently rank 26th in scoring amongst fantasy defenses. However, good news is on the horizon as Cincy heads to Carolina this weekend to face an offense that will be starting a rookie quarterback (Jimmy Clausen) and ranks 28th in the NFL in both scoring offense (12.5 pts/gm) and total offense (257.5 yds/gm). In addition, keep in mind that Carolina is currently giving up an average of 16.0 fantasy points per week to opposing D/STs, which ranks dead last in the NFL.
SIT 'EM DOWN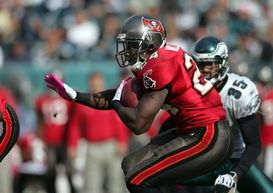 ICONA Week 3 showdown with the Steelers is bad news for Williams and the Bucs.
Cadillac Williams, RB, Tampa Bay Buccaneers: Williams has the ab ility to be a decent RB2/flex option for owners depending on his matchup, but Week 3 is one scenario in which he's better off sitting on the bench. The Buccaneers play host to a Pittsburgh defense on Sunday that has been outstanding against the run in 2010 and is coming off a performance in which they limited All Pro running back Chris Johnson to just 34 yards on 16 carries (2.1 YPC). No unit has been stingier when it comes to allowing fantasy points to opposing running backs (6.6 pts/gm), which is why this decision is a no-brainer.
Donald Driver, WR, Green Bay Packers: Driver's found the end zone in each of his first two games, which is something he hasn't done against the Chicago Bears since December 31, 2006 (scoreless in last six meetings vs. Chicago). Not only that, but in his last 14 showdowns with the Bears, Driver is averaging just 4.2 receptions and 49.8 receiving yards per game, with only one touchdown. The Monsters of the Midway are allowing only 16.3 fantasy points per week to opposing wideouts in 2010 (11th in NFL). All of those numbers add up to a sit in our book.
Matt Hasselbeck, QB, Seattle Seahawks: For those of you in deeper leagues thinking about starting Hasselbeck on Sunday, you may want to start considering your alternatives. The veteran quarterback has already thrown four interceptions in two games this season and is averaging just 201.5 passing yards per game. Meanwhile, the San Diego Chargers come to town with a defense that has limited opposing signal-callers to only 11.4 fantasy points per week in 2010 (6th in NFL). The Chargers currently rank 8th in passing defense (170.5 yds/gm) and have given up just two touchdowns through the air in two games. Hasselbeck tends to play better at home, but there are better options on the board in Week 3.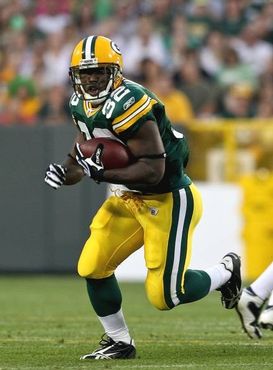 ICONJackson takes on the No. 1 run defense in the league on Monday night.
Brandon Jackson, RB, Green Bay Packers: B-Jax had a favorable matchup against a soft Buffalo defense last Sunday and picked up only 29 yards on 11 carries. Yes, he scored a touchdown, but the going is about to get a lot tougher on Monday night when the former backup takes on a Chicago defense that currently ranks first in the NFL against the run (28.0 yds/gm). That's alarming news for a Green Bay offense that ranks 7th in the NFL in run to pass ratio (48.8%).
Jerome Harrison & Peyton Hillis, RBs, Cleveland Browns: What a mess this situation has turned into for fantasy owners. Through two weeks, Harrison has handled the bulk of the workload (25 carries to Hillis' 17), but Hillis is averaging more yards per carry (4.5 to 3.4) and has scored two touchdowns to Harrison's zero. In any event, it won't matter much this weekend when the Browns travel to Baltimore to take on a defense that currently ranks 13th in the NFL against the run (105.0 yds/gm) and is giving up just 10.0 fantasy points per week to opposing running backs (2nd in NFL). These guys are each other's own worst enemy. Keep them on the bench.
Greg Olsen, TE, Chicago Bears: Olsen's off to a decent start (5-76-1), but fantasy owners need to keep in mind that he ranks 27th in the NFL in targets among tight ends (7) and has a Monday night matchup with a Green Bay defense that is allowing just 2.3 fantasy points per week to opposing TEs (4th in NFL). There's a good chance that many of you were already thinking about sitting Olsen in Week 3, but we just wanted to issue a reminder for those of you who got excited about last week's touchdown catch.
Dallas Cowboys, D/ST: Wade Phillips' bunch has been a disappointment to date (24th in fantasy points among D/STs) and there is absolutely no reason to think that they will turn it around in Houston this Sunday when the go up against a Texans offense that currently ranks first in the NFL in total offense (440.5 yds/gm), first in scoring (32.0 pts/gm) and first in rushing (157.5 yds/gm). This is just an all around bad matchup for the Cowboys.
Hit me up on Twitter: @JoeFortenbaugh
Click HERE to win cash playing fantasy football with the NFP and FanDuel.