September 18, 2013 -
Joe Fortenbaugh
Week 3 fantasy waiver wire acquisitions
We're only two weeks into the 2013 NFL campaign, but injuries and poor play have already altered several of the starting rosters around the league. Some of these new starters are worth a look, while others possess very little upside. The key, as always, is to differentiate between the players who can help your fantasy team and those who will do nothing but take up valuable space.
WEEK 3 WAIVER WIRE RECOMMENDATIONS
Bernard Pierce, RB, Baltimore Ravens (vs. Houston): Pierce should have been acquired on draft day as a handcuff for starting running back Ray Rice, but if he somehow slipped through the cracks, the 23-year-old from Temple should become a high priority. Rice suffered a hip flexor in Baltimore's Week 2 win over Cleveland, opening the door for Pierce to potentially start this Sunday vs. Houston. The second-year back amassed 57 rushing yards and a score on 19 carries this past Sunday.
Philip Rivers, QB, San Diego Chargers (at Tennessee): Currently ranks fourth in fantasy scoring at the quarterback position after recording 614 passing yards and seven touchdowns through his first two games. Questionable offensive line and mediocre receiving unit be damned. Rivers has been producing at a high level so far in 2013.
James Starks, RB, Green Bay Packers (at Cincinnati): It looks like starting running back Eddie Lacy (concussion) won't return to action until after the Packers' Week 4 bye, meaning Starks should function as the team's primary ball carrier this Sunday at Cincinnati. Rolled up 168 total yards and a touchdown on 24 touches in Week 2 against Washington.
DeAndre Hopkins, WR, Houston Texans (at Baltimore): Has Hopkins already put an end to Houston's tireless efforts to find a legitimate No. 2 wide receiver to play opposite Andre Johnson? It's still too early to tell, but after Sunday's performance against Tennessee (7-117-1 on 13 targets), the rookie from Clemson is now more than worthy of a roster spot in leagues with ten or more teams.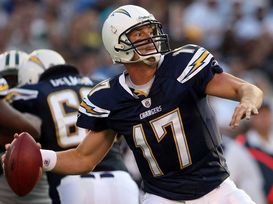 Believe it or not, Philip Rivers is currently a top-4 fantasy quarterback.
Jacquizz Rodgers, RB, Atlanta Falcons (at Miami): The third-year back out of Oregon State will see a big uptick in snaps beginning this Sunday at Miami, as starting running back Steven Jackson is on the shelf for at least one week due to a thigh injury suffered last Sunday against St. Louis. The upside here is relatively limited, but Rodgers can serve as an RB3/flex option for owners in leagues with 12 or more teams.
Josh Gordon, WR, Cleveland Browns (at Minnesota): Caught 50 passes for 805 yards and five touchdowns as a rookie in 2012 and returns from a two-game suspension Sunday at Minnesota. Take note that quarterback Brandon Weeden is out for Week 3 and will be replaced by Michigan State product Brian Hoyer.
Alex Smith, QB, Kansas City Chiefs (at Philadelphia): Currently ranks 14th in fantasy scoring at the quarterback position and has a very favorable Week 3 matchup against a Philadelphia Eagles defense that was just absolutely shredded by the San Diego Chargers in Week 2. Through two games, Smith currently boasts a QB rating of 94.7 with four touchdowns and zero interceptions.
Martellus Bennett, TE, Chicago Bears (at Pittsburgh): Qualified for our 2013 sleepers list and has made numerous appearances in NFP articles over the last few weeks, so the only way Bennett should be available is if you already own a stud TE like Jimmy Graham. Through two games, Bennett has rolled up an impressive stat line consisting of ten receptions for 125 yards and three touchdowns on 15 targets. It's a new era in Chicago, one in which the tight end plays an integral role in the offense.
Sam Bradford, QB, St. Louis Rams (at Dallas): Currently ranks fifth in fantasy scoring at the quarterback position after amassing 651 passing yards and five touchdowns through his first two games of action. Bradford's completing just 63.4% of his passes at the moment, but he's still more than worthy of a roster spot as a QB2 in just about any format.
Marlon Brown, WR, Baltimore Ravens (vs. Houston): Has found the end zone in each of his first two games thanks to an increased workload due to the loss of WR2 Jacoby Jones. Through two weeks, Brown has been targeted by quarterback Joe Flacco 12 times, resulting in eight receptions for 110 yards and two touchdowns.
Joique Bell, RB, Detroit Lions (at Washington): Scored two touchdowns in the season-opener against Minnesota and should be in line for an increased workload after starting running back Reggie Bush went down with a knee injury in Week 2 at Arizona. Bush's status for the immediate future is still unclear at the moment, but there's a good chance that he'll be very limited this Sunday at Washington, if he's capable of playing at all.
Eddie Royal, WR, San Diego Chargers (at Tennessee): Leads the Bolts in touchdown receptions with five through the first two games of the season and absolutely decimated the Philadelphia secondary in Week 2, hauling in seven passes for 90 yards and three scores in a 33-30 road win. Royal's stock will take a small hit when starter Malcom Floyd (neck) returns to action, but at the moment, the former Denver Bronco wideout is making his case to be Rivers' top target.
Chris Givens, WR, St. Louis Rams (at Dallas): Busted loose in Week 2 at Atlanta with five receptions for 105 yards in a 31-24 loss to the Falcons. Givens in competing with receivers Tavon Austin and Austin Pettis and tight end Jared Cook for targets, but can add respectable depth to any roster playing in a league with 12 or more teams.
Knowshon Moreno, RB, Denver Broncos (vs. Oakland): Shockingly, Moreno is still available in a decent percentage of fantasy leagues, despite the fact that he's handling the bulk of the workload in Denver at the moment (28 touches for 172 total yards and two scores through two games). Makes for quality depth with solid upside playing on an offense with Peyton Manning.
Kendall Wright, WR, Tennessee Titans (vs. San Diego): Will be hit or miss due to the inconsistent play of quarterback Jake Locker, but Wright currently leads the Titans in receptions (nine) and has found the end zone once through two games. Consider the Baylor product a WR4.
Jordan Todman, RB, Jacksonville Jaguars (at Seattle): Will garner some attention in the wake of Maurice Jones-Drew's foot injury suffered in Week 2, but the upside here is extremely limited. MJD will attempt to play this weekend and even if he doesn't, Todman is playing on a terrible offense that has a daunting road date with the Seattle Seahawks. Don't expect much here.
Minnesota Vikings, D/ST (vs. Cleveland): The Vikings return to Minnesota for their first home game of the season, where the organization possesses a sizeable advantage against opposing offenses. Browns starting quarterback Brandon Weeden (thumb) is out for Week 3 and will be replaced by Brian Hoyer. Through two games, Cleveland has managed to score a grand total of just 16 points.
Buffalo Bills, D/ST (at NY Jets ): Certainly won't be considered a mainstay in your starting lineup, but Buffalo makes for a decent Week 3 start against a New York Jets offense that has managed only 28 points through the first two weeks of the season.
Hit me up on Twitter: @JoeFortenbaugh