September 20, 2012 -
Joe Fortenbaugh
Week 3 key line moves
We can complain about the replacement officials all we want, but the bottom line is that these guys may be creating a great opportunity for bettors. Through two weeks, home teams are 19-12-1 ATS (.613), while home dogs are 8-3 ATS (.727). You might want to keep those two records in mind heading into Week 3.
For today's analysis on some of the key line moves that have taken place so far this week, we turn to our friend Paul Bessire from Prediction Machine.com to weigh in with his thoughts and analysis. Paul's website simulates each game 50,000 times and, in the process, generates statistics and scores he uses to make decisions on which teams will cover the number and which teams won't.
To check out more of his work, CLICK HERE.
CLICK HERE to check out the current lines.
Note: All lines in this article come from LVH.
TAMPA BAY BUCCANEERS (1-1, 0-1 road) at DALLAS COWBOYS (1-1, 0-0 home)
When: Sunday, 1:00pm ET
Open: Dallas -7
Current: Dallas -7.5
Current betting trends: 60% of the bets placed currently coming in on Tampa Bay.
Analysis: "The Buccaneers are a team without much of an identity who looked good against Carolina but sloppy against the Giants in the second half. Dallas -7 wasn't a bad number, but once you cross over that key number of 7, it's tough to feel comfortable laying the points with the Cowboys. If Tampa Bay were a bottom-10 team and Dallas were a top-10 team, that would be one thing. But that's not the case here."
PHILADELPHIA EAGLES (2-0, 1-0 road) at ARIZONA CARDINALS (2-0, 1-0 home)
When: Sunday, 4:05pm ET
Open: Philadelphia -4
Current: Philadelphia -3.5
Current betting trends: 60% of the bets placed currently coming in on Arizona.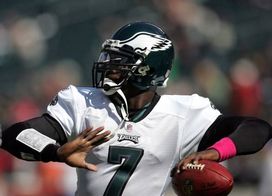 ICONDespite a 2-0 record, Michael Vick and the Eagles are 0-2 against the spread.
Analysis: "The line movement in this one makes total sense, as the Cardinals are at home and have seen eight of their last 12 games decided by four points or less. Arizona won outright in Philadelphia last year and boasts a great pass defense that is surrendering just 234.5 yards per game this season with seven sacks. Also take note that the total in this game has dropped from 44 to 43, meaning we could be in store for another close one. I could see this game going either way, but Arizona is tempting if you can grab 3.5 or more points."
HOUSTON TEXANS (2-0, 1-0 road) at DENVER BRONCOS (1-1, 1-0 home)
When: Sunday, 4:25pm ET
Open: PICK
Current: Houston -2
Current betting trends: 69% of the bets placed currently coming in on Houston.
Analysis: "Houston has an elite defense that is surrendering an average of just 5.18 yards per attempt this season. And if you take a look at what the Broncos did on Monday night against Atlanta, quarterback Peyton Manning struggled against a Falcons defense that was without cornerback Brent Grimes. If you struggled against Atlanta, you're going to struggle against Houston. I see the Texans picking apart the middle of the Denver defense to win this game outright."
GREEN BAY PACKERS (1-1, 0-0 road) at SEATTLE SEAHAWKS (1-1, 1-0 home)
When: Monday, 8:35pm ET
Open: Green Bay -4.5
Current: Green Bay -3 (-120)
Current betting trends: 77% of the bets placed currently coming in on Green Bay.
Analysis: "Seattle ranks No. 1 in the NFL in terms of home field advantage and when you factor in how the replacement officials have been biased towards the home team through two weeks, you have to figure that home field in this situation is worth more than three points. When you throw in the other obstacles Green Bay is facing in this game—travel, Monday night game, crowd noise—I can see this being a closely contested matchup. I like the under in this game (47) and see the Packers pulling out a 3-point victory."
Follow Paul on Twitter: @PredictMachine
Hit me up on Twitter: @JoeFortenbaugh