September 19, 2012 -
Joe Fortenbaugh
Week 4 college football betting primer
As much as I'd love to drown my sorrows in a bottle of bourbon over last week's dismal 1-4 performance, the right move would be to forget about it and move on to this week's slate of games. So that's what we'll do. While drinking bourbon.
Last week: 1-4 (BRUTAL!)
Season: 11-9 (.550)
CLICK HERE to check out the current lines.
#10 Clemson Tigers (3-0, 1-0 road) at #4 Florida State Seminoles (3-0, 3-0 home)
When: Saturday, 8:00pm ET
Open: Florida State -12
Current: Florida State -14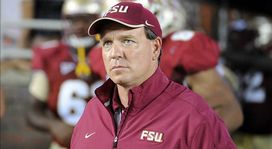 Jimbo Fisher and the Seminoles have a chance to make a big statement on Saturday.
Take note: Clemson is 1-5 ATS in their last six games against teams with a winning record while Florida State is 5-2 ATS in their last seven conference matchups.
Analysis: Granted, the Seminoles haven't faced any stiff competition yet this season, but FSU has outscored their opponents 176-3 through three games with quarterback E.J. Manuel completing 71.2% of his passes. And don't discount the revenge factor here, as Clemson has won five of the last seven meetings between these two teams including last year's 35-30 home win. If the Seminoles are for real, now is the perfect opportunity to show it, as this showdown will be taking place under the lights on national television. Also take note of the opening line move, as early bettors jumped all over FSU in this spot.
Pick: Florida State (-14)
Rutgers Scarlet Knights (3-0, 2-0 road) at Arkansas Razorbacks (1-2, 1-2 home)
When: Saturday, 7:00pm ET
Open: PICK
Current: Arkansas -7
Analysis: This pick boils down to one simple question: How does Arkansas respond to being called out by quarterback Tyler Wilson after the Razorbacks got ripped 52-0 by Alabama last Saturday? Either a mutiny ensues and the team packs it in for the season, or Arkansas responds and lays the wood to Rutgers. I'm siding with the latter.
Take note: Rutgers is 1-7 ATS in their last eight games against a team with a losing record while Arkansas is 20-6 ATS in their last 26 homes games.
Pick: Arkansas (-7)
Double Whammy
Temple Owls (1-1, 0-0 road) at Penn State Nittany Lions (1-2, 1-1 home)
When: Saturday, 3:30pm ET
Open: Penn State -9/45
Current: Penn State -8/42
Analysis: It took three games, but new Penn State head coach Bill O'Brien finally got his first win as the boss in Happy Valley last weekend. But the Lions would be best served keeping the champagne on ice as the Owls come to town this Saturday looking for their first win over PSU since 1941. Temple lost this game by nine points two years ago and by just four in 2011. If there was ever a year to finally get one over on Penn State, this would be it.
Take note: Temple is 6-1 ATS in their last seven games played in the month of September while Penn State is 3-13 ATS in their last 16 games played in the month of September.
BONUS: The UNDER is 5-0 in the last five meetings between these two teams and 4-1 in the last five meetings between these two teams at Penn State. Have you seen these two offenses?
Pick: Temple (+8) and the UNDER (42)
Akron Zips (1-2, 0-1 road) at Tennessee Volunteers (2-1, 2-1 home)
When: Saturday, 7:30pm ET
Open: Tennessee -34
Current: Tennessee -35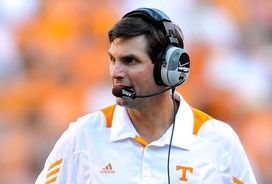 It was fun while it lasted, but Tennessee showed us last Saturday that they aren't ready for prime time.
Analysis: Congratulations, Tennessee. You got me. I bought into the hype that you could actually play football this season. And for 30 minutes against the Florida Gators last Saturday, you were about to prove me right. Then came that nifty little 18-minute stretch to close out the game where you folded like a WWE steel chair and let the Gators go wild on a 24-0 run at Neyland Stadium. I'm betting you don't bounce back with a great effort this week.
Take note: Akron is 5-2 ATS in their last seven games following an ATS win while the Volunteers are 2-8 ATS in their last ten games after surrendering more than 450 total yards in the previous contest.
Pick: Akron (+35)
#15 Kansas State Wildcats (3-0, 0-0 road) at #6 Oklahoma Sooners (2-0, 1-0 home)
When: Saturday, 7:50pm ET
Open: Oklahoma -14.5
Current: Oklahoma -14
Analysis: The Wildcats are averaging 46.0 points per game this season and while they stumbled a bit last week against North Texas (35-21), I think that game served as the perfect wakeup call before a trip to Norman to take on the Sooners. Oklahoma quarterback Landry Jones is overrated and his team is just 2-5 ATS in their last seven conference games. I'm not saying I smell an upset, but Kansas State is more than capable of hanging tight in this one.
Take note: Kansas State is 4-1-1 ATS in their last six games at Oklahoma.
Pick: Kansas State (+14)
Hit me up on Twitter: @JoeFortenbaugh