October 01, 2010 -
Joe Fortenbaugh
Week 4 fantasy starts and sits
This is a big, big weekend for yours truly.
For starters, the 3-0 NFP fantasy squad takes on the 3-0 team run by Brandon Funston of Yahoo! Sports this weekend in the 2010 NFP Fantasy Expert's League. Outside of Funston and myself, only Jay Clemons of Sports Illustrated is currently among the ranks of the unbeaten.
Take a look at my squad by clicking here and let me know if you have any roster advice for Week 4. I'm on the verge of renaming this team the "1995 Nebraska Cornhuskers" because it's been blowout city from Week 1.
In addition, thanks to some savvy advice from you loyal S.O.Bs last week, I turned in a top-three finish (out of 20) among the experts in the FanDuel Salary Cap Challenge. However, it still wasn't good enough to finish above 8th place overall, which is currently the clubhouse leader for the trip to Vegas.
After two fourth place finishes and a third place finish in Week 3, it's time to fire up the engines. Click HERE to see how the game works and hit up the comments section below with any advice.
Speaking of a team that was gunning for fourth place…
START 'EM UP
Chad Henne, QB, Miami Dolphins: Never mind the fact that Henne is coming off a Week 3 performance against the New York Jets that resulted in a top-8 fantasy finish (26/44, 363 yards, 2 TDs, 1 INT). The key here is that he's walking into a divisional showdown against a New England defense that is giving up an average of 22.8 fantasy points per week to opposing quarterbacks (fifth worst in the NFL). Remember, the last time these two teams met in Miami (December 6, 2009), Henne completed 29 of 52 passes for 335 yards with two touchdowns and 1 interception in a 22-21 win.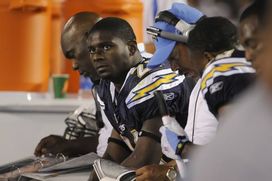 ICONRemember this guy? Me either, because the dude in New York is running a hell of a lot better.
LaDainian Tomlinson, RB, New York Jets: Not only is Tomlinson currently a top-13 fantasy running back, but the guy is displaying the open field burst we all remember from his early days in San Diego, which unfortunately was a trait that was nonexistent during his final two seasons with the Chargers. L.T. is currently averaging three receptions and 10.0 fantasy points per week (standard scoring), but the upside here is that he's going up against a Buffalo defense that is allowing 22.6 fantasy points per week to opposing running backs (fifth worst in NFL). Not only that, but in five career games against the Bills, Tomlinson has found the end zone four times.
DeAngelo Williams, RB, Carolina Panthers: It's been a rough start for the dynamic backfield duo of Williams and Jonathan Stewart. D-Will has yet to find the end zone in three games and hasn't topped 65 rushing yards once in 2010. However, this week's matchup against the New Orleans Saints provides an excellent opportunity for Williams to get the train back on the tracks. In his last two showdowns with the Saints at the Superdome, Williams has carried the rock 46 times for an eye-popping 327 yards and two touchdowns. As if that wasn't appealing enough, consider this: The Panthers know the only way to hang in this game is to run the ball, control the clock and keep Drew Brees off the field. That could spell a little trouble for a Saints defense that is giving up an average of 25.4 fantasy points per week to opposing running backs (second worst in NFL).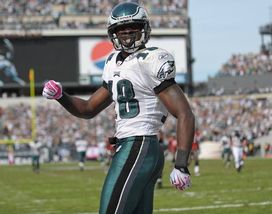 Since Michael Vick took over in Philly, Maclin has been a fantasy stud.
Jeremy Maclin, WR, Philadelphia Eagles: Maclin was on the start list last week (4-83-2 at Jacksonville) and we see no reason why he shouldn't be featured here once again heading into a Week 4 date with the Washington Redskins. Since Michael Vick took over at quarterback in Philadelphia, Maclin has scored at least one touchdown in each game (4 total) and is currently averaging 12.3 fantasy points per week (standard scoring). The news keeps on getting better as Maclin's Week 4 opponent (Washington) currently ranks 31st in the NFL in pass defense (325.7 yds/gm) and is giving up a league-worst 33.0 fantasy points per week to opposing wide receivers. Maclin's got the hot hand, so owners should continue to ride him.
Mark Clayton, WR, St. Louis Rams: One of 2010's top waiver wire pickups to date, Clayton enters Sunday's showdown against the Seattle Seahawks with 27 targets under his belt, good for 14th in the NFL. The former Baltimore Raven is averaging 11.0 fantasy points per week (standard scoring) and has yet to finish a game with less than 8 fantasy points. Not bad for a guy who gets a crack at a Seattle pass defense that ranks 30th in the league (315.7 yds/gm) and is currently giving up an average of 25.5 fantasy points per week (eighth worst in NFL) to opposing wide receivers. Clayton isn't the best option on the board in Week 4, but he's a very serviceable WR2/3.
Zach Miller, TE, Oakland Raiders: Miller hasn't gotten off to the start we had all hoped for (currently 12th in scoring among fantasy tight ends), but he does rank 8th in the NFL among tight ends in targets (21, 7.0 per game) and is coming off the most productive game of his still-young season (4-64-1 at Arizona). Look for the good times to continue Sunday when the Oakland Raiders play host to a Houston Texans defense that has been lit up by opposing tight ends this season to the tune of 13.6 fantasy points per game (second worst in NFL). Dallas Clark (14 points), Chris Cooley (12 points) and Jason Witten (5 points) all found some success against this defense already in 2010. Look for Miller to do the same.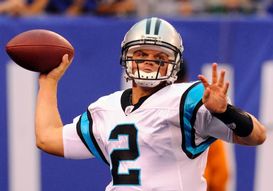 IconIt's going to be a real long day for Jimmy Clausen on Sunday.
New Orleans Saints, D/ST: Yes, we realize that one of our recommended starts (DeAngelo Williams) is playing the Saints defense this Sunday, but this unit is still an excellent start in Week 4 for a variety of reasons. To begin, after dropping a 27-24 overtime game to the Atlanta Falcons in Week 3, expect Gregg Williams' defense to regain its focus and show up ready to dominate. In addition, the Carolina Panthers are giving up more fantasy points to opposing defenses this season than any other team in the league (14.0). As if that wasn't enough to convince you guys to pull the trigger on this unit in Week 4, try this: Rookie quarterback Jimmy Clausen will be making his second career start on Sunday in New Orleans. No chance this guy pulls out a good game with the blitz packages and pressure he is going to be facing all afternoon.
S IT 'EM DOWN
Joe Flacco, QB, Baltimore Ravens: Flacco has followed a very obvious trend this season. In the two games in which he faced a quality defense (NY Jets, Cincinnati), he failed to deliver (37/77, 402 yards, 1 TD, 4 INTs). In the one game in which he was presented with a favorable matchup (Cleveland), the third-year veteran came through in a big way (22/31, 262 yards, 3 TDs, 0 INTs). Expect Flacco to revert back to his early-season form when he runs into a Pittsburgh defense that ranks first in the league in points allowed (11.0 pts/gm) and is giving up just 12.2 fantasy points per week to opposing quarterbacks (third best in NFL). There are plenty of better options out there in Week 4.
Jahvid Best, RB, Detroit Lions: Forget the fact that Best is battling a turf toe injury that could keep him out of Sunday's game. The real issue is that even if the rookie from California gets himself on the field in Week 4, he's going to have to find a way to rack up some stats against a Green Bay Packers defense that is giving up an average of only 12.8 fantasy points per week to opposing running backs (fifth best in NFL). If you eliminate his Week 2 explosion against the Philadelphia Eagles, Best has rushed for just 46 yards in two games this season. Once the Packers start lighting up the scoreboard, the Lions will have no choice but to take to the skies in an effort to play catch-up.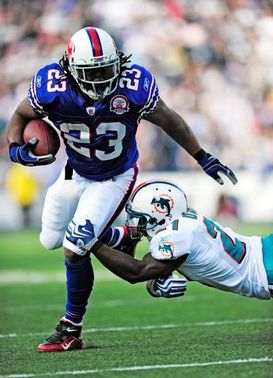 iconMarshawn Lynch and the rest of the Buffalo backfield should be on the bench this Sunday vs. the Jets.
All running backs, Buffalo Bills: This goes for Marshawn Lynch, Fred Jackson and C.J. Spiller. If you have any of these three guys on your roster, make sure they have a comfortable spot on the bench this weekend when the Bills play host to a New York Jets defense that ranks 4th in the NFL against the run (61.7 yds/gm), 7th in scoring defense (15.7 pts/gm) and is giving up an average of only 9.8 fantasy points per week to opposing running backs. No defense has been stingier against the run in the fantasy world than the New York Jets. Add in the fact that the Buffalo running game is currently an RB-by-committee approach, and you have a recipe for disaster.
Steve Smith, WR, Carolina Panthers: The veteran wide receiver didn't seem too pleased about rookie quarterback Jimmy Clausen's debut last Sunday against the Cincinnati Bengals, and for good reason. Smith has caught just 11 passes on the year, but turned in his worst performance of 2010 (3-22-0) with Clausen at the controls. The big problem in Carolina is the fact that the Panthers don't have a legitimate No. 2 receiver to take some of the heat off of Smith. Opposing defenses are rolling safety help over the top in an effort to double-team Carolina's most explosive player. Expect that trend to continue Sunday in New Orleans against a Saints pass defense that is giving up an average of just 9.7 fantasy points per week to opposing wideouts (second best in NFL).
Demaryius Thomas, WR, Denver Broncos: The rookie first-round pick from Georgia Tech flashed his upside in Denver's 31-14 Week 2 blowout of the Seattle Seahawks when he hauled in 8 passes for 97 yards and one touchdown. Fantasy owners promptly bum-rushed the waiver wire in an effort to land the next big thing at the wide receiver position. However, Thomas only caught two passes for 43 yards on six targets against the Indianapolis Colts last weekend and he's going to be running into an even stiffer test this Sunday when the Broncos travel to Tennessee to take on the Titans. Tennessee currently ranks 5th in the NFL in pass defense (178.3 yds/gm) and is allowing an average of only 11.2 fantasy points per week to opposing wide receivers (second best in NFL). As an added deterrent, keep in mind that the last time the Broncos hit the road (Week 1) they lost to a sorry-ass Jacksonville team 24-17.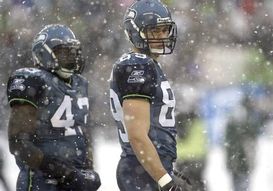 ICONIt won't be snowing in the Edward Jones Dome, but Carlson won't be making it rain, either.
John Carlson, TE, Seattle Seahawks: Good news! Carlson scored his first touchdown on the season in last Sunday's 27-20 win over the San Diego Chargers. Bad news! Carlson's got a date with a St. Louis pass defense that is giving up an average of just 3.8 fantasy points per week to opposing tight ends (third best in NFL). The Rams held tight ends Chris Cooley and Zach Miller to a combined stat line of 8 receptions for 102 yards and zero touchdowns. There are better TE options out there for Week 4.
Miami Dolphins, D/ST: Believe it or not, the Dolphins are currently a top-ten fantasy defense in standard scoring formats. However, for those of you who were smart enough to ride the Fish against Buffalo in Week 1 and Minnesota in Week 2, now is the time to start looking for an alternative D/ST because a matchup with the New England Patriots is never a good thing. Fantasy defenses that have gone against the Patriots in 2010 are averaging just 4.0 points per week (third worst in NFL). In addition, New England currently ranks first in the NFL in scoring offense (30.0 pts/gm). As if all that wasn't already enough to turn you off, keep in mind that in the last 12 regular season meetings between these two teams, the Patriots are averaging 25.6 points per game and have hung 96 points on the board in their last three showdowns.
Follow me on Twitter: @JoeFortenbaugh
Click HERE to win cash today playing fantasy football with the NFP and FanDuel.