October 08, 2010 -
Joe Fortenbaugh
Week 5 fantasy starts & sits
Before we get into this week's starts and sits…
1. Who is the best team to take in Survivor pools this week? I've already used up (in order) Tennessee, Philadelphia, Baltimore and Green Bay. Cincinnati, San Diego and Indianapolis all look appealing, but I'd love to pick the winner of the St. Louis/Detroit game. I'm really struggling with this one and need an answer before I head into the radio studio today at 4:00pm eastern. Who are you guys going with?

2. The NFP was asked to participate in a fantasy football league this year that is hosted on NFL.com and being run by the good folks at Procter & Gamble. Our squad is currently 2-2 after Randy Moss failed to score one damn point in Monday night's win over the Miami Dolphins. That wouldn't be a big deal, except for the fact that the NFP team lost by LESS than one point. As I'm sure you could have guessed, I'm not too thrilled with the original Straight Cash Homey at this point in time.
In any event, each blogger that is participating in the league takes turns writing up a synopsis from the previous week's events. This week, Dan Levy from Press Coverage got the nod. You can check out his entertaining rundown by clicking here.
In addition, the Procter & Gamble studs are sending me a ton of stuff to give away to you guys. So the Monday Night Pick 'Em contest is back in business. Check back in Monday's "Enter the Red Zone" column for details.
And now for your motivational speech of the day. I want to make it clear that I love this guy, respect the hell out of him and think this rant makes him even cooler. It's old school, but that doesn't mean it's no longer awesome.
START 'EM UP
Sam Bradford, QB, St. Louis Rams: Believe it or not, the rookie from Oklahoma currently ranks in the top-15 in scoring among fantasy quarterbacks. Bradford has thrown for 235+ yards in three of his four outings this season and has thrown five touchdown passes to three interceptions over his last three contests. Week 5 features one of Bradford's most favorable matchups of the year as he and the Rams travel to Detroit to take on a Lions defense that is giving up an average of 21.4 fantasy points per week to opposing quarterbacks (fifth worst in NFL). This has the potential to be a real breakout game for the former Heisman Trophy winner.
Ryan Mathews, RB, San Diego Chargers: Mathews owners are upset, and rightfully so. You drafted the much-hyped rookie in the first or second round and the guy has either been hurt or failed to live up to expectations through four weeks. The good news is that he's set for a showdown with the Oakland Raiders on Sunday that should produce some favorable results. Oakland ranks 31st in the league in rushing defense (162.0 yds/gm), has already given up five rushing touchdowns (tied for third most in NFL), and is surrendering an average of 27.7 fantasy points per week to opposing running backs (tied for worst in the NFL). In addition, Mathews is coming off a Week 4 game against the Cardinals in which he racked up 12 fantasy points (68 total yards, 1 touchdown) on just ten total touches. Backup RB Mike Tolbert is a concern, but Mathews should see enough action to post a respectable stat line.
Percy Harvin, WR, Minnesota Vikings: Things have been so bad for the Minnesota offense this season that Harvin isn't even a top-50 fantasy wide receiver right now. That just isn't going to cut it. But sunny skies are here again as the recent trade for outside vertical threat Randy Moss will help to stretch out opposing defenses, while allowing Harvin to exploit the middle of the field by moving back inside to the slot position. A Monday night showdown with the New York Jets looks daunting, but keep in mind that the Gang Greene defense ranks 22nd in the NFL against the pass (233.2 yds/gm) and is giving up an average of 23.9 fantasy points per week to opposing wide receivers (ninth worst in NFL). The Week 4 bye should have been a big help to quarterback Brett Favre, who produced his best fantasy stat line of the season in Week 3.
Thomas Jones, RB, Kansas City Chiefs: Jones is averaging 8.6 fantasy points per week through three games this season (standard scoring). Not great, but the upside entering Week 4 is too good to pass up. The veteran running back is averaging 17.3 carries per game and will be an integral part of the Chiefs' game plan this Sunday when they travel to Indianapolis to take on Peyton Manning and the Colts. And as we all know, the best way to slow down Manning is to keep him off the field by running the football. The news gets better for Jones owners when you realize that the banged up Colts defense ranks 29th in the NFL against the run (149.5 yds/gm) and is giving up an average of 23.3 fantasy points per week to opposing running backs (seventh worst in NFL). Ditto goes for Jamaal Charles owners, who should have him in the lineup as well.
Donald Driver, WR, Green Bay Packers: Just like last year, Driver is very quietly putting together an impressive fantasy season. He currently ranks 16th in scoring among wide receivers (standard scoring) and has actually been more productive to date than Andre Johnson, Wes Welker, Randy Moss, Larry Fitzgerald and Greg Jennings, to name a few. This Sunday, Driver and the Packers head to Washington to take on a Redskins defense that ranks 31st in the NFL against the pass (305.0 yds/gm) and is surrendering an average of 26.4 fantasy points per week to opposing wideouts (second worst in NFL). Driver has converted 26 of his 2010 targets into 21 receptions, meaning he knows how to get open and hang on to the football.
Jeremy Shockey, TE, New Orleans Saints: Credit the Reggie Bush injury and/or lack of an effective running game for Shockey's recent and reliable fantasy production. The University of Miami product currently ranks 14th in scoring among fantasy tight ends and has an excellent chance to keep climbing up the boards this weekend when he takes on an Arizona Cardinals defense that is giving up an average of 11.3 fantasy points per week to opposing tight ends (third worst in NFL) . Shockey amassed just eight targets over the Saints' first two games, but has racked up 16 over his last two outings. Quarterback Drew Brees is looking his way more than ever, which is why it is time to capitalize and get Shockey in the lineup.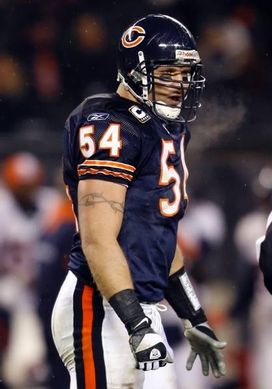 ICONLach and the defense have to step their game up now that Jay-Cut is on the shelf.
Chicago Bears, DST: The Bears had a rough outing in Week 3 against the Giants in New York, but remember, this is still a top-eight fantasy unit. With quarterback Jay Cutler out (concussion) for Sunday's game at Carolina, expect the defense to rise to the occasion and deliver when it matters. Wide receiver Steve Smith is expected to miss Sunday's game with a high ankle sprain, which leaves running backs DeAngelo Williams and Jonathan Stewart as the featured playmakers on the Panthers offense. That spells trouble for Carolina fans, as Chicago ranks sixth in the NFL in run defense (77.0 yds/gm). As if that wasn't enough, keep in mind that the Panthers are surrendering an average of 12.5 fantasy points per week to opposing defenses (fourth worst in NFL).
SIT 'EM DOWN
Bruce Gradkowski, QB, Oakland Raiders: Gradkowski has been a nice fantasy option over the past two weeks for owners in deeper leagues, as the five-year veteran has topped 250 passing yards in back-to-back games. However, we advise you to look for another signal-caller this Sunday as Gradkowski and the Raiders play host to a Chargers team that currently ranks second in total defense (238.0 yds/gm), fourth in passing defense (157.8 yds/gm), 11th in scoring defense (17.8 pts/gm) and second in sacks (15). In addition, San Diego is giving up an average of just 10.4 fantasy points per week to opposing quarterbacks (second best in NFL). There isn't much upside here.
DeAngelo Williams, RB, Carolina Panthers: D-Will was on the start list last week and he responded by posting 15 fantasy points (standard scoring), which is his highest single-game total to date. The bad news is that owners should not expect this trend to continue in Week 5 when Williams runs into a Chicago defense that is giving up just 17.9 fantasy points per week to opposing running backs. With wide receiver Steve Smith out of action due to a high ankle sprain, the Carolina passing attack is going to be very limited. Look for the Bears to stack seven and eight defenders in the box and dare rookie quarterback Jimmy Clausen to beat them with his arm. Also, keep in mind that Chicago currently ranks sixth in the NFL in rush defense (77.0 yds/gm).
Michael Crabtree, WR, San Francisco 49ers: It doesn't take a genius to figure out that second-year wide receiver Michael Crabtree has been a total bust this season. The former Texas Tech standout has just 11 receptions through four games and has yet to find the end zone. We still advise owners to hang on to Crabtree due to his upside, but leave him on the bench this Sunday night when he takes on the Philadelphia Eagles and their 12th ranked pass defense (232.2 yds/gm). Not only has Crabtree failed to deliver this season, but the Birds have held opposing wideouts to an average of just 12.4 fantasy points per week (fourth best in NFL).
Remember back when Crabtree was a baller?
All of the Denver Broncos running backs: Knowshon Moreno is out with a hamstring injury, so you can cross him off the list. However, we also advise owners to sit veterans Correll Buckhalter and Laurence Maroney as well. Not only will they steal carries from one another, but they'll be matched up with a Baltimore Ravens defense that is giving up an average of just 16.6 fantasy points per week to opposing running backs (13th best in NFL). Also, be sure to keep in mind that Denver ranks 6th in the NFL in pass to run ratio (64.8% passing). Even if they could run, they choose not to.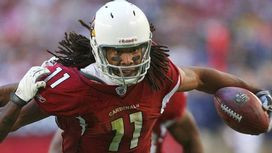 It's been quite the struggle for Fitz in 2010.
Larry Fitzgerald, WR, Arizona Cardinals: Nobody has been affected by quarterback Kurt Warner's retirement more than Pro Bowl wide receiver Larry Fitzgerald. Sure, the guy ranks third in the NFL in targets, with 45. But he also ranks just 32nd in receptions, with 19, meaning the Arizona quarterbacks aren't accurate enough to get him the football. The two problems for Fitz owners entering Week 5 are as follows: First, the Cardinals have benched quarterback Derek Anderson in favor of rookie Max Hall, so it will take some time for he and Fitzgerald to get on the same page. Second, Arizona hosts an aggressive New Orleans defense this Sunday that is surrendering just 8.5 fantasy points per week (best in the NFL). Expect Saints defensive coordinator Gregg Williams to bring the heat early and often this weekend.
Jason Witten, TE, Dallas Cowboys: Many experts thought that the arrival of rookie wide receiver Dez Bryant would be a bad thing for wideout Miles Austin. It turns out that tight end Jason Witten is the guy who is suffering in the stats column. The Pro Bowler currently ranks 30th in scoring among fantasy tight ends (12.0 total points in standard scoring formats), is averaging just 8.9 yards per reception (career low) and has yet to find the end zone in three games this year. I wish I had some good news for you to finish this paragraph off, but unfortunately, it only gets worse. Witten and the Cowboys play host to a Tennessee Titans defense that is allowing only 4.2 fantasy points per week to opposing tight ends this season (fourth best in NFL). It could be another long week for Witten owners.
New York Giants, D/ST: Big Blue's ten-sack effort against the Chicago Bears in Week 4 was enough to launch them into the top-five in scoring among fantasy defenses. But hold the phone, because if you think this unit is ready for primetime, we've got some bad news for you. The Giants travel to Houston this Sunday to face a Texans team that ranks second in the NFL in total offense (415.5 pts/gm) and fourth in scoring (27.0 pts/gm). The news gets even worse when you realize that the Giants gave up 38 points to the Indianapolis Colts in their only road game this year. Keep this squad on the bench and wait for a better matchup.
Enjoy your weekend and be sure to tune in as Roy #2 takes the mound for the Philadelphia Phillies Friday night against the hitless Cincinnati Reds.
Hit me up on Twitter: @JoeFortenbaugh
Win cash today playing fantasy football with the NFP and FanDuel.
The P&G Blogger Fantasy League (BFL) is a group of 12 digital sports influencers competing on the NFL.com fantasy platform for the chance to win P&G product, a donation to a loca l charity, and a trip to Super Bowl XLV, all furnished by P&G. The NFL Entities have not offered or sponsored the sweepstakes in anyway.