October 02, 2013 -
Joe Fortenbaugh
Week 5 Las Vegas market report
The early action for Week 5 has forced the point spread in four of 14 games listed at the LVH sports book in Las Vegas to move by one or more points. Some of those adjustments, like the one that took place in the Denver-Dallas game, were expected, while others, like the 1.5-point move toward the Raiders, were not.
Tracking the early moves can serve as a beneficial tool in helping to establish which side the sharper bettors are playing. For example, note the 1.5-point move toward Cleveland last week for the team's Week 4 showdown with Cincinnati. However, this strategy alone proves relatively worthless (ex: the Jets-Titans game in Week 4) without complementary research and a betting strategy designed to grab the best possible point spead.
Week 5 bye: Minnesota, Pittsburgh, Tampa Bay, Washington
AFTER FOUR WEEKS
Home teams: 35-25-3 ATS (.583)
Favorites: 32-28-3 ATS (.533)
Home dogs: 12-9 ATS (.571)
Home favorites: 23-16-3 ATS (.589)
Overs: 32-31 (.507)
CLICK HERE to check out all of the current Week 5 lines.
Jacksonville Jaguars (0-4, 0-2 road) at St. Louis Rams (1-3, 1-1 home)
When: Sunday, 1:00pm ET
Open: St. Louis -13
Current: St. Louis -11.5
Analysis: When was the last time we saw a 1-3 football team that had dropped three straight contests open as a 13-point favorite? Such is the case in St. Louis this week, where a Rams team that is just 1-6 ATS over their last seven home games plays host to league doormat Jacksonville, who is an abysmal 0-5 ATS over their last five road games. The upside for the Jags is that stud receiver Justin Blackmon returns from a four-game suspension this Sunday, but the Rams enter this matchup on extra rest following the team's 35-11 home loss to the San Francisco 49ers last Thursday night. Personally, I find it damn near impossible to lay double digits with a team like St. Louis, but how can bettors demonstrate any level of confidence with a financial investment in a team like Jacksonville, who is scoring a league-worst 7.8 points per game through the first four weeks of the season? Pass.
Trends: Jacksonville is 0-5 ATS over their last five road games while St. Louis is 0-4 ATS over their last four games overall.
San Diego Chargers (2-2, 1-1 road) at Oakland Raiders (1-3, 1-1 home)
When: Sunday, 11:35pm ET
Open: San Diego -5.5
Current: San Diego -4
Analysis: Note the time change for this matchup, as the Oakland Athletics playoff baseball game on Saturday night (9:00pm ET) forced a scheduling adjustment for the city's football franchise. The early money is backing a home dog here that is just 2-6 ATS over their last eight home contests and 5-11-1 ATS over their last 17 games played on grass. Meanwhile, the Bolts are two choke jobs away from a perfect 4-0 straight-up record under new head coach Mike McCoy. Philip Rivers looks like the quarterback of old (QB rating: 118.8) while the Raiders will likely be without starting running back Darren McFadden (hamstring) for this one, in addition to the fact that quarterback Terrelle Pryor missed last Sunday's matchup with Washington due to a concussion. The line move says Oakland, but we'll be riding with San Diego come Sunday evening.
Trends: San Diego is 8-2 ATS over their last ten trips to Oakland while the road team in this series has covered the number in five straight meetings.
Denver Broncos (4-0, 1-0 road) at Dallas Cowboys (2-2, 2-0 home)
When: Sunday, 4:25pm ET
Open: Denver -6
Current: Denver -7.5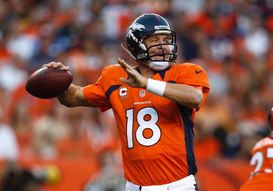 Manning and the Broncos are a perfect 4-0 against the spread this season.
Analysis: Peyton Manning and the Denver Broncos have become the Oregon Ducks of the National Football League, meaning whatever number bookmakers decide to hang for the initial release will immediately be bet northward. The Broncos have been shredding the opposition this season, winning by the astronomical average of 22.0 points per game. Meanwhile, the Dallas Cowboys look like the same team we've grown accustomed to watching over the last five years, looking sharp at times and wildly mediocre at others. Take note that the Cowboys are 8-21 ATS over their last 29 games when surrendering more than 350 total yards in the previous contest. A simple way to approach this game: Do you really want to get in front of the Peyton Manning train?
Trends: Denver is 6-1 ATS over their last seven road games while Dallas is 3-10 ATS over their last 13 home games.
Buffalo Bills (2-2, 0-1 road) at Cleveland Browns (2-2, 1-1 home)
When: Thursday, 8:25pm ET
Open: Cleveland -3.5
Current: Cleveland -4.5
Analysis: After trading their most recognizable offensive weapon to the Indianapolis Colts in exchange for a first-round selection in 2014 and sending their 2012 first-round pick to the bench, all the Browns have done is rattle off two straight wins to grab a share of the lead in the AFC North. Backup signal-caller Brian Hoyer has looked solid, throwing for 590 yards and five scores in two winning starts and the Cleveland defense continues to impress, ranking eighth in the league in points surrendered (17.5 pts/gm). Meanwhile, the Bills hit the road in Week 5 for the second time this season, with their first away date resulting in a 27-20 loss to the Jets in which the team's receivers struggled mightily creating separation down the field. It's tough to lay more than a field goal with a team like the Browns, but we're not looking to back the Bills on the road until we see that rookie signal-caller E.J. Manuel is capable of winning such a game…especially on a short week.
Trends: Buffalo is 1-4 ATS over their last five road games while Cleveland is 4-1 ATS over their last five games following an against the spread win.
Seattle Seahawks (4-0, 2-0 road) at Indianapolis Colts (3-1, 1-1 home)
When: Sunday, 1:00pm ET
Open: Seattle -3 (-120)
Current: Seattle -2.5
Analysis: Back-to-back travel dates, a banged-up offensive line, a non-conference opponent and an offense that is averaging just 17.5 points and 320.0 total yards per game on the road this season are just a few of the reasons why the early money favors Indianapolis in this spot. But take note that for as much credit as Seattle gets when playing within the confines of CenturyLink Field, the team is currently on a six-game road winning streak against the spread. The Colts are no slouches either, having covered the number in 11 of their last 16 games overall. This one's too tough to call at this point in the week.
Trends: Seattle is 14-3 ATS over their last 17 games against teams with a winning record while Indianapolis is 9-3 ATS over their last 12 home games.
Detroit Lions (3-1, 1-1 road) at Green Bay Packers (1-2, 1-0 home)
When: Sunday, 1:00pm ET
Open: Green Bay -7
Current: strong> Green Bay -6.5
Analysis: Coming off the bye week with their backs against the wall, look for a big effort from Aaron Rodgers and the Green Bay Packers this Sunday, who are 5-0 ATS coming off the bye since Rodgers stepped in under center in 2008. Detroit has looked solid the last two weeks and is averaging a healthy 30.5 points per game on the season (fourth in NFL), which is why the best move here may be to back the over at 53.5 points. That being said, it's absolutely worth noting that the Lions have lost 21 straight games at Lambeau Field, losing by an average of 12.9 points per game. Green Bay in a 6-point teaser looks like one of the most enticing options on the board for Week 5.
Trends: Detroit is 4-11-1 ATS over their last 16 trips to Green Bay.
THE REST
New Orleans Saints (4-0, 1-0 road) at Chicago Bears (3-1, 2-0 home)
When: Sunday, 1:00pm ET
Open: Chicago -.5
Current: PICK
Philadelphia Eagles (1-3, 1-1 road) at New York Giants (0-4, 0-1 home)
When: Sunday, 1:00pm ET
Open: New York -3
Current: New York -2.5
New York Jets (2-2, 0-2 road) at Atlanta Falcons (1-3, 1-1 home)
When: Monday, 8:30pm ET
Open: Atlanta -9
Current: Atlanta -9.5
Kansas City Chiefs (4-0, 2-0 road) at Tennessee Titans (3-1, 2-0 home)
When: Sunday, 1:00pm ET
Open: Kansas City -2.5
Current: Kansas City -2.5
Baltimore Ravens (2-2, 0-2 road) at Miami Dolphins (3-1, 1-0 home)
When: Sunday, 1:00pm ET
Open: Miami -3
Current: Miami -3 (even)
New England Patriots (4-0, 2-0 road) at Cincinnati Bengals (2-2, 2-0 home)
When: Sunday, 1:00pm ET
Open: Cincinnati -2
Current: Cincinnati -2
Carolina Panthers (1-2, 0-1 road) at Arizona Cardinals (2-2, 1-0 home)
When: Sunday, 4:05pm ET
Open: Carolina -2
Current: Carolina -2
Houston Texans (2-2, 1-1 road) at San Francisco 49ers
When: Sunday, 8:30pm ET
Open: San Francisco -6.5
Current: San Francisco -6.5
Hit me up on Twitter: @JoeFortenbaugh