October 03, 2012 -
Joe Fortenbaugh
Week 6 college football betting primer
The last time we posted a record of profitable significance was during college football's opening weekend when I was back east for a wedding. Since returning to Vegas, our luck has changed a bit. That's why I'm hoping a weekend trip to Toronto for Blogs with Balls 5 will change all of that this Saturday. Foolishly optimistic? Sure. But a change of scenery could be just what the doctor ordered.
Last week: 2-3
Season: 16-15 (.516)
CLICK HERE to check out the current lines.
#24 Northwestern Wildcats (5-0, 1-0 road) at Penn State Nittany Lions (3-2, 2-1 home)
When: Saturday, 12:00pm ET
Open: Penn State -4
Current: Penn State -3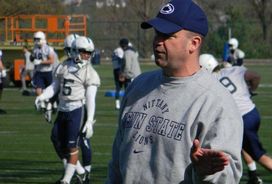 Bill O'Brien and the Nittany Lions will have their hands full Saturday against an unbeaten Northwestern team.
Analysis: Ok, so the Nittany Lions have won three straight games. But keep in mind that Penn State's little winning streak came against teams that rank 88th or worse in total scoring and have a combined record of 4-8. Meanwhile, here comes a Wildcats team that is 5-0, ranks ninth in the nation in rushing and is averaging a healthy 33.8 points per game. Northwestern hasn't knocked off the Lions since 2004. Think Wildcats head coach Pat Fitzgerald has mentioned that at any point this week?
Take note: Northwestern is 5-0 ATS in their last five games overall while Penn State is 3-10-1 ATS in their last 14 games against teams with a winning record.
Pick: Northwestern (+3)
#17 Oklahoma Sooners (2-1, 1-0 road) at Texas Tech Red Raiders (4-0, 2-0 home)
When: Saturday, 3:30pm ET
Open: Oklahoma -7
Current: Oklahoma -5.5
Analysis: The last time we saw Oklahoma, the Sooners were getting their asses kicked at home on national television by upstart Kansas State to the tune of a 24-19 "upset." I put the word upset in quotation marks because what happened in Norman two weeks ago shouldn't have surprised anyone. No team and no quarterback in the country are more overrated than Bob Stoops' Sooners and quarterback Landry Jones. And despite the fact that these guys have had a week off to get their heads right, you've got to question the team's focus coming off a loss and knowing that a showdown with hated rival Texas is on deck. A trip to Lubbock to face an undefeated Red Raiders team that ranks 11th in the country in scoring is the last thing the Sooners want right now.
Take note: Oklahoma is 0-4 ATS in their last four conference games while Texas Tech is 5-1 ATS in their last six games following a straight-up win.
Pick: Texas Tech (+5.5)
#21 Nebraska Cornhuskers (4-1, 0-1 road) at #12 Ohio State Buckeyes (5-0, 4-0 home)
When: Saturday, 8:00pm ET
Open: 53.5 (CRIS)
Current: 58
Analysis: The Cornhuskers and Buckeyes have run a combined 712 total offensive plays this season, with 64.1% of those snaps being committed to the ground game. Defensively, Ohio State is surrendering just 17.0 points per game this season (26th) while Nebraska is giving up an average of just 20.6 points per game (37th). The under is 5-2 in the Cornhuskers' last seven conference games and 7-2 in the Buckeyes' last nine games following an ATS win. See where this is going?
Take note: The under is 18-6 in Nebraska's last 24 games played in the month of October and 9-3 in Ohio State's last 12 games against teams with a winning record.
Pick: UNDER (58)
Michigan Wolverines (2-2, 0-2 road) at Purdue Boilermakers (3-1, 3-0 home)
When: Saturday, 4:00pm ET
Open: 56
Current: 58.5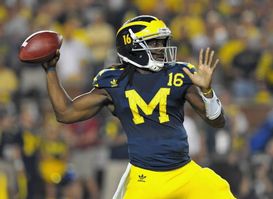 Hey, Shoelace, we need some points!
Analysis: The Boilermakers are averaging a staggering 42.5 points per game this season (13th) and have hung 50+ on the scoreboard in each of their last two outings. Michigan's point total is down a bit through four games (28.5 pts/gm, 60th), but keep in mind that the Wolverines played two solid defenses already this season in Alabama and Notre Dame. Purdue isn't on that level. This one could get tight, but we feel that offense will prevail on Saturday afternoon in Indiana.
Take note: The over is 7-3 in Michigan's last ten games after allowing less than 100 rushing yards in their previous game and 9-1-1 in Purdue's last 11 home games.
Pick: OVER (58.5)
Tulane Green Wave (0-4, 0-1 road) at UL-Lafayette Ragin' Cajuns (3-1, 2-0 home)
When: Saturday, 5:00pm ET
Open: UL-Lafayette -23
Current: UL-Lafayette -27
Analysis: Tulane is 0-4, ranks 124th in the nation in scoring (8.0 pts/gm) and 122nd in points surrendered (42.8 pts/gm). It goes without saying, but we'll put it out there anyway: This is a terrible football team. On the other side of the field sits a 3-1 UL-Lafayette team that is averaging 37.3 points per game heading into Homecoming weekend. Worried that the Ragin' Cajuns may be overlooking the Green Wave? Take a look at this quote from head coach Mark Hudspeth, speaking to The Advocate this past week:
"There's no looking past this game, I can assure you that. We had a 45-minute meeting last night, and we talked about the importance of this game. I went through and read to them all the scores (in the series) going back to 1911, and there were some pretty lopsided scores, and we've taken our lumps on most of those.
"For them to come in here and knock us off would make their season, so there will be a point of emphasis that this is Tulane, an in-state school. I know they got the message from me on how they're expected to prepare."
Take note: Tulane is 1-4 ATS in their last five games following a double-digit loss at home while UL-Lafayette is 7-1 ATS in their last eight non-conference games.
Pick: UL-Lafayette (-27)
Texas A&M Aggies (3-1, 1-0 road) at Ole Miss Rebels (3-2, 2-1 home)
When: Saturday, 7:00pm ET
Open: Texas A&M -8.5
Current: Texas A&M -11.5
Analysis: After dropping the season-opener 20-17 to the Florida Gators, Texas A&M found their stride and has been cooking with gas over the last three weeks, blowing out SMU 48-3, South Carolina State 70-14 and Arkansas 58-10. The Rebels hung tight for a couple of minutes with the Crimson Tide last Saturday before falling 33-14, but keep in mind that this is the same team that got rocked at home by Texas back on September 15 by a score of 66-31. The Aggies are the better team right now a nd are getting better each week.
Take note: Texas A&M is 4-1 ATS in their last five games overall while Ole Miss is 1-4 ATS in their last five games against teams with a winning record.
Pick: Texas A&M (-11.5)
Hit me up on Twitter: @JoeFortenbaugh