October 09, 2012 -
Joe Fortenbaugh
Week 6 early line moves
There's a prevailing theme that will emerge as you read through the analysis for a handful of the following six games: Not surprisingly, the lines are moving away from the team that is entering a bad situation in Week 6. Houston hosts the Packers on short rest one week before playing Baltimore in a revenge game, while Philly—who can't cover as a favorite—plays host to a Lions team coming off the bye.
But why spoil everything? Read on to find out more.
CLICK HERE to check out the current lines.
Detroit Lions (1-3, 0-2 road) at Philadelphia Eagles (3-2, 2-0 home)
When: Sunday, 1:00pm ET
Open: Philadelphia -6.5
Current: Philadelphia -4.5
Analysis: This line took a big hit at approximately 1:25pm eastern on Tuesday, as the Birds dropped from -5.5 to -4.5 at several books simultaneously both in Las Vegas and offshore. The Lions are coming off a bye and are 7-2 ATS in their last nine games played in the month of October, while Philadelphia is 0-3-1 ATS as a favorite this season and just 3-9-1 ATS in their last 13 home games.
Cincinnati Bengals (3-2, 2-1 road) at Cleveland Browns (0-5, 0-2 home)
When: Sunday, 1:00pm ET
Open: Cincinnati -3
Current: Cincinnati -2
Analysis: How's this for a trend: In the last 11 meetings between these two AFC North rivals, the underdog is 9-1-1 ATS. Cleveland may be winless on the season, but the Browns are 4-0 ATS in their last four games following an ATS loss. As for the Bengals, Cincinnati is 0-5-2 ATS in their last seven games against AFC North opponents and 0-4-3 ATS in their last seven games following an ATS loss. Still, I'm not sure I'd want to back Cleveland at anything less than +3.
Green Bay Packers (2-3, 0-2 road) at Houston Texans (5-0, 2-0 home)
When: Sunday, 8:20pm ET
Open: Houston -5
Current: Houston -3.5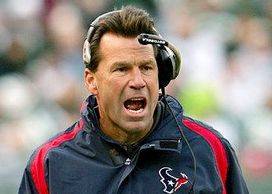 Not only are they on a short week, but Gary Kubiak's Texans have a big-time showdown with the Ravens in Week 7.
Analysis: It's a short week of preparation for the Texans, who failed to cover the number for the first time this season on Monday night against the Jets. However, the Packers are just 1-5 ATS in their last six games overall, while Houston is a staggering 12-3-2 ATS over their last 17 games. Take note that the Texans are playing a non-conference opponent on Sunday night one week before a revenge game against the Baltimore Ravens.
Denver Broncos (2-3, 0-2 road) at San Diego Chargers (3-2, 1-1 home)
When: Monday, 8:30pm ET
Open: San Diego -3
Current: San Diego -1.5
Analysis: With Kansas City and Oakland struggling, this game is huge in the fight for AFC West supremacy. The Bolts may be playing this game at home, but I've been to a Monday night game in San Diego between the Chargers and Broncos before, and let me tell you that plenty of Denver fans will be in attendance. The Broncos may be a live dog, but keep in mind that the team is just 0-4 ATS in their last four road games and 0-4 ATS in their last four Monday night games. Meanwhile, San Diego is 7-3 ATS over their last ten games and 8-2-2 ATS in their last 12 games against the Broncos.
New York Giants (3-2, 1-1 road) at San Francisco 49ers (4-1, 2-0 home)
When: Sunday, 4:25pm ET
Open: San Francisco -5.5
Current: San Francisco -4.5
Analysis: Not only are the 49ers 9-0-1 ATS at home during the regular season since hiring head coach Jim Harbaugh, but revenge is a major factor in this one as the Giants rolled into San Francisco for the NFC Championship game last January and left with a 20-17 overtime win. So while it may come as a surprise to see the line moving towards New York, keep in mind that the Giants are 8-2-1 ATS in their last 11 games and 6-1 ATS in their last seven games against the Niners. This should be a good one.
New England Patriots (3-2, 2-1 road) at Seattle Seahawks (3-2, 2-0 home)
When: Sunday, 4:05pm ET
Open: New England -4
Current: New England -3.5
Analysis: This is a really bad spot for the Patriots. New England just won a critical conference showdown against Denver and now has to travel all the way across the country to Seattle for a non-conference matchup one week before a divisional showdown with the Jets. But take note that Seattle isn't in the best of situations either, as the Seahawks follow up the New England game with a road date against division rival San Francisco on Thursday night. From a trends perspective, the Seahawks are 4-1 ATS over their last five home games, while the Patriots are 35-16-2 ATS in their last 53 road games.
Hit me up on Twitter: @JoeFortenbaugh