October 16, 2012 -
Joe Fortenbaugh
Week 7 early line moves
For all of the time and research we put into studying NFL lines each and every week, we'd be far better off blind betting the dogs and heading to the golf course.
Through six weeks of action, NFL underdogs boast an astounding record of 57-32-2 ATS (64.04%), while home dogs are hitting at an even more impressive 66.67% (22-11). To put the blind betting underdog theory in perspective, had you laid $110 to win $100 on every NFL dog this season, you'd currently be up $1,280.
So, yeah, we'll continue with the analysis. But we may also head to the golf course Sunday afternoon, if you know what I mean.
Seattle Seahawks (4-2, 1-2 road) at San Francisco 49ers (4-2, 2-1 home)
When: Thursday, 8:20pm ET
Open: San Francisco -9 (offshore)
Current: San Francisco -7
Analysis: Following the conclusion of Seattle's comeback win over New England and San Francisco's beat down loss to New York, BetOnline.com opened Thursday's game at SF -9, with LVH here in Las Vegas coming out at SF -8.5. Within an hour, every shop across the board was down to SF -7.5, and now the line sits on the key number of 7. Home teams are 4-1 straight-up on Thursday night football this season and 3-2 ATS, with one of those ATS losses coming from a Ravens team that was playing their fourth game in 18 days. Keep in mind that the home team is 5-1 ATS in the last six meetings between these two organizations and the Seahawks are 2-5 ATS in their last seven trips to San Francisco.
Arizona Cardinals (4-2, 1-1 road) at Minnesota Vikings (4-2, 3-0 home)
When: Sunday, 1:00pm ET
Open: Minnesota -4
Current: Minnesota -6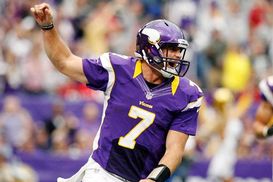 Christian Ponder and the Vikings are 3-0 straight-up and 2-1 ATS at home this season.
Analysis: Arizona is averaging a dreadful 18.3 points per game this season, but that number falls to 11.5 when the Cardinals play away from home. On the flip side, the Vikings are surrendering just 19.5 points per game in 2012, but that number dips to 14.3 for home contests. Be advised that Arizona is 1-7 ATS in their last eight October games, 3-8 ATS in their last 11 road games against teams with a winning home record and has a Week 8 date with division-rival San Francisco.
Baltimore Ravens (5-1, 1-1 road) at Houston Texans (5-1, 2-1 home)
When: Sunday, 1:00pm ET
Open: Houston -4.5
Current: Houston -6.5
Analysis: The Ravens received some terrible news early this week as starting CB Lardarius Webb (ACL) and captain Ray Lewis (triceps) were pronounced lost for the season, while starting NT Haloti Ngata suffered a sprained MCL, but is expected to play on Sunday. With a decimated defensive unit, the Ravens will need quarterback Joe Flacco to elevate his game. But take note that Flacco has a road QB rating of just 62.4 with one touchdown and two interceptions. With all that being said, Baltimore is 0-4 ATS over their last four games while Houston is 6-1-1 ATS over their last eight games against AFC opposition. Not only that, but the Texans are looking to bounce back from that 42-24 ass-kicking they took from Green Bay on Sunday night.
Jacksonville Jaguars (1-4, 1-1 road) at Oakland Raiders (1-4, 1-1 home)
When: Sunday, 1:00pm ET
Open: Oakland -5
Current: Oakland -4
Analysis: Interesting to see the early money supporting the 1-4 Jaguars, but Jacksonville is coming off the bye and is 5-2-1 ATS over their last eight road games, while Oakland is 1-4 ATS in their last five games against AFC opponents. This is a possible look-ahead situation for the Raiders, who have a road date with the Chiefs in Week 8. But at 1-4, a team like Oakland can't afford to overlook any opponent. Still, the prevailing thought is that coming off the bye, the Jaguars can probably keep this game pretty close.
Pittsburgh Steelers (2-3, 0-3 road) at Cincinnati Bengals (3-3, 1-1 home)
When: Sunday, 8:20pm ET
Open: Pittsburgh -1.5
Current: Pittsburgh -2.5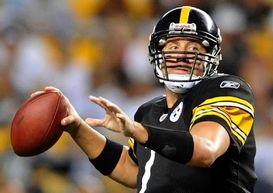 Big Ben and the Steelers desperately need a win in Cincinnati this Sunday night.
Analysis: The Bengals have lost back-to-back games to Miami and Cleveland, but are a home dog in a primetime game against a divisional opponent. And by now, you should all know that home dogs have been killing it this season, with a 22-11 mark against the number (66.67%). But here's the thing: Do you really want to bet against a wounded animal that has been painted into a corner and is coming into this game on extra rest? It's do or die for the Steelers, which is why I believe the early money is coming in on Pittsburgh.
Detroit Lions (2-3, 1-2 road) at Chicago Bears (4-1, 2-0 home)
When: Monday, 8:30pm ET
Open: Chicago -7
Current: Chicago -6 and -5.5
Analysis: The Bears are 4-1 and coming off the bye for this primetime divisional showdown, but take note that Chicago head coach Lovie Smith is 5-3 straight-up and 3-4-1 ATS coming off the bye in his eight years with the Bears. But at the same time, you also have to pay attention to the fact that Detroit is 1-6-1 ATS over their last eight road games and 0-5 ATS in their last five matchups with NFC North opposition. If you like the Bears, it's better to jump on this line early, as the public will likely be backing Chicago come Monday.
Hit me up on Twitter: @JoeFortenbaugh