October 16, 2012 -
Joe Fortenbaugh
Week 7 fantasy waiver wire recommendations
Felix Jones, RB, Dallas Cowboys: Amassed 105 total yards and a score at Baltimore in Week 6 and should handle the bulk of the workload this Sunday due to the foot injury starter DeMarco Murray suffered against the Ravens. Murray will eventually return to the lineup and kill Jones' fantasy value, but Week 7 against a Carolina defense that is surrendering an average of 24.3 fantasy points per game to opposing running backs (sixth-most in NFL) is a very favorable spot for Jones.
Josh Gordon, WR, Cleveland Browns: We mentioned Gordon last week, but after Sunday's career-high 99-yard effort (with one touchdown) against Cincinnati, he's worth mentioning again. Gordon has now rolled up five receptions for 181 yards and three scores over his last two games and is quickly becoming the big-play deep threat the Browns so desperately need. Consider the rookie a WR3 for owners in leagues with 12 or more teams.
Alex Green, RB, Green Bay Packers: We thought it would be James Starks who handled the workload with Cedric Benson on the shelf, but Green was the guy who got the carries Sunday night in Houston. The second-year back out of Hawaiii racked up 65 yards on 22 touches to Starks' 11 yards on five carries. That's a pretty big sign that Green will most likely be the guy moving forward.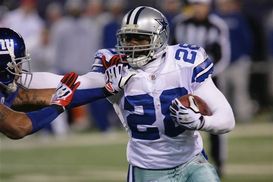 ICONWith DeMarco Murray on the shelf, Jones is going to be a hot pickup this week.
Ryan Tannehill, QB, Miami Dolphins: The rookie from Texas A&M isn't rolling up gaudy numbers, so he's only recommended for owners in leagues with more than 12 teams. But keep in mind that Tannehill has completed more than 63% of his passes in each of his last three outings and is starting to look more and more comfortable in the pocket down in Miami. He won't lead you to the postseason, but the guy is starting to play some quality football.
Vincent Brown, WR, San Diego Chargers: The San Diego passing game looked terrible Monday night against the Broncos, which is why now's the time to consider making a move for Brown. The second-year wideout from San Diego State has yet to play in a game this season (ankle), but is expected to return to the lineup sometime close to Week 9. Just keep in mind that we don't advise a move for Brown unless you have some dead weight currently on your roster.
Shonn Greene, RB, New York Jets: Sunday's 161-yard, three-touchdown effort against the Colts was impressive, but don't think that Greene is going to deliver those kinds of numbers on a weekly basis. Indianapolis is terrible against the run and the most likely outcome here is that Greene reverts back to a ball-carrier who struggles to produce. However, with backup Bilal Powell nursing a shoulder injury, Greene is in line to handle a big chunk of the backfield responsibilities.
Minnesota Vikings, D/ST: They gave up 38 points to Robert Griffin III and the Redskins on Sunday, which is exactly why many owners may send this team packing. But keep in mind that the Vikings are in a very favorable spot in Week 7 when they play host to an Arizona Cardinals team that currently ranks 31st in the NFL in total offense (283.0 yds/gm). This is a good situational play for those of you who may be in a bind.
Montario Hardesty, RB, Cleveland Browns: Trent Richardson is expected to play Sunday against the shoddy Colts defense, but T-Rich owners should definitely make a move to handcuff Hardesty this week. Richardson is dealing with a rib cartilage injury and was limited during the second half of Sunday's win over Cincinnati, where Hardesty stepped in and ran for 56 yards and a touchdown on 15 carries.
Mike Williams, WR, Tampa Bay Buccaneers: Williams has been targeted six or more times in each of his last three games, has found the end zone in three of five starts and is coming off back-to-back 100-yard receiving efforts. It will be hit or miss in Tampa depending upon the defensive matchup and the play of quarterback Josh Freeman, but Williams is worth owning as a WR3 moving forward.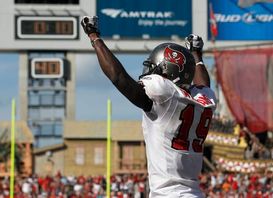 ICONWilliams has quietly been rolling up some impressive numbers this season.
Owen Daniels, TE, Houston Texans: Is he still out there on waivers? If so, make a move. Believe it or not, Daniels currently ranks fifth in fantasy scoring at the TE position and is tied for second among tight ends in receiving yards, with 357.
Matt Hasselbeck, QB, Tennessee Titans: Need a signal-caller for Week 7? Why not try Hasselbeck, who takes on a Buffalo Bills defense that is currently surrendering more fantasy points to opposing quarterbacks than any other team in the league (26.1 pts/gm).
New England Patriots, D/ST: They rank 12th in fantasy scoring at the D/ST position and take on a New York Jets team this Sunday that currently ranks 30th in the NFL in total offense (295.5 yds/gm).
Daryl Richardson, RB, St. Louis Rams: He rushed for 76 yards on 11 carries Sunday at Miami, but more importantly, Richardson averaged 6.9 yards per carry to Steven Jackson's 4.3 YPC on 12 carries. The Rams may be looking to move to more of a timeshare in the backfield, meaning Richardson would make for some nice roster depth.
Josh Freeman, QB, Tampa Bay Buccaneers: He'll be hit or miss depending upon the defensive matchup, but you can't help but be impressed by the fact that Freeman has thrown for 627 yards and four touchdowns over his last two outings. Consider him a QB2 for owners in leagues with ten or more teams. Freeman makes for a decent starting option when the matchup calls for it.
Kendall Wright, WR, Tennessee Titans: By all means, Wright should no longer be sitting out there on waivers. But if he is, keep in mind that the rookie from Baylor has been targeted 38 times over his last four games. He's only found the end zone twice in six outings, but Wright still makes for a decent WR3/4 moving forward.
William Powell, RB, Arizona Cardinals: Rolled up 70 yards on 13 carries (5.4 YPC) last Sunday against the Bills and should be the workhorse moving forward, until Beanie Wells gets healthy and returns to the lineup. Behind that offensive line, Powell's upside is limited. But he could make for a decent situational start if your regular RBs are on the bye.
Hit me up on Twitter: @JoeFortenbaugh